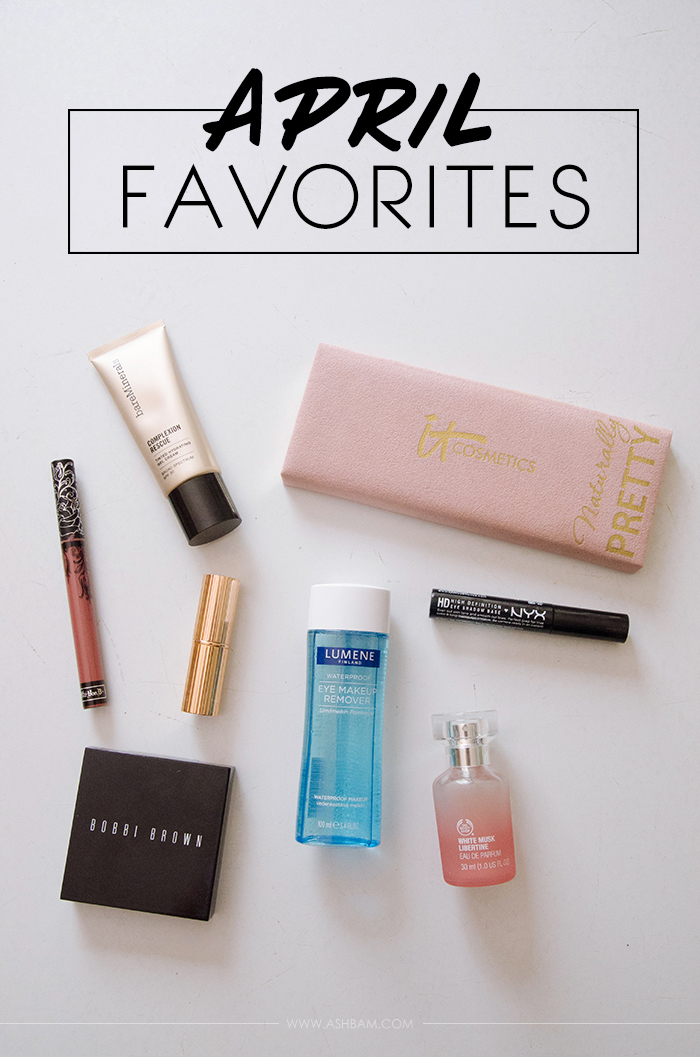 April has been a pretty eventful month! We added a new puppy to the family and I turned 27! Things have been pretty non-stop since we got Darcy, basically we can't let her out of our sight yet. But she was exactly what we needed, Georgie really needed a sister to play around with and they've really become such pals. It's so much fun to watch them together! So anyway, just a few random favorites here this month from lipstick of course to setting powder!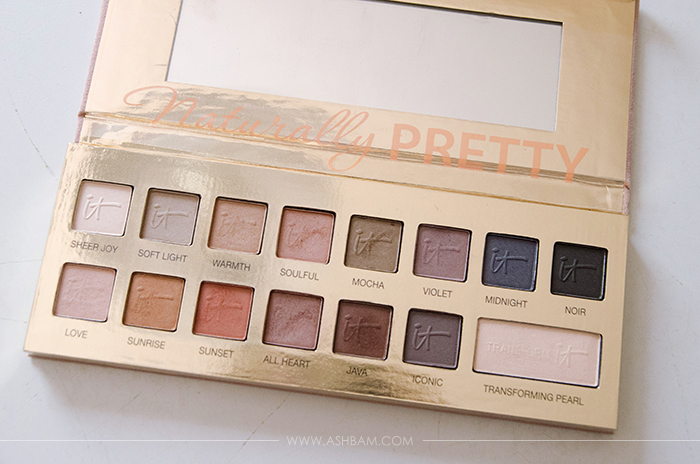 It Cosmetics Naturally Pretty Matte Palette: If you haven't read my recent review on this palette let me tell you, I love it. With colors unlike any other palette I own and beautiful quality shadows it truly is my new favorite. It has a great amount of neutrals for every day looks and some gorgeous deeper shades when you want a great look for a night out. (Or really during the day too, I used to always wear darker eyeshadow!) Fourteen shades, plus transforming pearl which can add a pearl look to any of the shadows, seems like a perfect palette to me! Check out my full review here!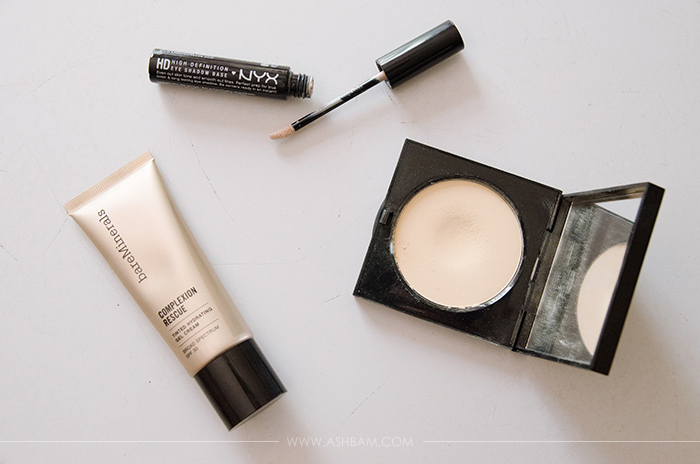 Bare Minerals Complexion Rescue: I picked up Bare Minerals' new Complexion Rescue a few weeks ago while getting my makeup done at the BM shop and it really is one of my new go to products. On days when I've gotten up a little too late I like to wear this. I apply it with my fingers and while the coverage isn't exactly what I need, I just simply put some concealer on top and I'm good to go! And thankfully the shade is even a pretty good match for my skin tone, I of course got the lightest one! It's a tinted hydrating gel cream, the texture is very air and it feels really nice on the skin, there's even a bit of a cooling sensation when you first put it on. If you're looking for something quick in the mornings this is a great choice!
NYX High Definition Eye Shadow Base: I've been searching for a new eyelid primer lately, I really like the Lorac primer, but I wanted to see if I could find anything a little cheaper. I specifically wanted one with color to even out my eyelids. So I picked up two different kinds by NYX, the High Definition Eye Shadow Base and their Eye Shadow Base that comes in a small pot. Unfortunately the one in the pot did not work for me at all, my eye shadow creased pretty quickly and it wasn't very easy to use if you're someone with longer nails. I really like the fact that the High Definition base comes in a tube with a wand, it makes it so much easier to apply. I wouldn't say it's perfect, it doesn't exactly last until the end of the evening, but most of the time I'm already at home when I notice creasing.
Bobbi Brown Sheer Finish Pressed Powder in Pale Yellow: I got this specifically for setting my under eye concealer and it works wonderfully for evening out blue tones. I just take a concealer brush and pat a small amount under my eyes, you have to be careful not to put too much or it will start to look a bit cakey. It's a simple product, but I never go a day without it!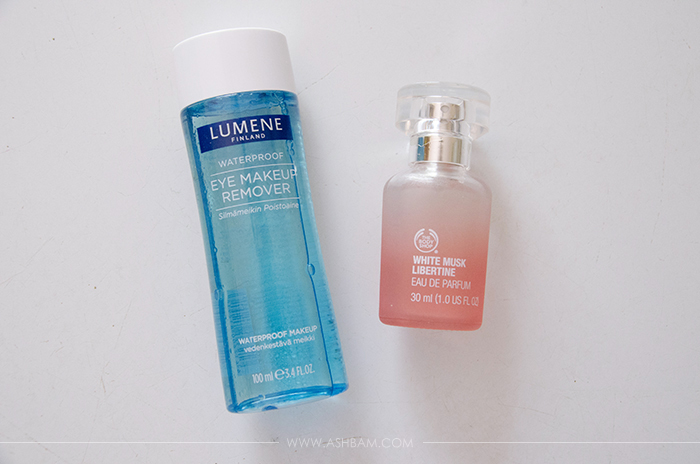 Lumene Waterproof Eye Makeup Remover: I had also been a the hunt for a new eye makeup remover. While I know most of my cleansers are safe for the eyes, I tend to like to use a product specifically for the eyes. The majority of the removers I've tried take more than one cotton pad to remove all of my mascara. (And it's not even waterproof!) I found the Lumene Waterproof Eye Makeup Remover at Ulta and figured why not give it a try. It's a dual-phase remover, safe for sensitive eyes and it's good for removing lipstick as well! I simply hold the cotton pad on my eyes for a few seconds before wiping away all of my makeup, no need to go back for a second cotton pad! Not sure how it holds up against waterproof mascara, but it's definitely made my routine easier.
The Body Shop's White Musk Libertine: I received a sample of this perfume sometime last year and ended up using it every day. Once I ran out of the sample I ran to the mall to pick up a bottle. Since I'm absolutely terrible at describe scents I'm just going to tell you what their website says: "features a heady blend of cruelty-free musks at its top, heart and base, with sweet notes of Turkish delight, baby orchid and Chantilly cream." It's a scent I just can't get enough of, plus the fact that it actually lasts throughout the day on me!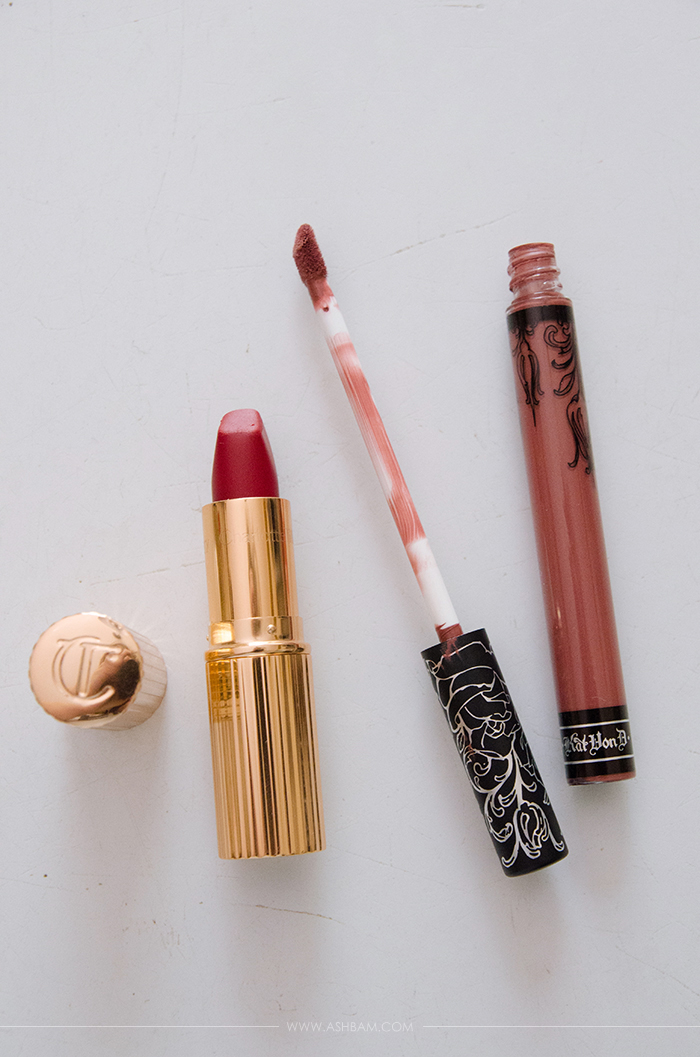 Charlotte Tilbury's Matte Revolution Lipstick in Red Carpet Red: The moment I heard the Matte Revolution Lipsticks were going to be available in the States I started making a list. Which would I buy first? Then strangely they said they were only available for a month, not so excited about that. But supposedly the official release is this September. Can someone explain that marketing strategy to me please? So I figured I'd grab two of the more popular shades in case they sold out, Red Carpet Red and Glastonberry. I'm glad I made those choices because Glastonberry ended up selling out a few days later! But my favorite of the two definitely has to be Red Carpet Red. It's a gorgeous red and the formula, oh gosh it's so lovely. It's such a creamy and moisturizing matte, it just glides on the lips. At first I wasn't sure about the square shaped bullet, but it really does make application much easier. I applied a few layers while wearing this on my birthday and it lasted me pretty much all day! I've since received three more shades for my birthday and I guess I'll have to wait until September for a few more! Definitely look out for a full review of the lipsticks soon! The only downside: the price. At $32 each, it's just about as much as my Burberry lipstick, but seeing as I'm a bit of a matte lipstick addict, it was totally worth it. (I can faintly hear my bank account crying right now.)
Kat Von D Everlasting Liquid Lipstick in Lolita: I was picking up a few things during Sephora's VIB sale online and found Lolita was back in stock! Finally! So I hurried to place the order and lucky me when it arrived the nail polish I had ordered leaked over everything in the package! I was just a bit annoyed, so I had to wait a few more days for my replacement box to try out the lovely Lolita. The formula is very different from Charlotte Tilbury's mattes, but I don't love it any less. It's a much dryer feel, but I never felt like my lips were overly dry, just that the lipstick was going to stay exactly where I put it! And it definitely did. Pretty sure I got through dinner without it budging. The only downside of this one: the color really is nothing like the Studded Kiss version that I so love. I actually just read that the color seems to change with different batches which is a little strange. Either way I do really like the color and the formula is by far one of my favorites!

So what were your April Favorites? Any lip color suggestions for me? Because clearly all I need right now is more lipstick!
Follow me on: Bloglovin – Twitter – Instagram – Facebook – Pinterest