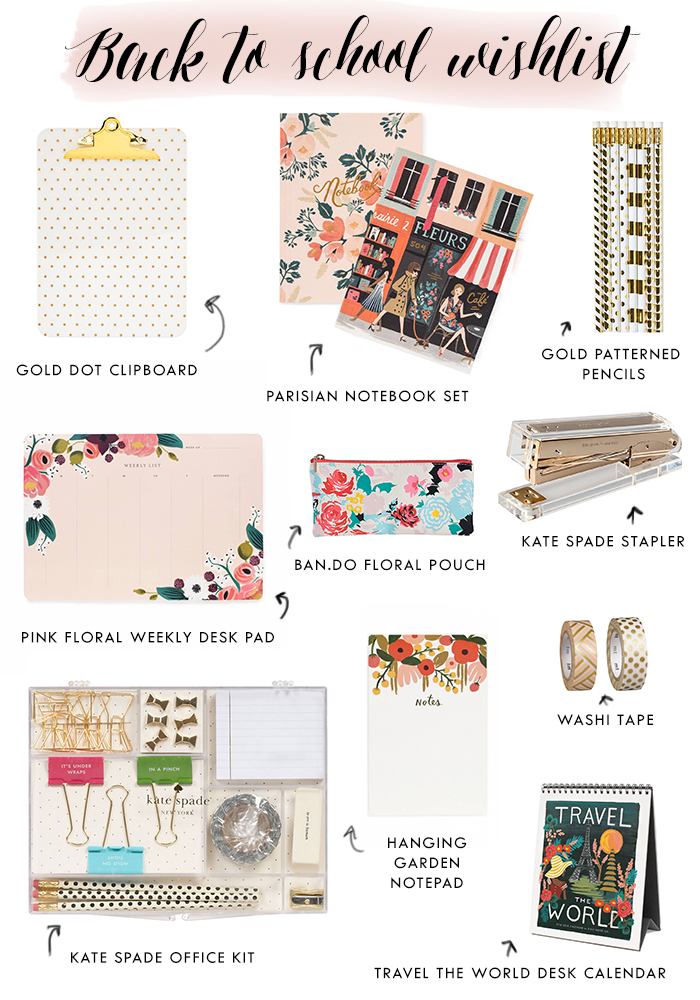 Despite the fact that I've been out of school for a few years now, I always have an urge to go through all the new school supplies at the shops when August comes around. I mean I could always use another notebook, right? However, I did make the mistake of stopping by Target the week school starts and never again. Such chaos, so much screaming. Anyway, back to the point! I thought I'd make a little back to school wishlist, featuring some of my favorites from Rifle Paper Co & Paper Source! Obviously there's a theme here…gold, white, pink and floral. I can't help it, it's all just so pretty!
Gold Dot Clipboard – (Paper Source – $12.95) Aside from this just looking cute on a desk, I love the idea of actually hanging it on the wall with an art print! Though I'm not really sure I'd pay almost $13 for a clipboard.
Parisian Notebook Set – (Rifle Paper Co – $15) Florals and France, a perfect combo! I mean really how fun would it be to take down all your French notes in that notebook? Hopefully you actually pick up on the language unlike I did…seriously, three years of studying and I can't even hold a conversation? I can count to dix though!
Gold Pattern Pencils – (Paper Source – $7.95) Okay I'll be honest, these most likely would be more for decoration than use. Mechanical pencils all the way, but these are so pretty!
Pink Floral Weekly Desk Pad – (Rifle Paper Co – $12) I love the idea of this, though I'd probably be terrible at filling it out every week! Great to keep on your desk as a little reminder.
ban.do Floral Pouch – (Paper Source – $14.95) Perfect to throw your pens and pencils in, or let's be real here, your lipstick.
Kate Spade Stapler – (Paper Source – $28.95) You can always use a stapler on your desk and this one is especially gorgeous! Love the little "keep it together" quote on the top.
Kate Spade Office Kit – (Paper Source – $39.95) Kate Spade just gets me. Gold polka dots everywhere! This is just a perfect addition to your desk: paper clips, sticky notes, washi tape, pencils and more. What else could you need?
Hanging Garden Notepad – (Rifle Paper Co – $8) Simple and super cute, great for jotting down notes in class or at home.
Washi Tape – (Paper Source – $5.95) I actually don't own any washi tape, but I have this sudden urge to buy all of it. Especially if it's gold.
Travel the World Desk Calendar – (Rifle Paper Co – $16) A desk calendar is a must and this is one I've been wanting for quite a while! The illustrations are gorgeous! And I definitely love that London is on my birthday month! :)
So are you back to school or out in the real world as well? Anyone else just want to give up the real world and go back to school?!
Follow me on: Bloglovin – Twitter – Instagram – Facebook – Pinterest