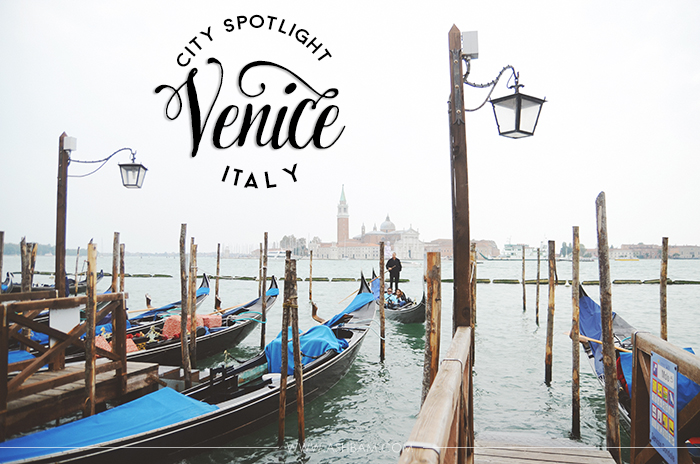 While on my month long journey in Europe I was fortunate enough to spend a little time, ten hours to be exact, in Venice. By now I'm sure you've seen the posts urging people to visit the city while it still exists. The water is rising while the city is slowly sinking, it's hard to say how long these beautiful buildings will last. It may never happen in my lifetime (hopefully), but why take the chance, right? It's considered a World Heritage Site and in my eyes a definite must see.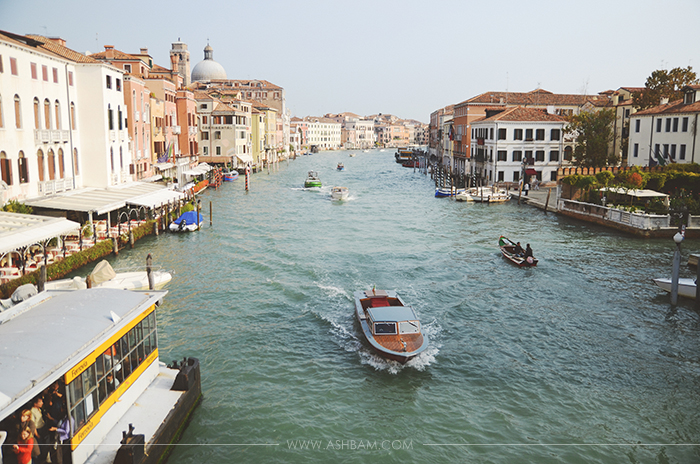 We arrived in Venice after a two hour train ride from Florence. We only had ten hours to spend exploring, our night train for Vienna would be leaving at around nine that night. After a little research we found out that we could leave our luggage at the train station so luckily we didn't have to drag anything around with us. So we dropped off our stuff before heading out and taking a minute to get our bearings while doing a little people watching on the steps of the station. (I may or may not have spotted a corgi and freaked out slightly…it was before I had my own!)
We figured out the general direction we wanted to go and ventured into the crowds. Of course we made a stop along the first bridge. It's a classic photo spot over the Grand Canal, the main waterway in Venice. It's so easy to get a great shot in this city, everywhere you turn is more picturesque than the last. The buildings may be deteriorating, but they sure do look beautiful either way. We slowly walked through the winding streets and bridges, following signs that would eventually lead us to Piazza San Marco or St Mark's Square. Surprisingly we managed not to get lost!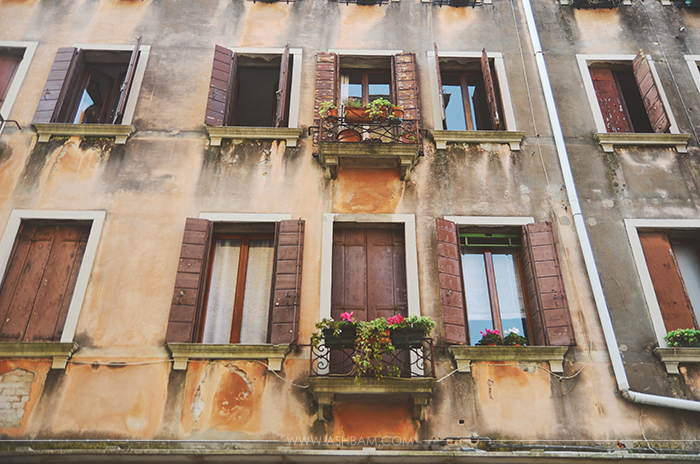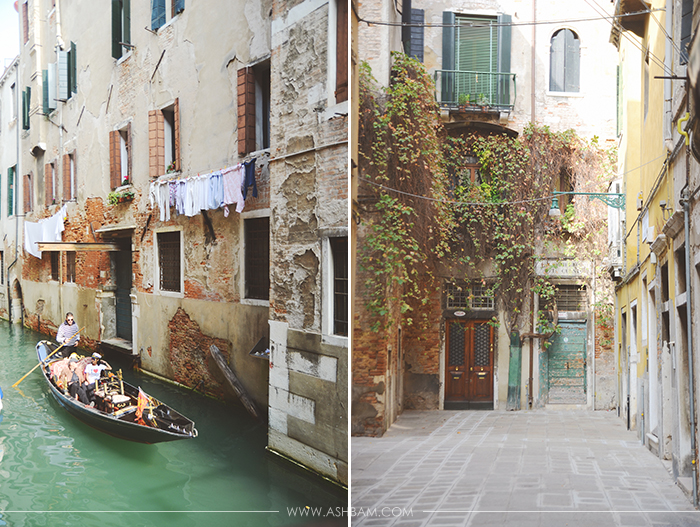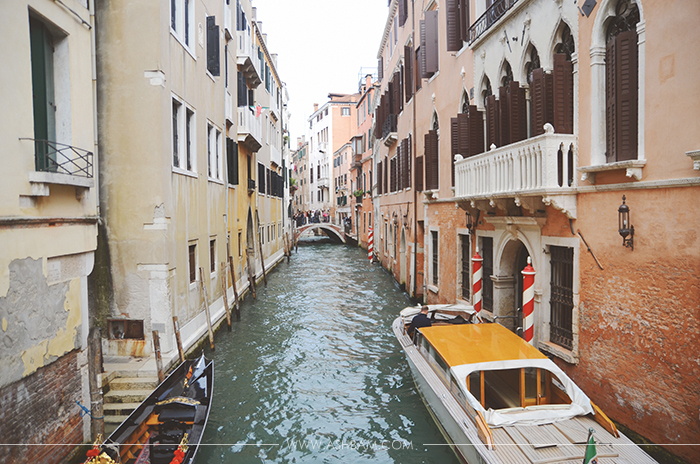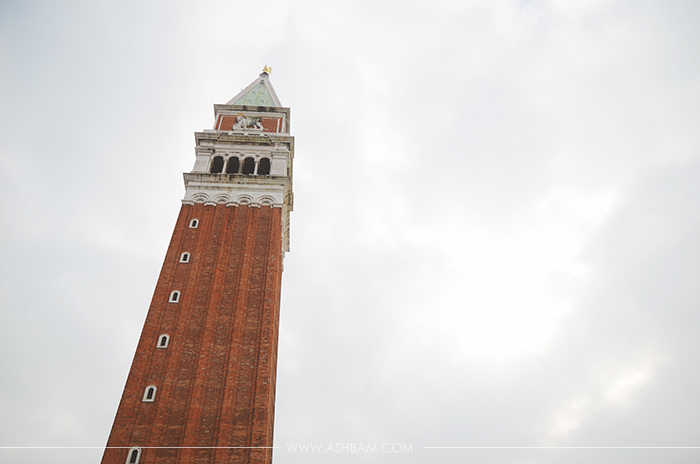 We really didn't have any plans, just hoped that maybe we could find a gondola ride that didn't cost an arm and a leg. Someone had suggested trying to find others who would be willing to join us and split the cost. So we kind of stood around the water for a few minutes, eyeing up the other tourists to see if anyone spoke English. We actually spotted a guy around our age that seemed to be doing the same thing, so we got to talking and realized he was from Ohio as well! Once again, it's such a small world! (We ran into other Ohioans in Ireland and Prague!) The three of us eventually found another couple from California to split the €80 gondola ride.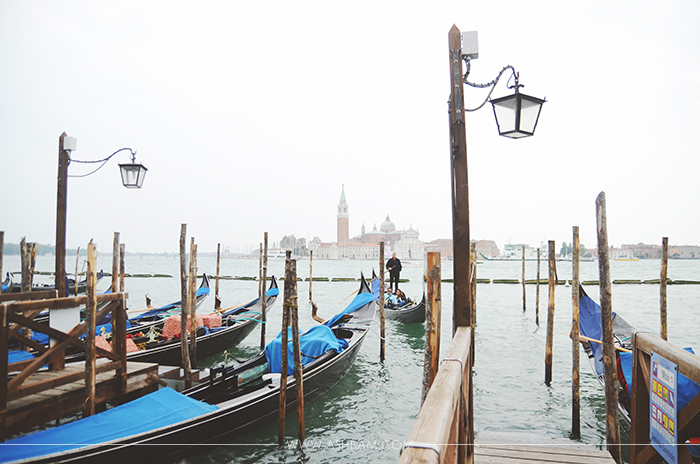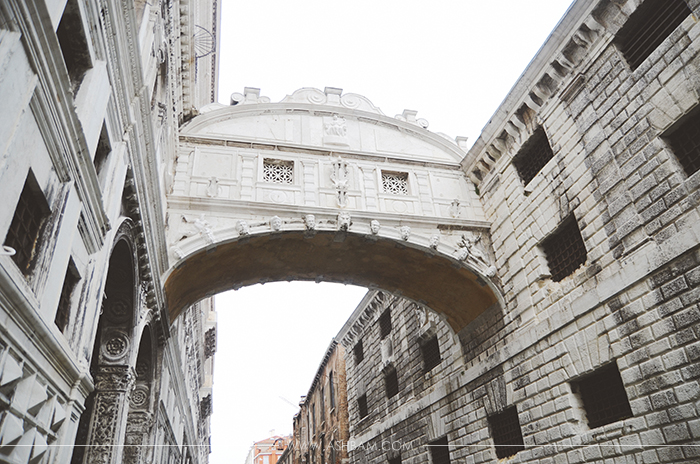 Despite the fact that we were in a tiny gondola with strangers it ended up being really lovely. We got the chance to see the Bridge of Sighs built in 1614, which connects Doge's Palace to the prison and where it's said convicts entering the prison would sigh as they had their last view of Venice and freedom. I truthfully don't remember many of the other buildings, I was just taking in the beauty of such an ancient and unique city. The ride overall was a little unstable, we were leaning a bit too much to one side, but still quite relaxing. It lasted about a half an hour which I'll admit is kind of a rip off for €80. My least favorite part? Getting out. It wasn't graceful and I had my camera in my hand. I just kept imaging falling into the water and losing all my photos. Luckily I made it out without incident and we waved goodbye to our gondola friends.
After that we walked around the square some more. We ended up not going into any of the buildings around the square, deciding the lines were too long and we didn't want to waste time waiting. I don't really regret it, to be honest, I'm glad we were able to relax and really enjoy the city. We did a little shopping before searching for food. We stopped into a rather touristy place, but we didn't have much time left and the meal was rather inexpensive for the area. While I wasn't too picky about my meal, there was one thing I had to grab before we left Italy: a cannoli. And it was so delicious.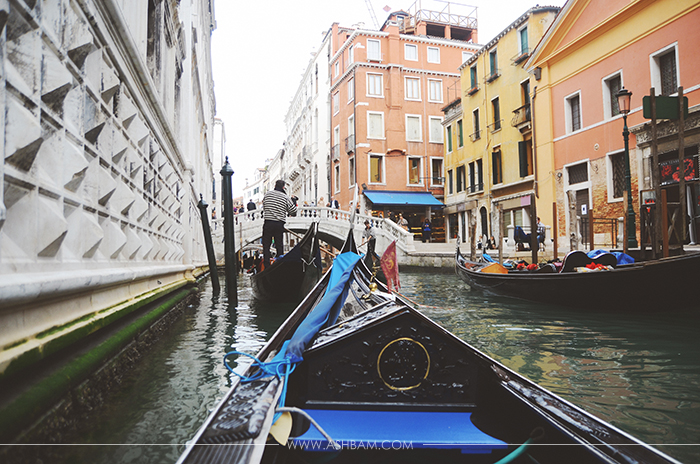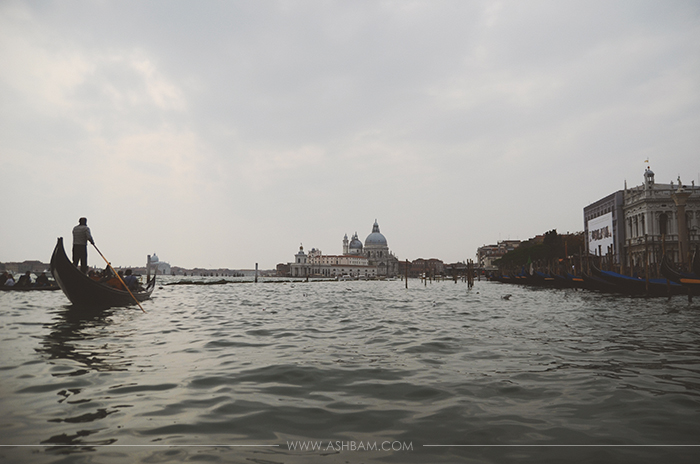 Knowing our time in this beautiful city was nearing an end we headed back towards the station. We did a little more people watching before heading inside, picking up our bags and waiting for our train to depart. While I do wish we would've had more time, I'm glad we at least got to experience such a unique place in the world. Fingers crossed I'll be able to return in the future and truly get a chance to explore all Venice has to offer.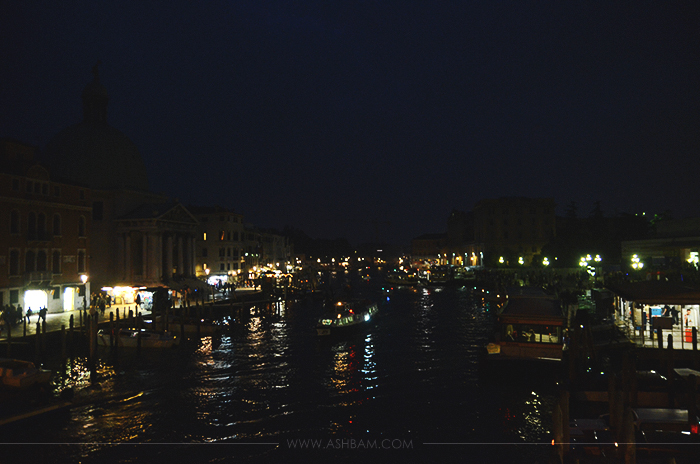 Have you had the chance to explore Venice or do you have plans to in the future?
Follow me on: Bloglovin – Twitter – Instagram – Facebook – Pinterest