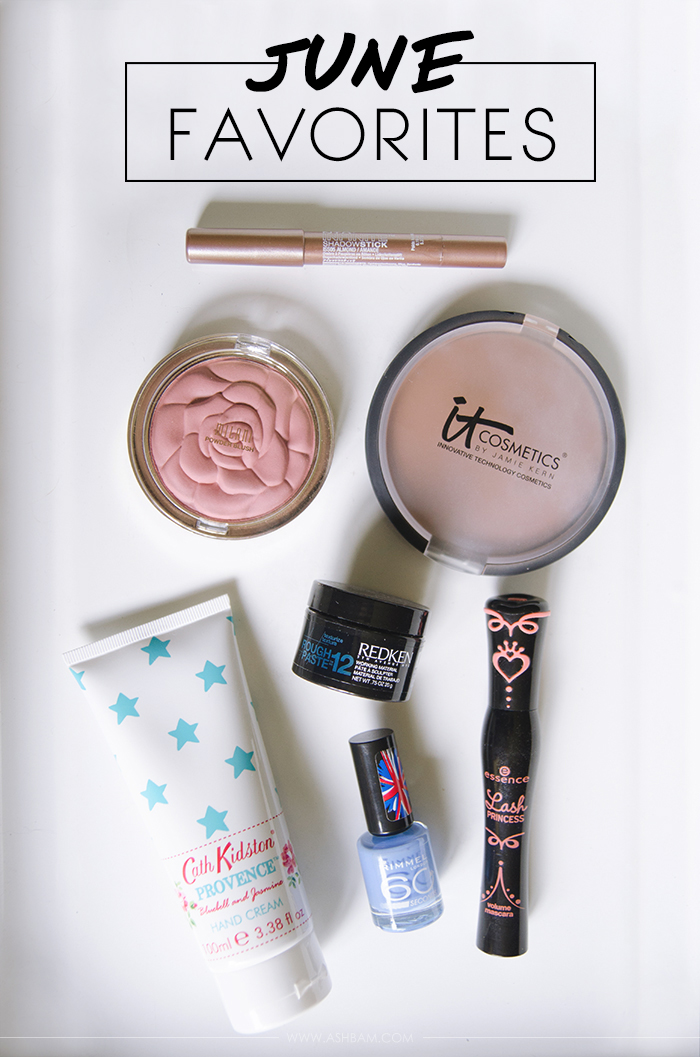 Happy Monday! Hope you had a lovely Fourth of July if you're here in the US or just a great weekend if you're elsewhere in the world! So let's all ignore the fact that I totally missed last month's favorites! Things have been quite hectic lately with photoshoots, weddings, family get togethers and of course, two crazy puppies. And it doesn't help that where I normally photographed everything is no longer available so it all just takes a bit more time. Anyway, lets get on to the favorites shall we?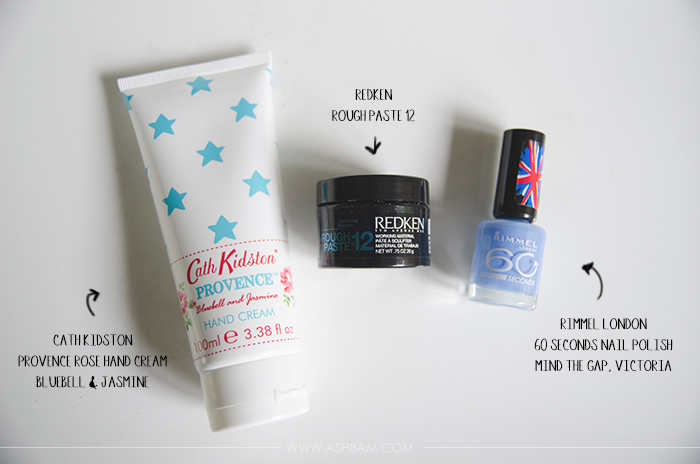 Cath Kidston Provence Rose Hand Cream Bluebell and Jasmine: I was so excited when I spotted this at Marshalls, it was the first time I'd found anything from Cath Kidston there. It's quite a thick hand cream, but it sinks in quickly and doesn't leave your hands feeling greasy. The scent is a fresh floral and isn't overpowering. Now if only Marshalls could start carrying her bags in store!
Redken Rough Paste 12: I picked this travel size of Rough Paste 12 up at Ulta during their hair event in hopes of finding something to help bring out my natural texture. My hair actually used to be quite curly naturally, but ever since I cut it short years ago that curl has seemed to disappear. This paste has really helped my hair return to what it used to be. I apply about a dime size amount to damp hair and then just use a dryer with a nozzle to help with the texture. (Unfortunately my hair dryer doesn't have a diffuser, but I'm sure that would help even more with the curl.) It does make my hair a little crunchy, but not terribly. It really gives my hair a great kind of messy curly feel that I absolutely love!
Rimmel London 60 Seconds Nail Polish in Mind the Gap, Victoria: I finally found these when I ran to Walmart a few weeks ago since for some reason Target doesn't carry Rimmel's nail polish line. I've really been loving blues lately and this is a gorgeous muted shade. Thanks to the puppies I've really neglected my nails lately, never having enough time to let a polish dry, so it definitely helped that this was quick drying. It claims that it only takes one coat and 60 seconds to dry, but I found it took two coats to be opaque and wasn't really completely dry for about a half an hour. But these are a steal at under $2.00 and it's surprisingly lasted quite well on my nails this week.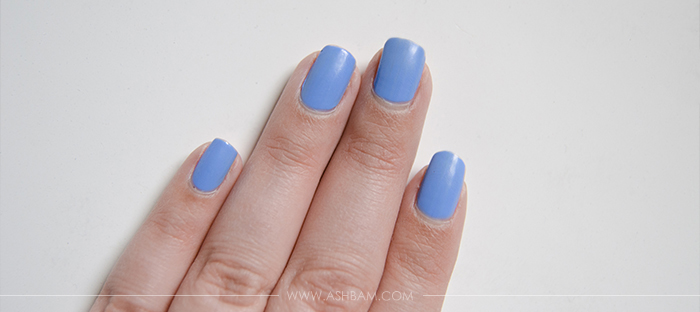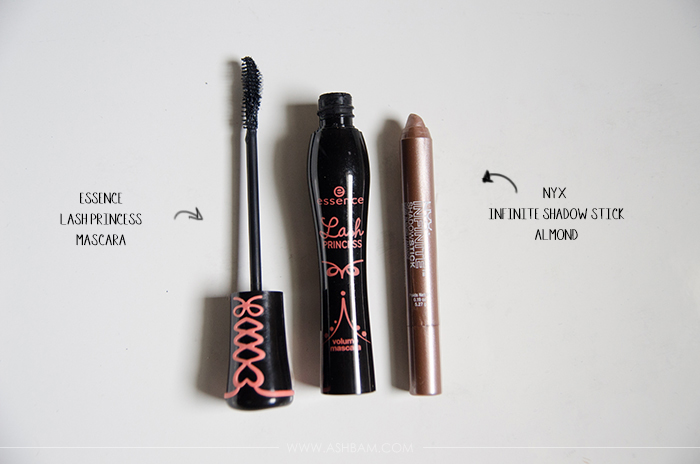 Essence Lash Princess Mascara: I received this from Ipsy I believe and didn't really think much of it at first. The wand is a rather different shape described as cobra inspired and that's definitely what it looks like. (Though for some really strange reason it always reminds me of that Alien movie despite the fact that I've never even seen it…) It just really lengthens the lashes and does a pretty nice job at separating them as well. It's perfect for an everyday look.
NYX Infinite Shadow Stick in Almond: A little sneak peak at what's to come, I'm testing out a ton of different eyeshadow pencils and one of my favorites so far is the NYX Infinite Shadow Stick in Almond. These have amazing staying power. When I swatched the colors on my arm this would only come off with makeup remover. And the color is gorgeous, I can never have enough taupe shades. It has a shimmery and metallic finish that looks beautiful on the lids. So keep an eye out for my eyeshadow pencil post in the near future!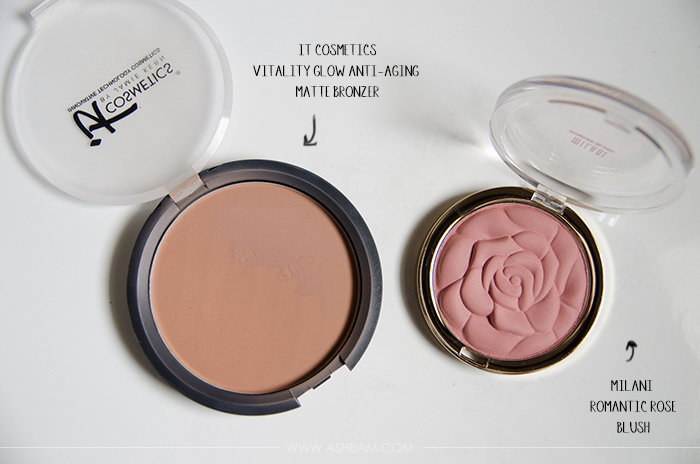 It Cosmetics Vitality Glow Anti-Aging Matte Bronzer: I literally have not gone a day without wearing this bronzer since I got it from QVC. As proud as I am of my pale skin, I must admit I do really like having a bit more color on my face. I've done a post all about this bronzer a few weeks ago so check it out here!
Milani Romantic Rose Blush: I'd been wanting this blush ever since I saw Amelia Liana talking about it on her Youtube channel and I finally picked it up from the Walgreens site. Seriously, isn't it just gorgeous? I love when brands actually take the time to really make their products beautiful as well as still being affordable. And the color is a lovely subtle rose shade that I've been using everyday. Another plus for me is that it's a matte formula which is always nice since I try to avoid using too much shimmer on my cheeks so I don't draw attention to my scarring.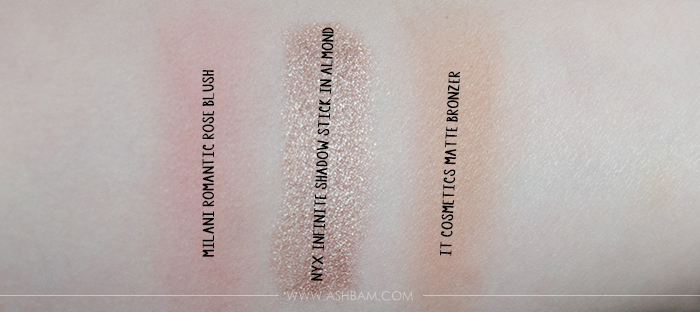 Well that's it for this month's favorites! What were your favorites for June? Have you tried any of these?
Follow me on: Bloglovin – Twitter – Instagram – Facebook – Pinterest