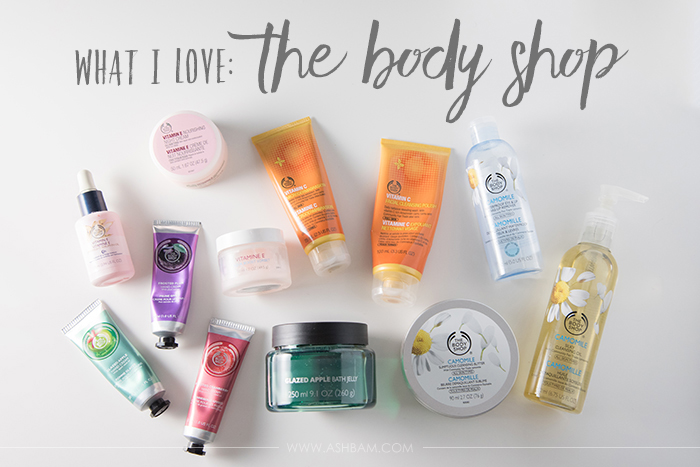 I remember first hearing about The Body Shop while I was studying in London, I used to pass it every day on on my way to class. But I had no idea they were in the US as well. It wasn't until two years ago that I finally tried some of their products and instantly fell in love! There's so many options you're bound to find something that works for you and I just really feel like I can trust the brand. They've practically taken over my bathroom counter so lets get started with what I love from The Body Shop!
Vitamin E Nourishing Night Cream – This has been my go to night cream for quite a while now. It's quite a thick cream that helps replenish the antioxidants in your skin as well as adding moisture overnight. My skin is combination, but has quite a lot of dry patches and this just brings so much moisture back into my skin.
Vitamin E Overnight Serum-In-Oil – This combination of a serum and oil is supposed to help recharge your skin overnight as if it's 8 hours of beauty sleep in a bottle. I ran out of it and haven't yet repurchased but I do really like it, it left my skin feeling super soft and while I used to always be cautious about using oils on my skin The Body Shop completely rid me of that fear. It actually really helped my skin feel more balanced.
Vitamin E Aqua Boost – I'm currently not using this one, I tend to use it more during the summer, switching from the Night Cream which I like for the winter months. It has a very different texture, it's very light and almost velvety. It's perfect when I want something that feels cooler on the skin.
Vitamin C Microdermabrasion – An exfoliator to help boost the radiance of your skin and improve texture. I don't use this quite as often as I should. You're supposed to use it once a week, but I just keep forgetting to be honest! I have issues with scarring and I know this would help speed up the process. When I did use it I really liked it, it wasn't harsh on my skin at all! I just need to put it out on the counter as a reminder to use it more often!
Vitamin C Facial Cleansing Polish – An exfoliating cleansing polish that is safe for everyday use. For quite a while I was using this as a my second cleanser, but I've been a bit lazy with my night routine so I've cut it out for right now. I really like that it very gently exfoliates while cleansing at the same time.
Glazed Apple, Frosted Plum and Frosted Cranberry Hand Cream – I purchased these at Christmas time in a three pack so unfortunately they're no longer available. I can't tell you how happy I was when I saw they had brought Glazed Apple back. It's by far my favorite scent they've ever done, it's just so fresh and uplifting. Frosted Plum and Frosted Cranberry are also very lovely scents. The hand cream is really nice and it doesn't feel greasy at all, it just sinks right into the skin. I only wish they had different packaging, I'm not a fan of twist caps on hand lotions.
Glazed Apple Bath Jelly – I picked this up during a sale when it was half off because as I mentioned above I'm absolutely obsessed with the Glazed Apple scent. However I photographed it before I had a chance to use it and sadly it wasn't one of my favorite things I've tried. Maybe I was using it wrong, but I just found that the jelly sunk to the bottom of the bath and hardly bubbled up. I ended up holding it in my hand under running water to get the majority of the bubbles. But at least it smelled fantastic! Maybe I'll just leave it open for the scent!
Camomile Waterproof Eye & Lip Makeup Remover – While I do think this is fantastic at removing eye makeup I use it exclusively to remove lipstick. I wear a lot of liquid lipsticks which can be quite difficult to remove and I never have any issues taking anything off with this remover. If there's one thing I'd recommend from The Body Shop it would be this!
Camomile Sumptuous Cleansing Butter – This was the first time I had ever tried a cleansing butter and I love it. It simply melts in your hands and easily removes your makeup, leaving your skin super soft. I don't use it too often, instead I save it for any time I'm traveling, it's so much easier than bringing along another liquid!
Camomile Silky Cleansing Oil – My daily cleansing oil. My skin feels so soft after using this and it does a fantastic job at removing my makeup. While I don't use it on my eyes, it does a great job at removing eye makeup. It's just really nice and refreshing and I've really grown to love using an oil! Not sure I'd want to go back to what I was using before!
So have you tried anything from The Body Shop? What do you love?
Follow me on: Bloglovin – Twitter – Instagram – Lipstick Diaries Instagram – Facebook – Pinterest