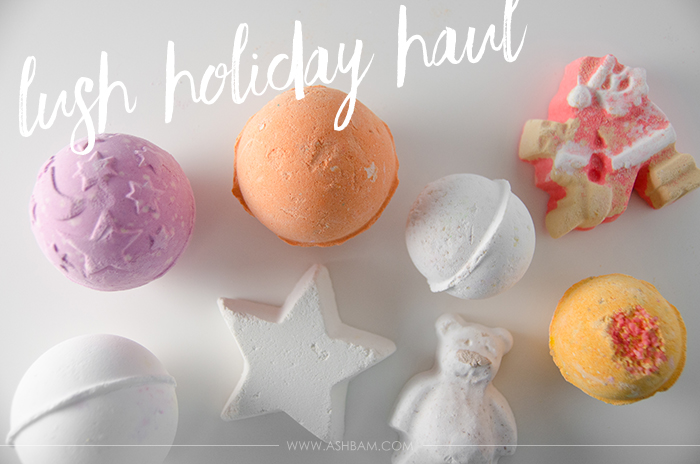 Over Thanksgiving weekend while visiting my sister in Rhode Island I was able to stop into Lush to pick up some holiday bath bombs. I grabbed a few of my favorites and a couple new ones to try! I had a very hard time not buying everything in the shop! The bath bombs are just so perfect for relaxing during the hectic holiday season and I can't wait to try them all!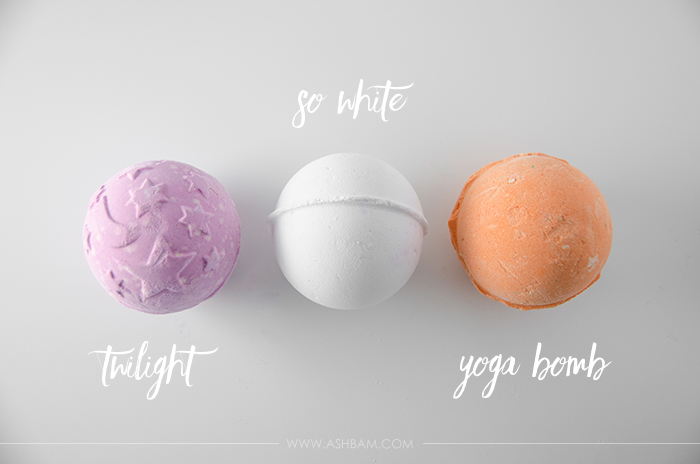 Twilight is one of my favorite bath bombs. It has a gorgeous lavender scent and I'm just in love with the colors it creates. It starts out pink before it reveals a blue shade which combines into a deep purple. And then there's my favorite part: the glitter. It really starts to look like the night sky and it's just beautiful!
I tried So White the other day and it's simply fantastic. It lasted longer than any other bath bomb I've used from Lush. It's described as a crisp, frothy sweet apple fizzer and it contains baking soda, bergamot oil and neroli oil. Eventually the white turns to pink and the apple scent just fills the room and it's so lovely.
Yoga Bomb is a new bath bomb this season. It contains sandalwood, olibanum and ho wood oils for the most relaxing bath. It's supposed to be slow-frothing adding to the calming nature. It seems to have quite a few colors in it from orange, to blue, to purple and green! I can't wait to pop this one in the tub after I do some Christmas shopping this weekend!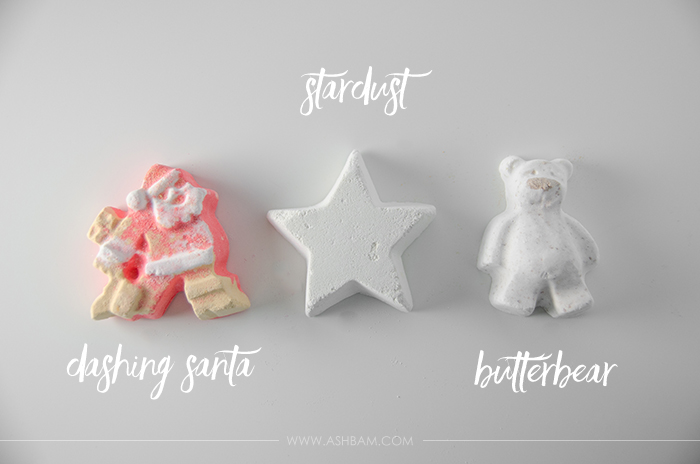 I believe I picked up Dashing Santa last year but I can't remember for sure. He's just super cute and I couldn't pass it up! He contains mandarin oil, bergamot oil and orange flower absolute. It has some sparkle in it as well.
Stardust is another new one. It has vanilla, rosewood and bergamot oil. It seems to fizz a bit more than others I've seen. Of course there's some glitter in this one and there's even a bit of a surprise inside! (Spoilers: tiny stars!)
Butterbear is just about the cutest bath bomb there is. It's basically the same as my all time favorite Butterball, but in an adorable bear shape! It has a fantastic vanilla scent and cocoa butter that leaves your skin feeling so soft.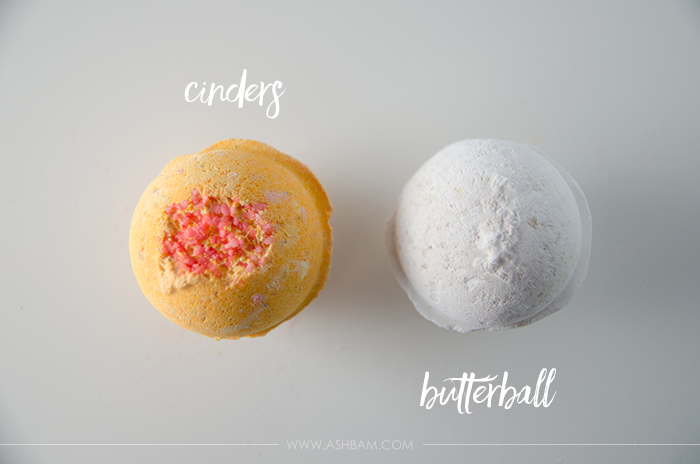 Another favorite of mine is Cinders. The red pieces on top are popping candies that mimic the sound of a crackling fire. It's scented with a cinnamon leaf oil and just really makes me think of Christmas. The only downside is the size, it's quite small compared to some of the other bath bombs.
Lastly is Butterball. Like I said it is my all time favorite bath bomb and my skin always feels extremely soft after getting out of the tub. And again the vanilla scent, it's just so simple, but so wonderful!
What's your favorite Lush bath bomb? Any holiday favorites?
Follow me on: Bloglovin – Twitter – Instagram – Facebook – Pinterest