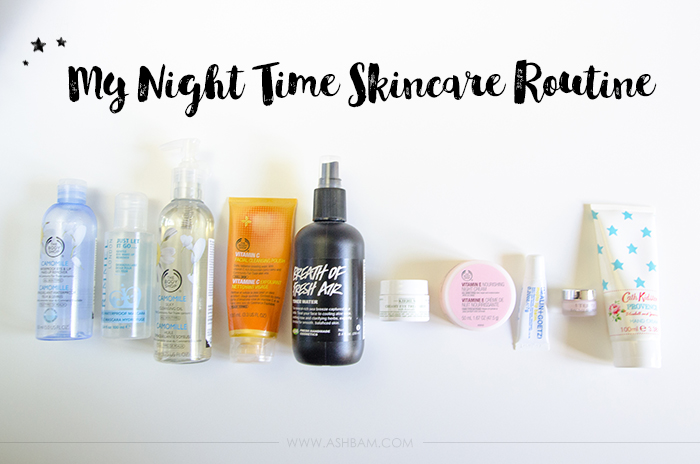 Oh how I remember the days when my night time routine consisted of taking a makeup wipe across my face and being done. Sometimes I do wish I could go back to that, it was much less time consuming, but I wasn't being kind to my skin. So I did some research into skincare and finally started properly cleansing my skin. My routine has changed quite a bit over time, but my current one has really been helping my skin lately, but obviously this isn't something that will work for everyone.
The Body Shop's Camomile Waterproof Eye & Lip Makeup Remover: First of all I start off by removing my lipstick. I have a habit of wearing bright colors most days so I needed something that's strong enough to remove anything in one swipe, but gentle enough that my lips don't feel like the Sahara afterwards. I especially love to use this when doing lip swatches for the site. It keeps my lips feeling super smooth.
Rimmel's Just Let It Go Eye Makeup Remover: Sure I could just use the Body Shop's remover for my eyes as well, but I prefer to save that specifically for my lips. The Rimmel remover is extremely gentle, never irritates my eyes, and is great at taking off my mascara. The only downside is that I do go through it pretty quickly.
The Body Shop's Camomile Silky Cleansing Oil: After removing my lipstick and eye makeup, I work this into the skin. As someone with combination skin I never expected to like a cleansing oil, but it's one of my favorite products. It adds just the right amount of moisture to my skin and does a great job at breaking up my makeup.
The Body Shop's Vitamin C Facial Cleansing Polish: I've recently started double cleansing and I've found it really helps keep my skin clear. Since I'm so pale I scar very easily and the scars usually hang around for quite some time. But I think this polish, which is a gentle exfoliator, is definitely helping with that. Nothing drastic, but I do think it's noticeable.
Lush's Breath of Fresh Air Toner Water: Truthfully, I have no idea if toners make any difference. But I just love the feel of spritzing this on my skin after cleansing. It's just so refreshing. You can either wipe it off with a cotton pad or let it air dry, which is supposed to help tighten pores.
Kiehl's Creamy Eye Treatment with Avocado: Most people at my age don't really think about under eye treatments but I don't think you're ever too young to start. I've tried a few different products for under eyes but I've always had issues with my eyes swelling up in the morning. This is one of the only products that doesn't do that for me. It's a thicker cream but if you warm it up with your fingers it becomes the perfect consistency.
The Body Shop's Vitamin E Nourishing Night Cream: This is an extremely rich night cream and while I was worried it would be too much for my skin, I absolutely love it. My skin feels perfectly moisturized and super soft when I wake up. It's especially great during the winter months, but during the summer I just apply a lighter layer.
Malin + Goetz Mojito Lip Balm or By Terry Baume de Rose: I've been switching back and forth between these two lip balms for the past couple weeks. The first time I used Malin + Goetz I wasn't really a fan, the smell is definitely not my favorite. But after trying it again I realized just how amazing it was. It's extremely long lasting, I actually still feel it on my lips in the morning. Also I prefer the packaging to any of my other lip products. I hate having to stick my finger into a pot to apply lip balm, especially with longer nails. Which is the biggest downside to By Terry's Baume de Rose, even though that tiny little sample is just about the cutest thing ever. It is a lovely balm and quite moisturizing. I do prefer the texture compared to Malin + Goetz, which is more of a gloss, but I don't really feel it's worth the $60 price tag. It lacks longevity and it takes quite a few layers before I felt it was helping.
Cath Kidston Provence Rose Hand Cream Bluebell and Jasmine: I have a habit of washing my hands too much so they're almost always dry. So I figured I should probably add a hand cream to my nightly routine. I pretty much only picked this up because it was Cath Kidston, but it was definitely worth it. It's a very thick hand cream which sinks into the skin quickly and doesn't leave your hands feeling greasy. Definitely a plus since I usually end up on my computer before bed. (Terrible habit I know.)
All in all it's doesn't take me too long to go through my skincare routine, about twenty minutes or so. My pup complains from time to time that I'm not in bed yet (She seriously does, it's a little annoying!) but it's definitely worth it! My skin has really improved since I've gotten rid of the face wipes and started to be kind to my skin.
So what's your skincare routine like? Any favorites you think I need to try as well?
Follow me on: Bloglovin – Twitter – Instagram – Facebook – Pinterest