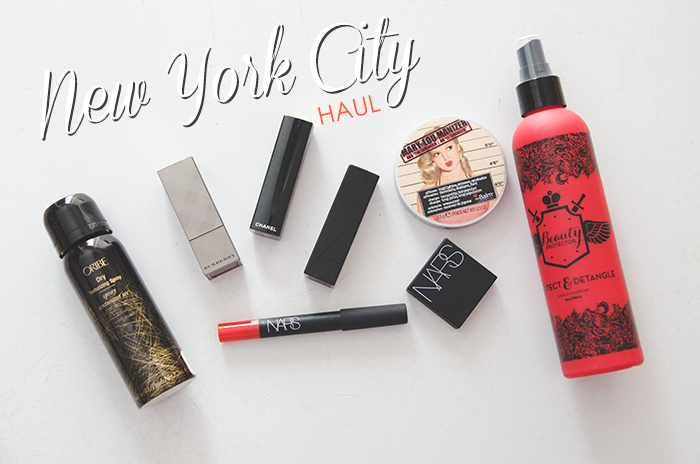 When my sister and I visited New York City back in December I knew I wanted to do a bit of shopping, as one does in NYC. I thought I'd check out the stores we don't necessarily have here at home and pick up a few things.
I didn't plan on stopping into NARS, but I'm glad I did. (My bank account feels differently, I'm sure.) I knew exactly what I was looking for, the gorgeous Velvet Matte Pencil in Red Square. I had been coveting the red orange color for quite a while now, but it always seemed to be sold out at Sephora so I figured now was the perfect time. I really love the NARS matte pencils, they apply beautifully and easily, with great staying power. I tend to prefer a lip pencil, it's so much easier to make a precise line. I have two other colors from the line: Cruella and Damned and I just might need to try out a few more. Any suggestions?
Then the girl at the shop suggested I take a look at the new Audacious lipsticks, which I had heard great things about. The new packaging is a sleek black with a magnetic closure and it's strangely satisfying! It took a while to pick out a color, but I decided on Sandra, something a bit darker than most of my lipsticks. It applies smoothly, but because of that texture it does transfer onto things quite easily. It has pretty decent staying power, but it probably won't last you long through meals. Still it's a beautiful deep red with brown tones and I don't mine reapplying it!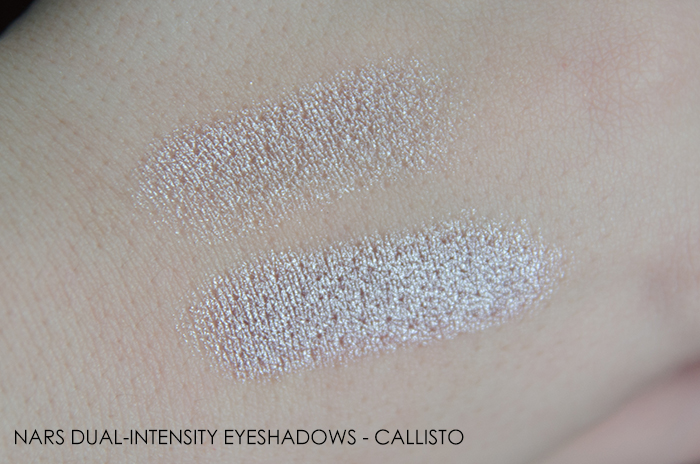 I also really wanted to have a look at the Dual-Intensity Eyeshadows, they're gorgeous metallic shadows that can be applied wet or dry. They were all so beautiful, it was hard to choose just one, but I went with Callisto. It's described as an icy pink silver and it definitely has an iridescent quality on the lids. I nearly bought another lipstick, but I had to stop myself before I spent all of my money in the small shop.
We also made a stop at Space NK. I had heard a lot about the store from my favorite British youtubers and the moment I saw it was in NYC I had to stop in. They carry a lot of wonderful brands and many that can be a bit harder to get a hold of. (Well at least for me, living in Ohio.) Instead of having to order it online I decided to pick up the Oribe Texturizing Spray. I really like it, it adds the perfect amount of texture and volume to my hair and doesn't give it that gross crunchy feeling.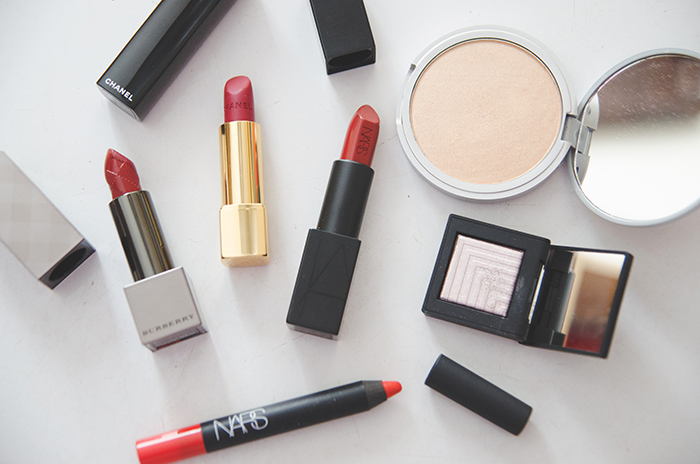 My ultimate goal for the trip was to find a Burberry beauty counter. Unfortunately none of the Burberry stores we went into carried the beauty line, so I figured I'd check some of the department stores. We went to Bloomingdales first, but no luck. So I decided to stop at the Chanel counter to try out their Rogue Allure Velvet range. I picked up 40 La Sensuelle, which looks rather red in the bullet, but it definitely is more of a raspberry color. It applies beautifully and smoothly. It's matte, but not drying at all. I love the packaging, you press in the gold Chanel logo and the lipstick pops out of the black tube. I certainly think I'll be picking up a few more of the Velvet lipsticks.
The Birchbox store was a must, I went in hoping to pick up my favorite detangler that I order from the site. Beauty Protector's Protect and Detangle honestly is the best detangler I've found. The smell is so nice and it doesn't make my hair greasy like others do. I spotted The Balm's Mary Lou Manizer so I had to grab that, I mean I had heard it was the best highlighter ever. (Check out my post on highlighters here for a swatch!) I also grabbed two little notebooks by Rifle Paper Co., one that looks like a passport and the other is covered with illustrations of famous landmarks such as Big Ben and the Eiffel Tower! Perfect to jot down all my travel plans and pop it into my purse.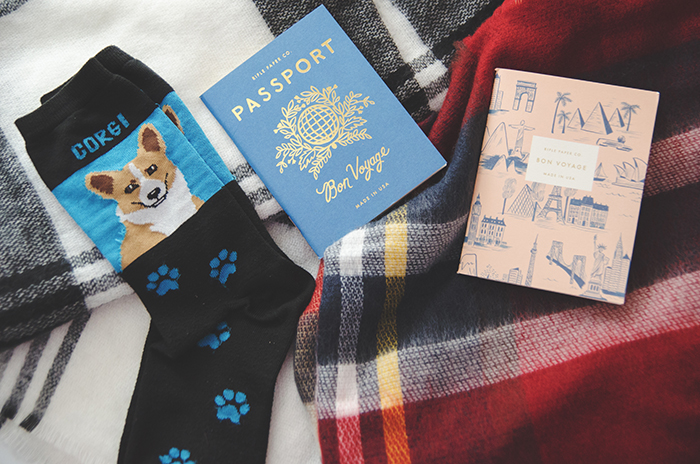 Despite traveling through Europe, I never managed to go into a Zara. They always seem to have such lovely scarves so I thought I'd stop in and check them out. There were so many beautiful ones, but I decided on two checked designs: one is a black and white and the other is red, navy, white and yellow. They're both huge blanket scarves and so soft, I just want to cuddle up in them all day. But I'll be completely honest, I wore the black and white one with dark jeans and ended up covered in white fuzz.
We luckily just happened upon the Union Square Christmas Market. It was so cute with so many unique vendors, I wish we would have had more time to explore. I did manage to snag one thing: a pair of corgi socks. I had to! They're so cute and it looks just like my Georgiana, I couldn't pass them up! They're made by a company called Sabyloo and they have an Etsy shop so if you're looking for some cute things with dogs on them, it's the place to go!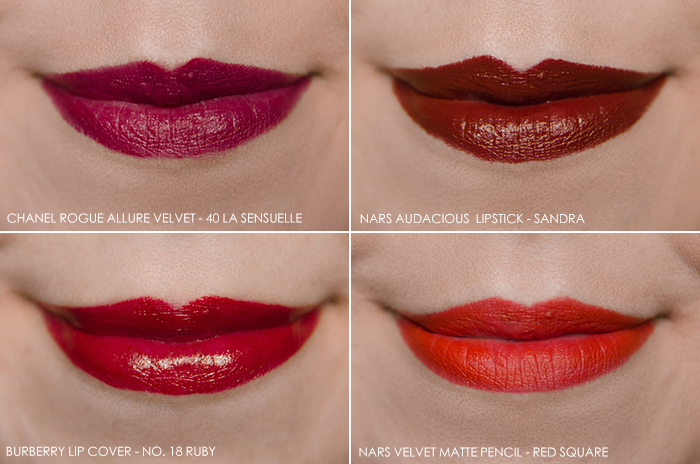 Right before heading out of the city we stopped into Saks Fifth Avenue where I finally found a Burberry beauty counter. I tried on three different lipsticks, going from a true red to a deep oxblood. I went with No. 18 Ruby since it was in-between what I normally go for. But Oxblood is certainly on my list! There is a slight shimmer to it in the tube, but you don't really see it on the lips. It isn't quite as matte as I would like, but it does eventually lose some of it's sheen. It's rather long lasting and I have to say, it definitely was worth all the hassle to find it!
New York City is one of my favorite cities in the world, but unfortunately I never get to spend enough time there. There's countless things to see and do, so many shops and restaurants, museums and theaters. It's never ending and it certainly is never disappointing!
Follow me on: Bloglovin – Twitter – Instagram – Facebook – Pinterest