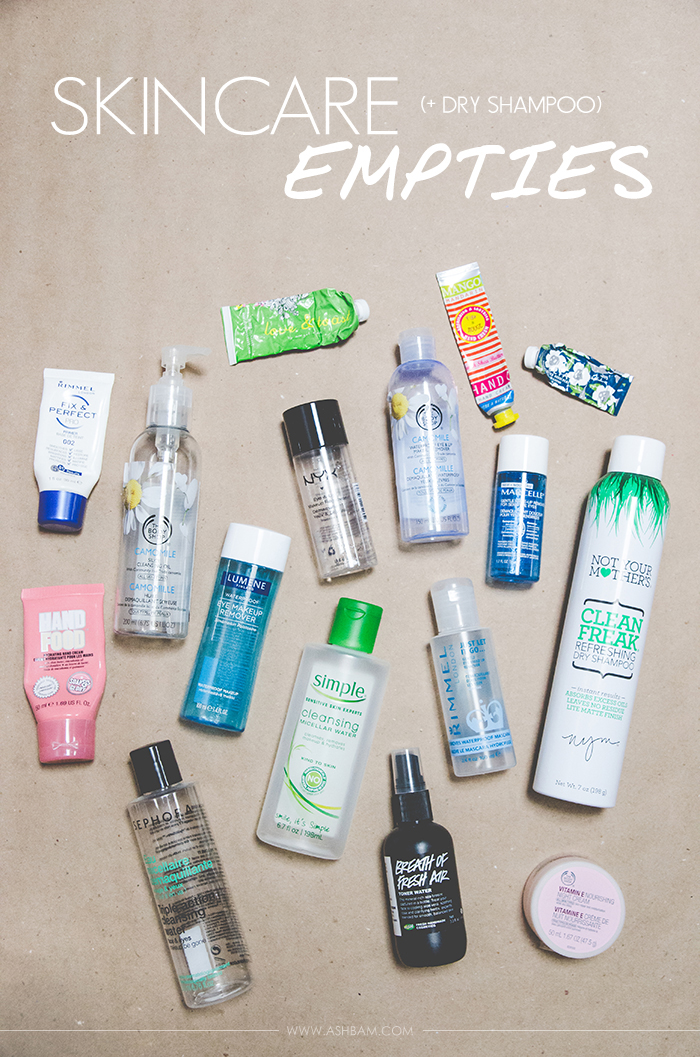 Happy Monday everyone! Hope you all had a lovely weekend! So I've been collecting all my empties for the past couple months and I finally decided I had enough to do a post. They're all basically skincare, minus the dry shampoo. I'm constantly trying new things when it comes to skincare, trying to figure out what will work for me. So I'll let you know what I loved and what I didn't and the things I'll definitely be repurchasing again!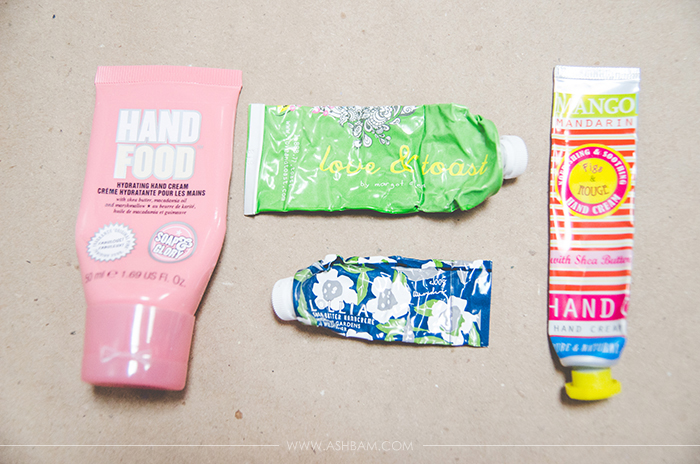 Soap & Glory Hand Food: This is definitely my favorite hand cream out of the four. It's a much thicker cream but it isn't overly greasy feeling on the skin. It contains shea butter, macadamia oil and marshmallow! I really like the scent, it's the Original Pink fragrance which is described as a fresh fruity citrus with notes of bergamot, summer rose, peach, strawberry, gardenia blooms, jasmine, patchouli warm amber and lush musks. This is one I really need to pick up again!
Love & Toast Pomme Poivre Handcreme: Sadly I'm not the biggest fan of the scent, I love floral but it's just a bit too heavy for me. It's a mixture of vanilla orchid, white musk, jasmine and ebony woods. The consistency is a bit thinner than Hand Food and it sinks into the skin pretty quickly.
Lollia Shea Butter Handcreme Wander: I like the scent of this one a bit more. It's described as a floral escape for the romantic dreamer. Night blooming Jasmine and ancient Cypress adrift on moonlit paths of Water Lily and delicate, dew drenched greens. It's a much thinner lotion and I do feel that my hands are greasier a little longer than with the others, but it does eventually sink in. The packaging of this one gets a big plus from me, I love anything with a floral pattern!
Figs & Rouge Hand Cream Mango Mandarin: Once again, not the biggest fan of the scent, it's extremely fruity, which I guess is to be expected with the name Mango Mandarin. It's also a thinner consistency and it absorbs quite quickly into the skin. I don't think this particular hand cream is still available on their site, so they may have discontinued it, but I did find it on Feel Unique.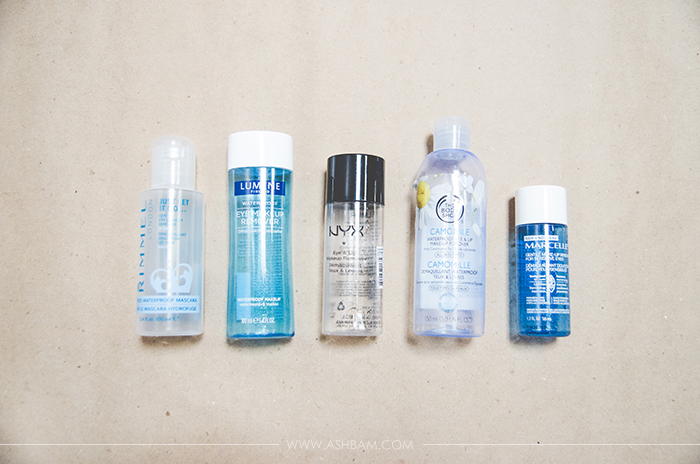 Rimmel Gentle Eye Makeup Remover: This is my current remover and I'm really liking it a lot. There's a tiny bit left in the bottle, but I figured I'd include it anyway. It does a really great job at removing makeup that can be a bit more stubborn. I don't wear waterproof mascara so I'm not sure how well it takes that off, but some of my mascaras might as well be waterproof they're so tough to remove and this takes them off rather easily! I just ordered a second bottle from Ulta today!
Lumene Waterproof Eye Makeup Remover: I featured this one back in April in my favorites post. It's a dual-phase remover and was really quick at getting off my makeup. You can read a bit more about it here!
NYX Eye & Lip Makeup Remover: I spotted this on Ulta's website and decided to try it out. It's described as an oil and water emulsion infused with oils, rice and soy extracts as well as orange and papaya fruit extracts. It wasn't really my favorite when it came to removing eye makeup, so I mainly used it for removing lipstick. It left my lips feeling rather smooth and moisturized rather than drying them out which is always a good thing! It's super inexpensive and they're having a sale on NYX products at Ulta.com so I went ahead and ordered another!
The Body Shop Camomile Waterproof Eye & Lip Makeup Remover: I definitely think this is my favorite remover of the bunch, and of course the most expensive at $16. I haven't been using it as much for eyes since I've obviously been trying out so many others, but it's perfect for when I'm doing countless lip swatches for a post! It's really moisturizing and removes makeup so easily. Thinking about getting another to have as a just in case backup!
Marcelle Gentle Eye Makeup Remover for Sensitive Eyes: I received this a few months back in my Birchbox. It's hypoallergenic, plus gluten and perfume free. I'd say it was a decent remover, nothing too spectacular, but it did it's job for the most part!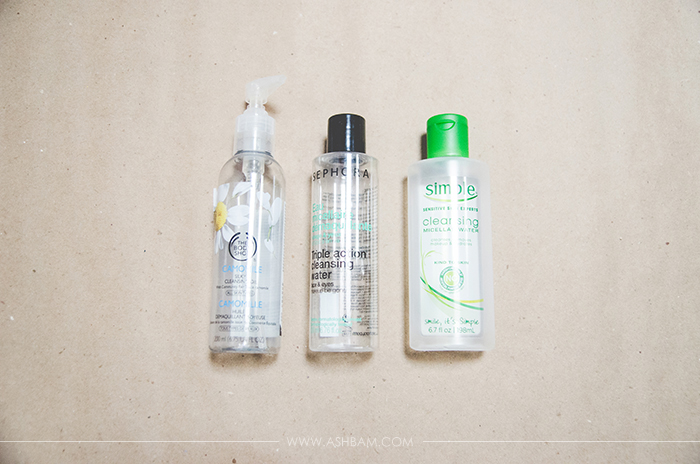 The Body Shop Camomile Silky Cleansing Oil: I've just run out of this and I'm desperate for a new bottle. I never thought I'd be one to use a cleansing oil with my combination skin but it really has been such a great addition to my night time routine. It does a really good job of breaking up the makeup. I love how soft my skin feels after I've used it. I do usually use a second cleanser after this one though since I wear a bit heavier foundation.
Sephora Triple Action Cleansing Water: Micellar waters have certainly made their way over to the States recently. This was the first one I tried and while I really liked it at the time I definitely preferred Bioderma once I got my hands on it! It did quite a good job at removing makeup, however my skin always felt a little irritated after using it. I probably wouldn't repurchase it.
Simple Micellar Facial Cleanser Water: And another micellar water! I talked about this one in my February Favorites. I definitely like this more than the Sephora one. My skin just felt refreshed after using it and it did quite a good job removing makeup. Once again I still do like Bioderma a bit better, however I think I'll be picking this up again to switch between the two. (So I don't use up Bioderma quite as quickly!)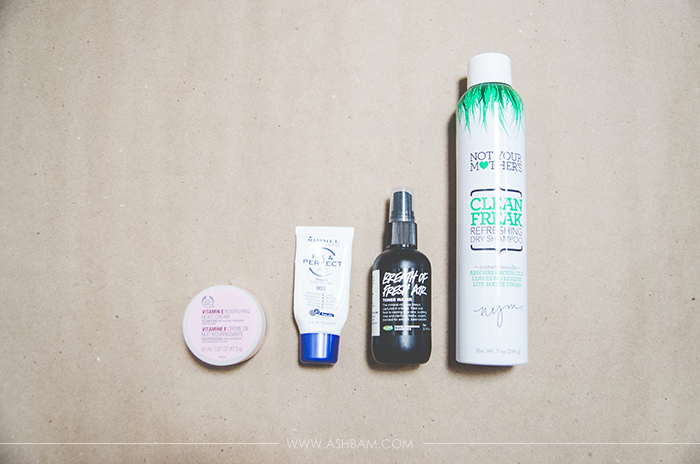 The Body Shop Vitamin E Nourishing Night Cream: Can you tell I like The Body Shop? It really has become my go to place for skincare. Sadly they just closed the store at my local mall so now I have to travel about an hour if I want to go into a shop which is frustrating. I loved this during the winter, it's such a thick cream. Perfect for the dryer months. Or even during the spring and summer when my skin is feeling just a little too dry using this at night insures I'll wake up with a super smooth skin. I think I'll be getting myself another one soon!
Rimmel Fix & Perfect Pro: I'm on my second bottle of this primer and it's still one of my favorites. It was also featured in my February Favorites. It does a fantastic job at helping my makeup stay throughout the day and really helps disguise the pores to help my skin look smoother.
Lush Breath of Fresh Air: To be honest I'm not sure I notice much of a difference when using a toner. However I can't stop using this. It really is like a breath of fresh air, I just love to spray it after cleansing in the morning and at night. It's so refreshing and helps add a tiny bit of moisture to my skin. It's suitable for all skin types and contains fresh seawater, seaweed extract, rose absolute and aloe vera. After going through two of the smaller bottles I finally decided to pick up a larger one. Hopefully that'll last me a bit longer!
Not Your Mother's Clean Freak Dry Shampoo: I've tried a ton of dry shampoos but nothing has worked for me like this one. I have very fine/thin hair and I hate to wash it everyday but unfortunately it gets greasy rather quickly. At first I wasn't really sure about it, but I found the trick for me is a continuous spray. Yes you'll end up with grey hair, but after you let it set for a few minutes it does brush out easily. It might not be the best if you have extremely dark hair, but my hair is currently blonde with medium brown roots and it's pretty unnoticeable in my hair. I don't even know how many cans I've gone through of this so far!
Well that's all my recent empties! Have you tried any of these products? Any suggestions for eye makeup removers, clearly I like to try them all!
Follow me on: Bloglovin – Twitter – Instagram – Facebook – Pinterest