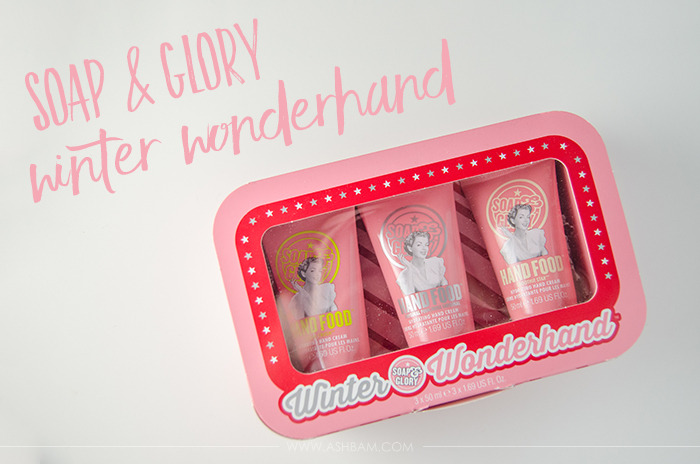 I fell in love with Soap & Glory's Hand Food earlier this year and knew the Winter Wonderhand gift set at Ulta would be the perfect little gift for myself. The set cost $12 and comes with three 1.69 oz lotions in different scents: Original Pink, Sugar Crush and Smoothie Star.
The Original Pink is Soap & Glory's signature rose and bergamot scent. It's definitely my favorite, it's fresh yet has some warmth to it and it's a great for any time of the year. Sugar Crush has a freshly squeezed lime scent and it actually reminds me a bit of the lemon-lime Gatorade, which ultimately makes me think of when I wasn't feeling well when I was younger. So overall, not my favorite. Luckily I apply this at night before I go to bed so the scent doesn't stick around too long. Smoothie Star is almond and sweet vanilla scented and definitely reminds me of Christmas time. It's such a lovely warm scent and it kind of makes me a little hungry. (I mean it is called Hand Food, right?)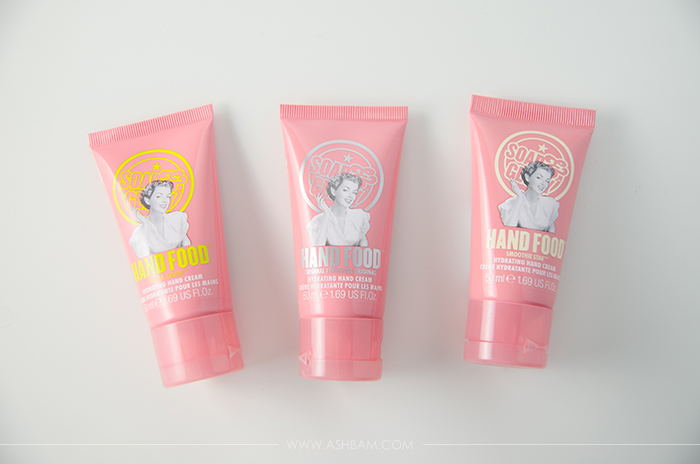 The lotions are just the right consistency and sink in quickly, they don't leave your hands feeling greasy at all. In fact I applied some a minute ago and can still manage to type without missing half the keys. One little detail that may seem simple, but to me it's one of the reasons I like these more than others, the flip open top. I hate when a lotion has a cap you have to twist on and off, it's just not practical! It's so much easier to just snap it closed after applying a lotion. Also the smaller size makes these super travel friendly and easy to throw into your bag. So if you're looking for hand lotion to get you through the winter these might just be the perfect fit!
Have you gotten your hands on these yet?
Follow me on: Bloglovin – Twitter – Instagram – Facebook – Pinterest