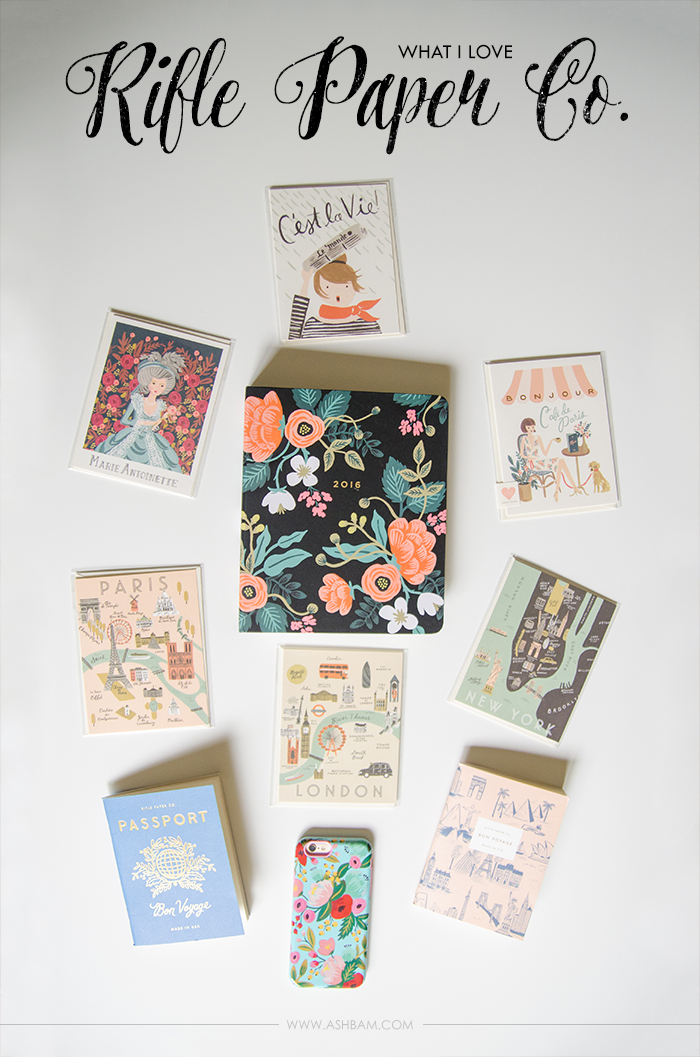 I wish I could remember when I first fell in love with Rifle Paper Co., but it's not hard to see why. Did I ever mention I love florals? And anything travel related? Honestly if I could buy one of everything on the website I would. The ultimate dream is to have a portrait done by Anna some day. Going to start saving for that one! There's just something about her work, it's so simple, yet so beautiful and unique. I'm a photographer so I usually prefer photographs, but she made me fall in love with illustrations like I never have before.
Now for a little background info! Florida based Rifle Paper Co. is owned by Anna and Nathan Bond, a super talented husband and wife team who just welcomed their first child! They started the company back in November of 2009 and in just a few short years it has grown immensely. Anna is the Creative Director and designs all of the gorgeous works. Nathan on the other hand is the Director of Business Development. These two clearly are a power couple, in 2014 the company was on the Inc 500 fastest-growing companies list and Nathan was named as one of Forbes 30 Under 30 in Retail & Ecommerce. Their products are sold all over the world from Anthropologie and Barnes & Noble here in the States to Selfridges in the UK and Eslite in China.
If you have a love for stationary or florals or travel or quirky illustrations you definitely should have a look through Rifle Paper Co.'s site. They even have some fantastic collaborations going on right now. One with Lesportsac which includes some really fun bags. There's a makeup bag with adorable illustrations that is definitely on my wishlist! They also currently have a clothing line with Lauren Conrad's Paper Crown and that means some absolutely gorgeous pieces. Onto my collection of RPC goods!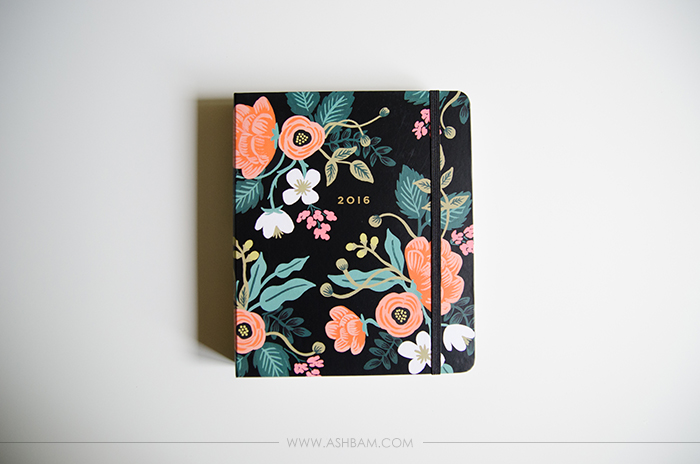 My latest purchase, I actually picked it up from Anthropolgie because they were offering 20% off the site at the time, but it's originally $34. It's a gorgeous 17 month planner. I've been trying to decide on a planner for some time now and once I saw this my mind was made up! How could I say no to that gorgeous print? It includes monthly and weekly pages, contacts, holidays, a pocket, a ruler and lovely quotes along the way. I'm actually kind of dreading have to write in it, I don't want to mess it up!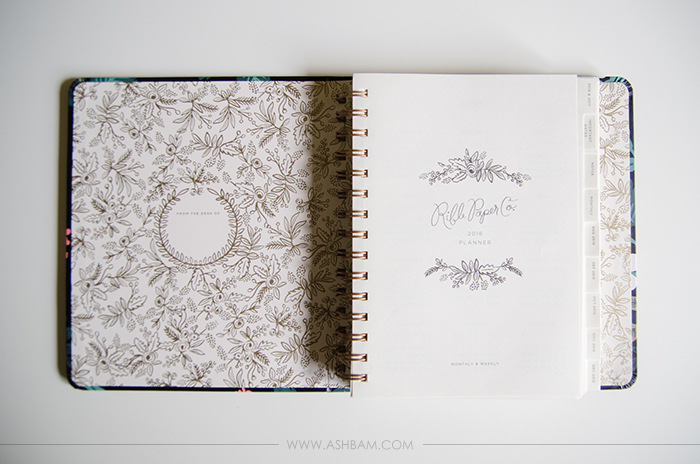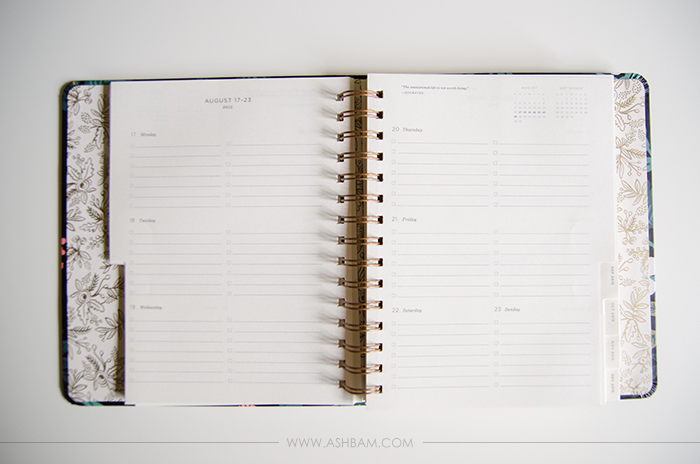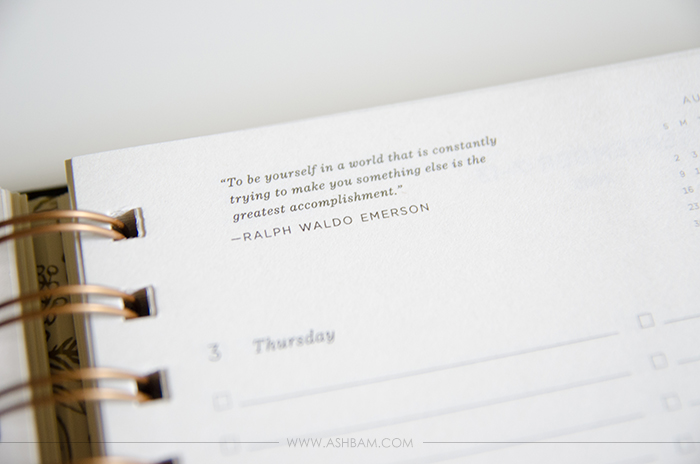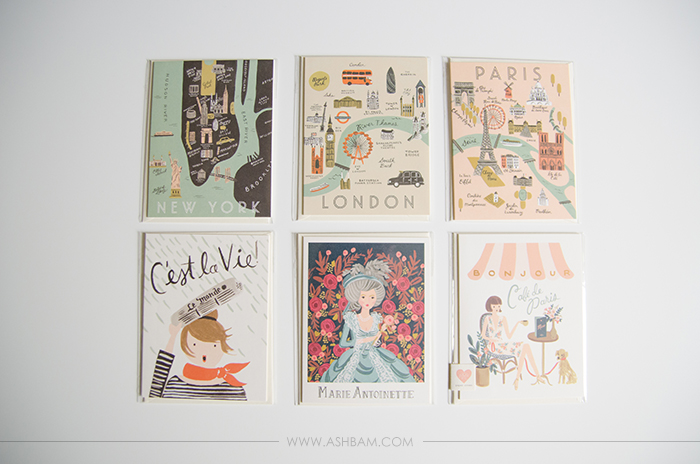 I actually bought these greeting cards for my in process gallery wall. (AKA nothing is up and I just keep collecting things!) Of course I had to get the top ones, my three favorite cities! I just adore the illustrated maps! I also have a love for anything French, despite hardly picking up the language while I studied it for three years. The C'est la Vie card was just too cute to pass up and always makes me smile! While Marie Antoinette is quite a tragic character, I have always been fascinated by her. Visiting her Hamlet in Versailles is one of my favorite things to do while in France. Not to mention I think Sofia Coppola's Marie Antoinette is one of the most visually stunning movies. Lastly the little Cafe de Paris card in collaboration with Paper Crown. I like to imagine that's me and my Georgie sitting there, if only I could just add some pointy ears to make it look more like a corgi! The cards are $4.50 each or you can get a box of 8 for $16.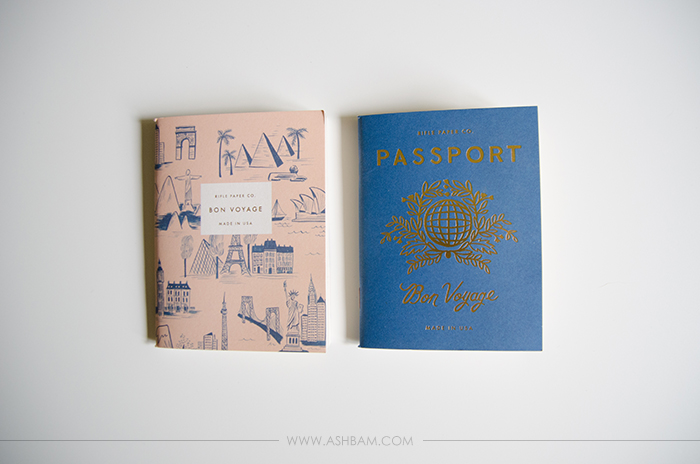 I was browsing the Birchbox store in NYC when I spotted these two notebooks for $10. Obviously another travel related item and I just love the illustrations of all the cities. And the faux passport is adorable too. Definitely taking these with me the next time I travel!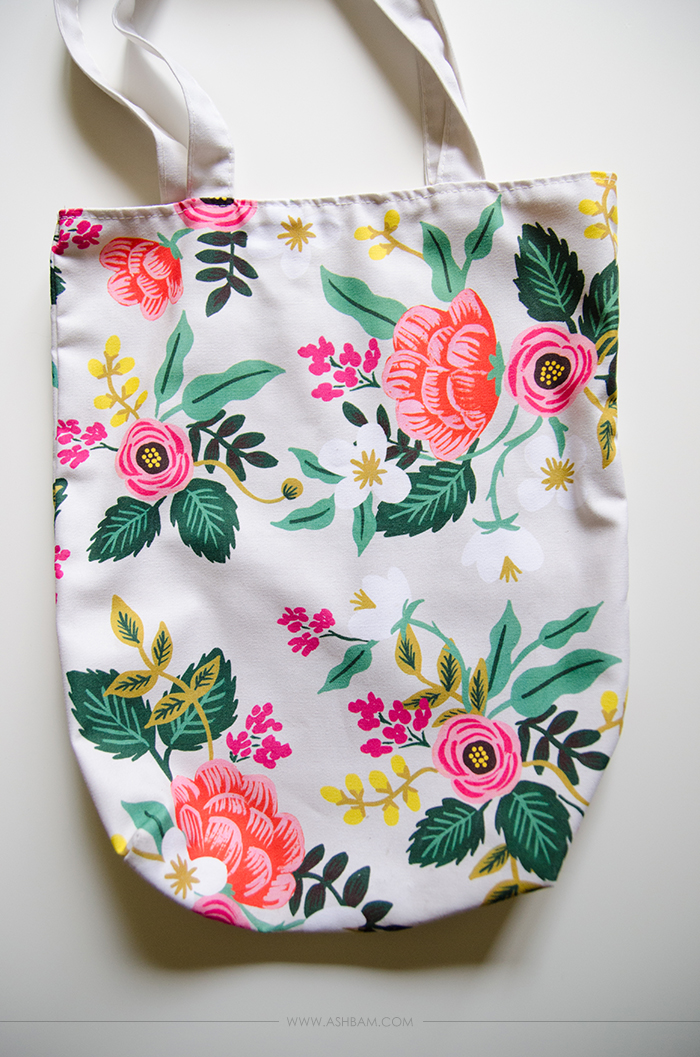 I recently did a What's In My Bag post so I won't go into too much detail, but oh how I love this bag. It's so roomy and fits all the random stuff I carry around with me everyday. It's actually the same design as my planner, just a bit different color scheme. It's only available on Birchbox's website, though I think it's still out of stock at the moment.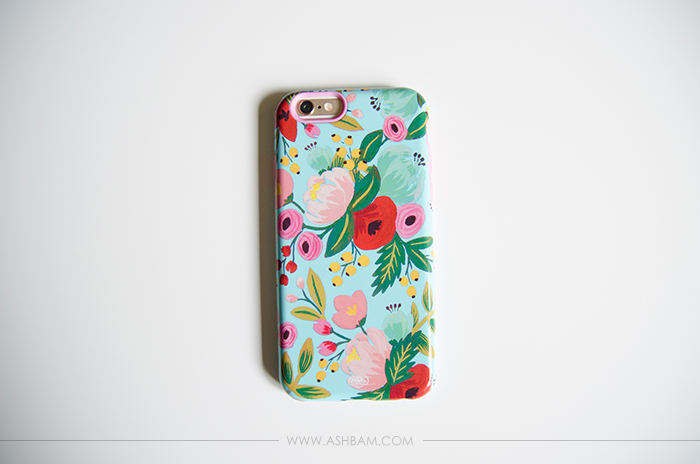 My first Rifle Paper Co. purchase…and I didn't even know it. I got this last year when I picked up my iPhone 6, it was at the AT&T store and I couldn't pass it up. It wasn't until a couple months ago when I looked at the packaging for the case that I noticed it said Rifle Paper Co. and sure enough after taking a closer look there was the logo on the bottom. I haven't seen this one available for the iPhone anywhere else since, just for the Galaxy S6. The colors are some of my absolute favorites and it really does keep my phone well protected since the sides have a bit of a grip to them.
So I hope you guys enjoyed my first What I Love post, I'm hoping to post these every now and then featuring some of my absolute favorite brands. Now I'm off to go stare at my planner and refuse to write anything in it! Have a great rest of the week!
Have you fallen in love with Rifle Paper Co. yet? If you could pick out one thing from the shop what would it be?
Follow me on: Bloglovin – Twitter – Instagram – Facebook – Pinterest