This is a sponsored post by TopCashback. All opinions remain my 100% my own and I was in no way influenced by the company. Some links may be affiliate links. 
There's only one way you should be shopping and that's by using a cash back website! I mean, who doesn't love getting money back?! And the best way I've found to do that, with TopCashback! If you haven't heard of them they originally started in the UK and launched here in the US in 2011.
When TopCashback reached out to me to try their site I jumped at the chance! Now if you're like me and don't exact understand how this works and think that it's simply magic, let me explain how you're getting money back! As stated on their website, TopCashback receives a commission from retailers in exchange for directing consumers to their websites and they then give that money back to you! But what really sets them apart from others is the fact that they are the only site that returns 100% of the commission they make to you! They have over 4,000 retailers and they regularly give higher rates than other cash back sites. Plus there's no minimum balance that has to be reached before you can get your money!
It's super easy and free to sign up! You can check out my link here to sign up! I do receive a commission myself for everyone that signs up through my link, so if you do so it would be greatly appreciated! Any amount I make through my blog always goes right back to purchasing things to review for you guys! So once you've logged in be sure to set up your profile, especially your payout details so you can receive the cash back you've earned! I have mine set up so it goes into my PayPal account, but you can have it go to an Amazon gift card or to your bank!
I've done a little run through for you to show just how easy is it to use, especially for all your makeup purchases! I recently used it to order a gorgeous set of mini Dior Lipsticks (of course I'll be reviewing them soon!) and it was so simple!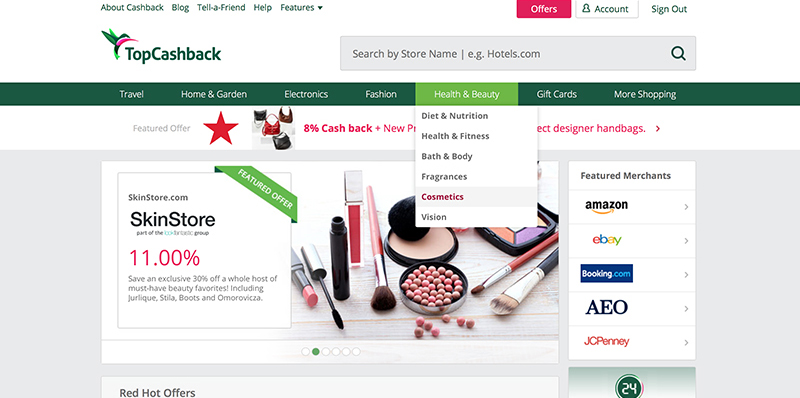 First you'll want to log into your account and click on the Health & Beauty tab. Then you'll find Cosmetics in the drop down menu. There's a ton of different stores to choose from like Sephora, Ulta, Stila Cosmetics, Bare Minerals, It Cosmetics and Birchbox!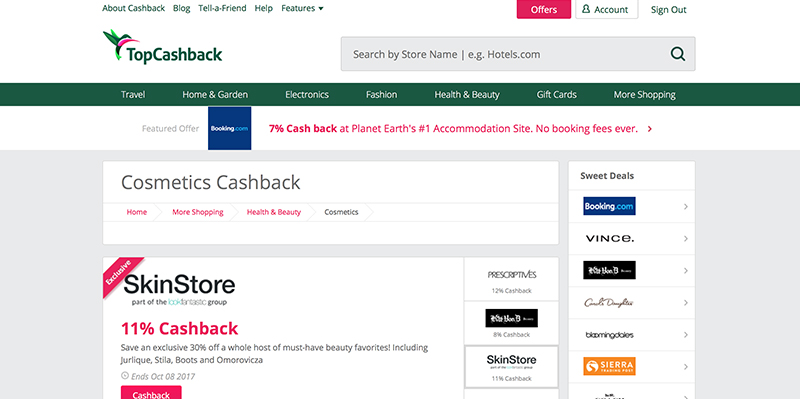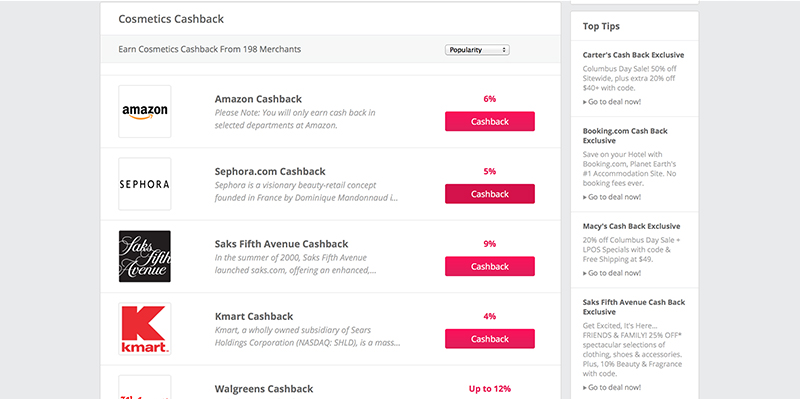 Next you simply click on the Cashback button next to where you want to shop. I wanted to pick something up at Sephora and they had 5% Cashback at the time, which actually was a higher percentage than other cash back sites! It takes you to the Sephora cash back page and then all you have to do next is click the Get Cashback Now button and it will send you directly to the site! From there you place your order as you normally would, making sure to keep that specific window open. Once I was done shopping I checked out and back at TopCashback a window came up saying that my visit had been recorded!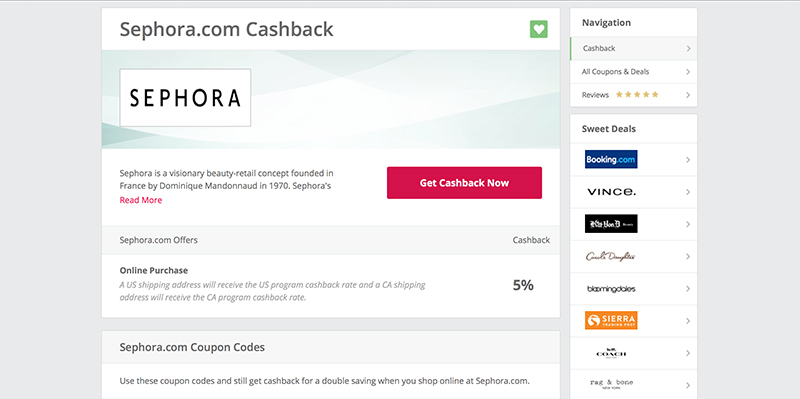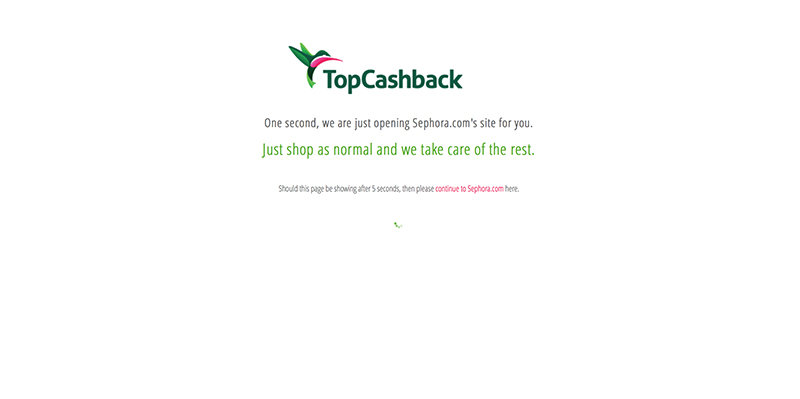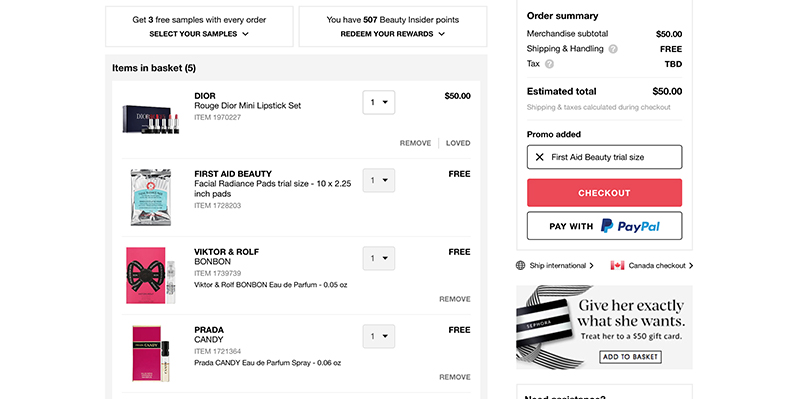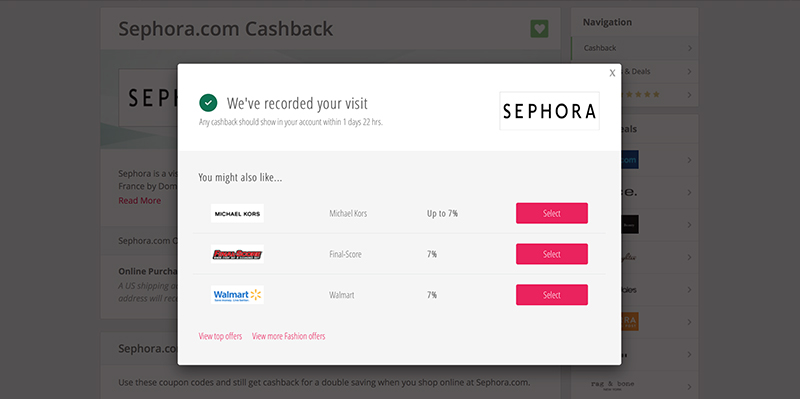 Now it did take a few days for it to show up on my account, but I've recently placed another order at Sephora and it only took a day before it came up on My Dashboard. I think it's something that comes down to the retailer, some are quicker at processing the money that you're getting back! While you don't have to a certain amount added up to be able to get your money, you do have to wait until the cash back is confirmed by the retailer. Once the money is confirmed it will be sent to TopCashback and then finally to you!
It was so easy to use and honestly, if you're online shopping there's no reason not to be using a cash back site! I totally regret not using it for so many years and I wish I had known about TopCashback sooner! I could have gotten so much money back! I can't wait to use it for all my holiday shopping this year!
Sign up here for your TopCashback account!
Follow me on: Bloglovin – Twitter – Lipstick Diaries Instagram – Facebook – Pinterest