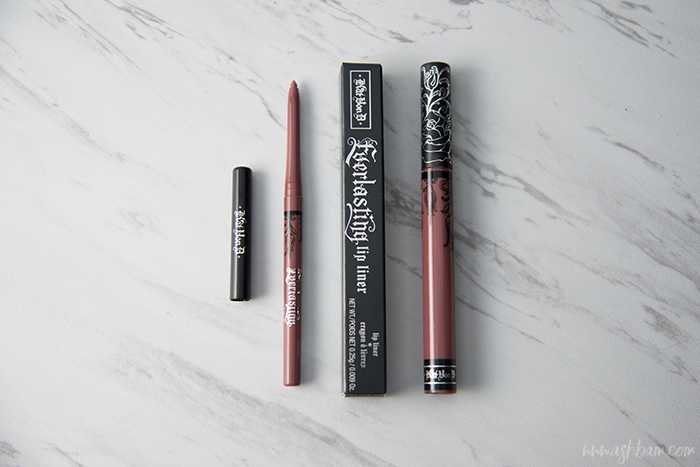 I don't often wear lip liner, I like to test how a lipstick wears on it's own, but it's no question that a liner definitely makes a difference. When I first heard that Kat Von D was releasing Everlasting Lip Liners I just knew the quality was going to be amazing and quick spoiler, I was not disappointed! I so kindly received Lolita, the perfect pair to the cult classic Everlasting Liquid Lipstick, complimentary from Influenster! I decided to test it out by itself, then with the liquid lipstick on top and finally I wanted to test the liquid lipstick alone to see how the wear would compare, so keep reading below for the reviews!
The liners are available at both Sephora and Kat Von D Beauty and come in 30 stunning shades! They retail for $18 and come with 0.01oz. Claims from the Sephora website:
Kat pushed the limits of performance and experience to combine 24-hour, water-resistant wear with a weightless glide formula to offer ultimate pigmentation, immediate dry down, and effortless definition. Just like its liquid lipstick partner in crime, this liner is so comfortable it feels like nothing. Say farewell to dryness, skipping, and dragging for good.

Kat hand-picked the versatile, bold shade range so there's a perfect match for every single Everlasting and Studded Kiss Lipstick. This liner was designed to pair perfectly with both formulas, or to be worn on its own, for a smooth, even application. 

Everlasting Lip Liner is completely free of animal-derived ingredients.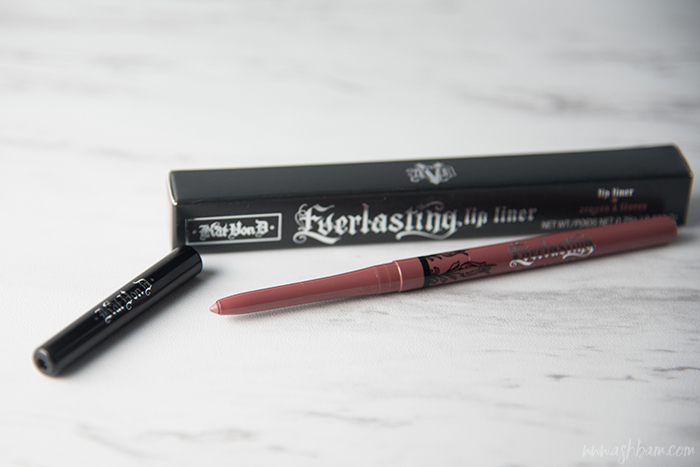 The liner is in twist up packaging, so there's no need for sharpening and as always the design is gorgeous. It went on so smoothly and didn't pull on the lips like so many other liners can. The formula was creamy with great pigmentation and a matte finish. It was very comfortable on, it didn't feel dry at all. It stayed transfer proof most of the day, after about eight hours it would come off a little bit, but not much. After eating lunch I didn't notice much wear and surprisingly after a long day it didn't settle into the lines on my lips. It did fade in the center of my lips once I had dinner, but it almost looked like I did an intentional ombre. I really didn't need to reapply at the end of the night, but I tried anyway and it went on easily. It was also easy to remove with The Body Shop Camomile Waterproof Eye & Lip Makeup Remover, my go to lipstick remover.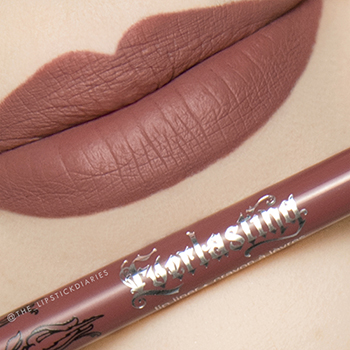 The next day I paired it with the liquid lipstick. The liner went on just as smoothly as before and the liquid lipstick went on nicely over top. It dried to a comfortable, mostly transfer proof matte. It only transferred the tiniest bit on the outside edges. It wore nearly perfectly throughout the day, hardly fading after lunch. Later in the evening after dinner I noticed it was settling into the lines on my lips, but it wasn't noticeable unless you looked quite closely. Even though I really didn't need to, I reapplied and it went on nicely again and it was also easy to remove. Overall these two paired together really are perfect, the longevity was fantastic!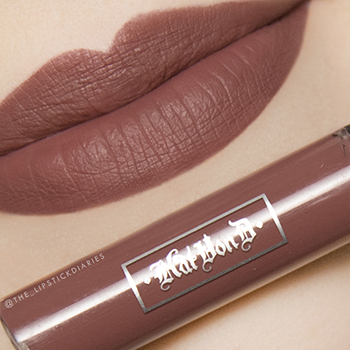 Finally I tested out the Lolita liquid lipstick on it's own. As expected application was smooth and it had great pigmentation. It was comfortable and mostly transfer proof, only transferring a small amount on the edges. There was minimal fading once I had lunch, but quite a bit came off after dinner. It continued to fade the rest of the evening. I had no issues reapplying at the end of the night. While it wore nicely, I do think it performed so much better with the liner underneath!
So if you're looking for something to help your lipstick last a little longer, I highly suggest checking out the Kat Von D Beauty Everlasting Lip Liners. With 30 shades, from a creamy nude to an electric blue, there's definitely something for everyone in this line!