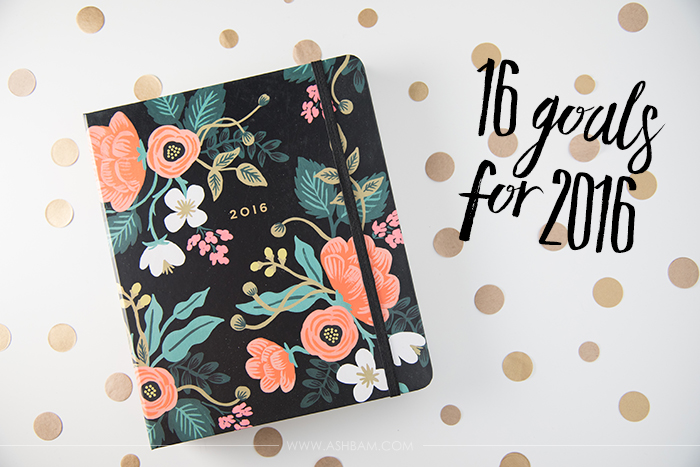 16 Goals for 2016
1. Become more organized
I feel like organization was one of my biggest downfalls in 2015. I became really unorganized at the end of the year and it was like time just flew out the window and I didn't get half the things accomplished that I planned.
2. Use my planner everyday
I have a gorgeous new Inkwell Press planner and I'm so excited to use it. I've already slacked on this one unfortunately, but hey we're only five days into the year!
3. Try new foods
If I could eat chicken fingers and cheesy potatoes everyday I probably would. I'm quite basic in my tastes and I really would like that to change. I went to an Asian fusion restaurant last month and tried so many new things that I really enjoyed. I'm not a big fan of typical BBQ, but Korean BBQ, oh my goodness so good! I'm really going to push myself into trying new things this year and not ordering the exact same thing every single time.
4. Learn how to cook
The microwave just doesn't cut it anymore. It's time to crack out those cookbooks and put them to good use!
5. Redo my room
I've been trying to redo my room since the middle of last year but the thought of painting my dark brown, nearly black, walls back to white does not seem very fun.
6. Experiment more with makeup
I'm pretty simple with my makeup, mainly because I don't leave myself enough time to do some experimenting. Maybe this should be more about getting up earlier. Yeah I'll work on that.
7. Learn calligraphy
I've become quite fascinated with calligraphy lately. I'd love to work it into some of my design, both for the blog and my photography site.
8. Do more nature photography
I started out with a love of nature photography, which eventually turned into architecture throughout college since nature just didn't cut it when it came to my classes and now my main focus is weddings. I want to get back to what I originally loved and focus on improving.

9. Start a capsule wardrobe
I hate to say it but there's a good half of my wardrobe that simply goes unworn. I've already had multiple clear outs, but I find the idea of only having a set amount of clothes for a few months quite interesting.
10. Save money to travel again
My biggest regret is that it's been so long since I've traveled. I miss London everyday. I need to stop spending my money on things and start saving so I can finally return.
11. Travel to a state I've never been to before
I feel like I've seen more of Europe than I have of my own country. But for some reason it just seems so much harder to travel here, oh how I wish we had the same train systems as they do abroad. I'm really hoping to make it somewhere new this year, fingers crossed it's somewhere out west.
12. Pay off at least one credit card
This should probably be number one on my list.
13. Actually start something that I've been debating about for quite some time
Coming soon…hopefully!
14. Take more videos
I've felt very inspired lately to get into film making, nothing serious, but just simple and beautiful shots. Kind of like an extension of my photography. But it'll probably just end up being videos of my puppies.
15. Spend more time with friends
I miss my friends terribly, our lives have all gotten so hectic that to see each other is such a rare occurrence these days. Life can be so stressful, I need time just sit back with my best friends and laugh.
16. Be healthier
Cliche. But this by far the most important. Last night I made the decision to join Weight Watchers again. It went really well for me the first time, until I got lazy. This time I'm not going to let myself give up.
Do you have any goals for 2016?
Follow me on: Bloglovin – Twitter – Instagram – Facebook – Pinterest