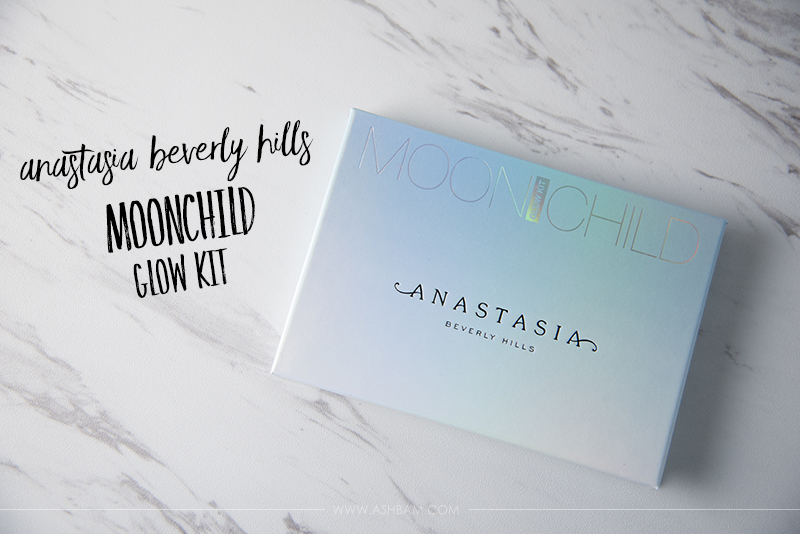 Remember me?! I'm so sorry I've neglected the blog, I've just really been focused on The Lipstick Diaries these past few months! If you didn't know already I run an Instagram where I do daily lipstick swatches and reviews! It's been so much fun and I recently passed 10k followers! But I have missed the blog and I really want to try and bring the two together. I'm thinking of posting more in-depth lipstick reviews, focusing on the packaging, the claims of a line, etc. I've even included a page with my full lipstick collection and links to each review, so don't forget to check that out!
I hope you like the redesign as well! I actually used a lipstick to create the new header and I'm so happy with the way it turned out! There's still a few tweaks I need to make, but I couldn't wait any longer to get it back up and running!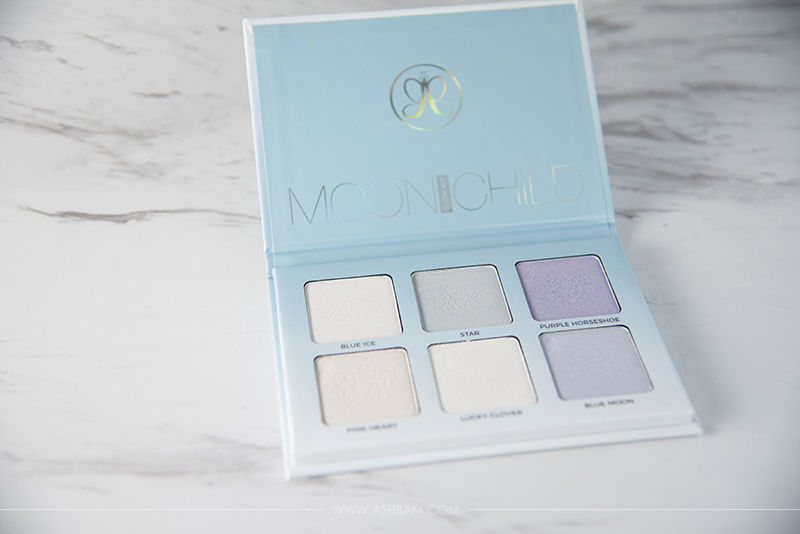 Now onto the Anastasia Beverly Hills Moonchild Glow Kit! Isn't it just gorgeous? It retails for $40 and I believe it's currently only available on their website. For quite some time I wasn't the biggest fan of highlighters, but recently I can't get enough. I tend to prefer a more cool toned highlight, but it seems as if everything out there is quite warm and yellow toned. So when I spotted this I knew I couldn't pass it up!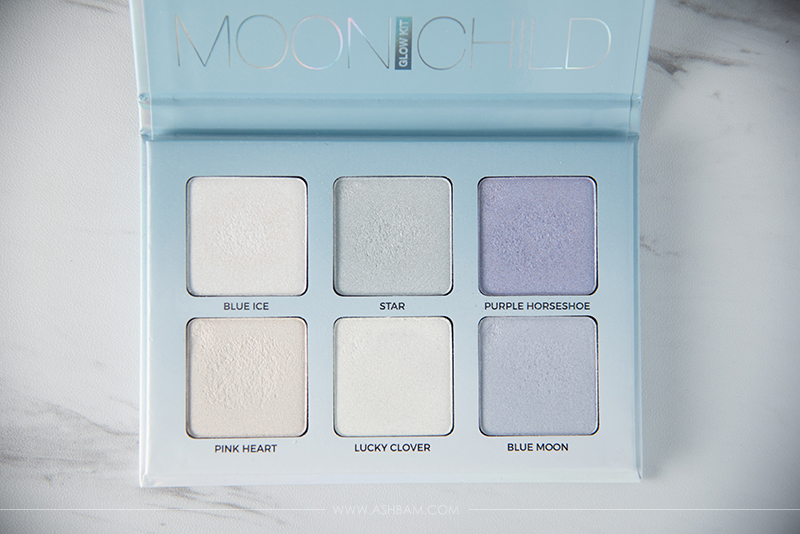 It may not seem like the most wearable palette, but I honestly wear it almost every day. It can be blended out for a more subtle look or you can really build it up and go for it. Here's how the website describes each shade: Blue Ice – Diamond white with an icy blue reflect, Star – A moonstone fusion of mint, platinum and silver reflect, Purple Horseshoe – A glittering lavender with an arctic blue reflect, Pink Heart – Pearl white with a pink opal reflect, Lucky Clover – A shamrock-infused gold with canary yellow diamond reflect, and Blue Moon – Frozen blue with a silver reflect.
I'd say my favorite is Purple Horseshoe because it's such a gorgeous shade, but it is the least wearable so I find myself using Pink Heart the most. The formula is very smooth and not chunky at all. To apply it I use the Slmissglam Small Contour W07 Brush, which I received in one of my Ipsy bags and it's perfect for highlighter! I also love to use it as an inner corner highlight and I haven't used them as eyeshadows yet, but I'm sure they'd be gorgeous!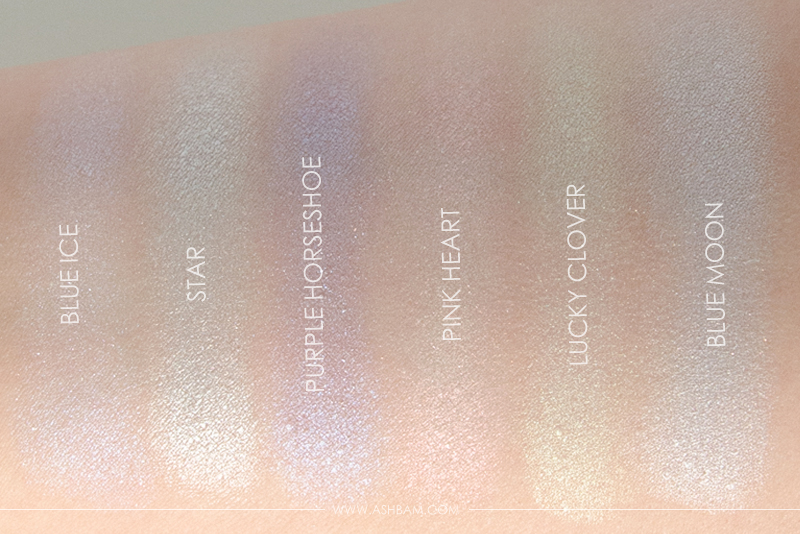 Swatches with my normal studio light.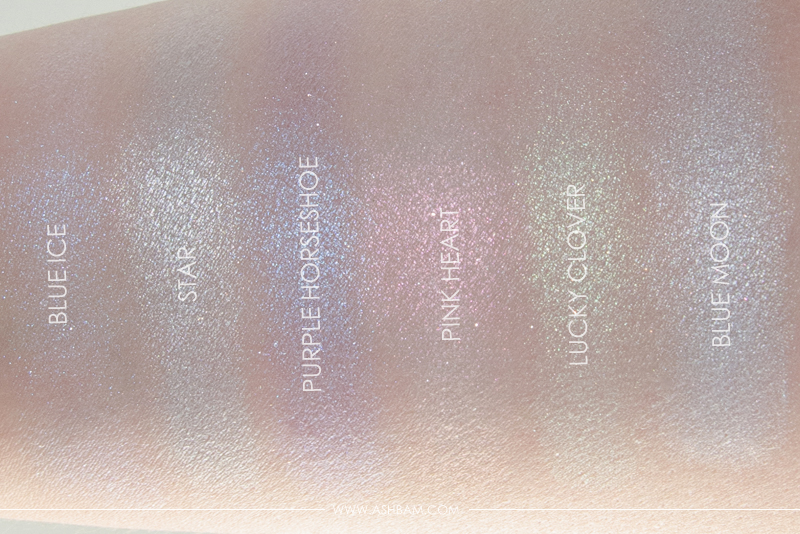 Swatches using flash.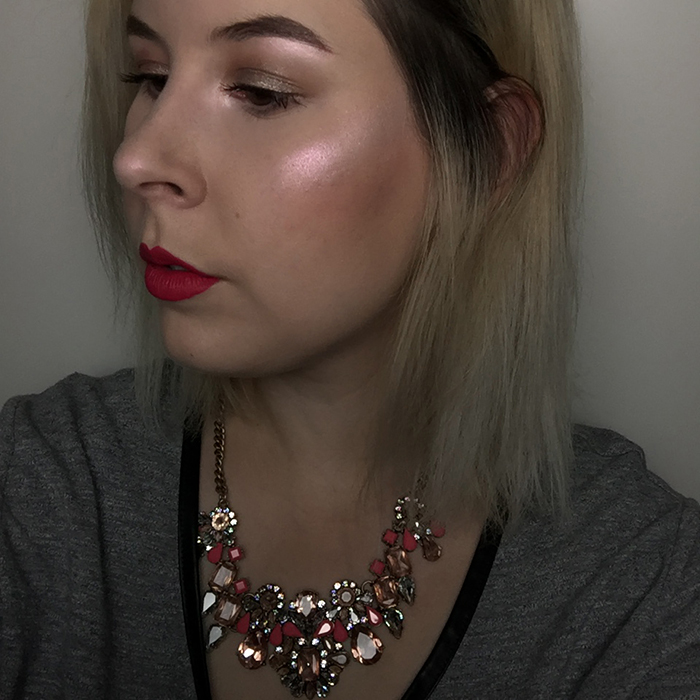 I love all those low light highlighter photos so I had to try my own, wearing Pink Heart!
So if you love a fun, colorful highlight I definitely suggest checking this out, it's one of my favorite and most used purchases this year!
Now the giveaway! Over on my Instagram I'm doing a giveaway which includes the Glow Kit!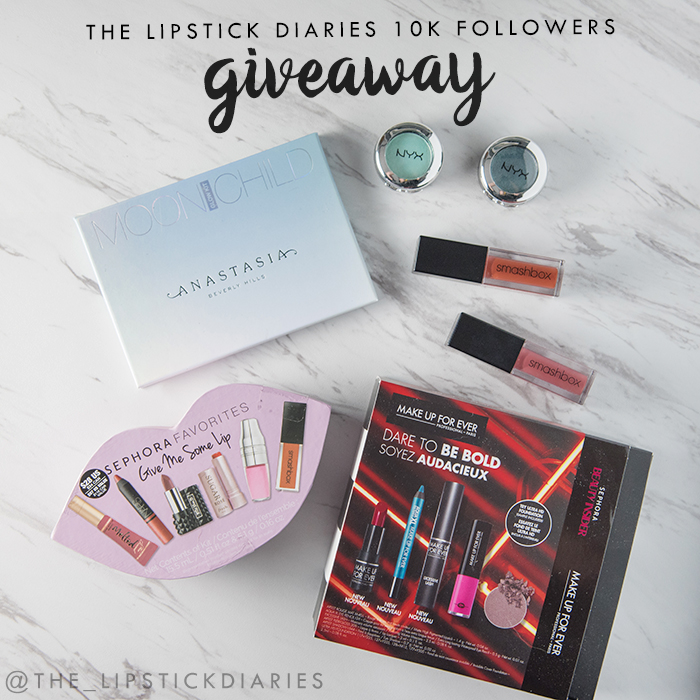 Also included: NYX Cosmetics Prismatic Shadows in Mermaid & Savage, Smashbox Always On Matte Liquid Lipstick in Out Loud & Babe Alert, Sephora Favorites Give Me Some Lip which includes: Too Faced Melted Liquified Long Wear Lipstick in Chihuahua, NARS Satin Lip Pencil in Rikugien, Kat Von D Studded Kiss Lipstick in Lovecraft, Fresh Sugar Rosé Tinted Lip Treatment, Lancome Juicy Shaker in 313 Boom-Meringue, & Smashbox Always On Matte Liquid Lipstick in Stepping Out (My current favorite!), and lastly the Make Up For Ever Dare To Be Bold set which includes: Artist Plexi-Gloss in 209, Artist Rouge Lipstick in M401, Artist Shadow Eyeshadow and Powder Blush in I544, Aqua XL Eye Pencil Waterproof Eyeliner in I-24, Excessive Lash Arresting Volume Mascara and Ultra HD Ultra HD Invisible Cover Foundation in shades Y225 – Marble, Y335 – Dark Sand, Y415 – Almond, and Y505 – Cognac!
You can check out the giveaway here and make sure to read the rules before entering! I originally planned on ending the giveaway on 10/1 at midnight, but I've decided to extend it a few more days! And I'm giving you a chance for an extra entry through the blog!
Here's how: Follow my blog on Bloglovin' and leave a comment on this post with your Bloglovin' name, Instagram name and your favorite lipstick! And that's it!
I hope you're all well and I really look forward to getting back into blogging! Let me know if there's anything you guys would like to see! Have a fantastic weekend! :)
Follow me on: Bloglovin – Twitter – Lipstick Diaries Instagram – Facebook – Pinterest