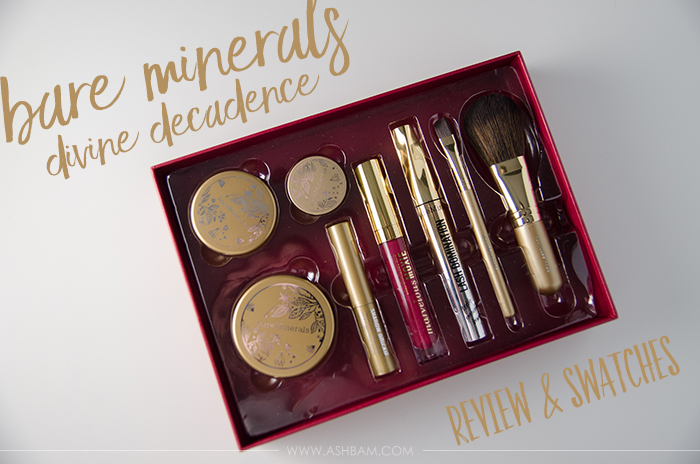 I'm only slightly addicted to watching QVC. Sure it may not seem typical for a twenty something, but they really have some amazing products and their beauty deals are fantastic, especially around the holidays! This year I wasn't sure if I was going to buy Bare Mineral's holiday collection, I hate to say it but I've grown a little bored with them. They used to be my go to brand, but recently I feel there haven't been enough new products, or the ones they have released just don't seem to interest me. However all it took was the mention of a new eyeshadow stick and I was sold.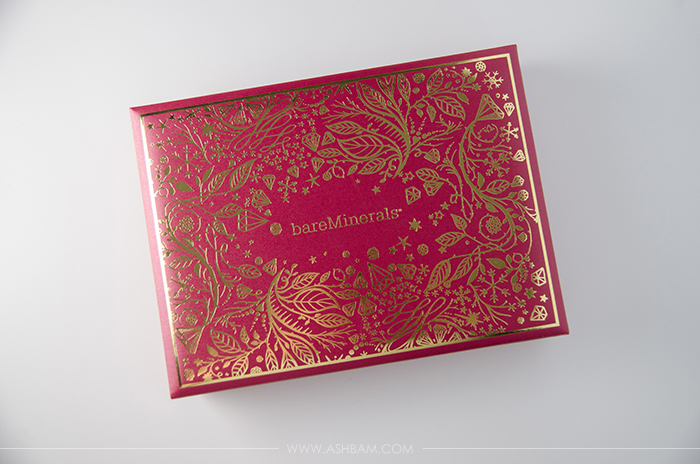 This years collection comes in a beautiful padded holiday box covered in gold designs, which is a great improvement on the boxes in the past. The collection includes the Diamond Light Mineral Veil Finishing Powder, Absolute Indulgence Blush in Wild Rose, Shadow Quickie Cream Eyeshadow Stick in Pewter, Baseline Silky Cream Eyeliner in Deep Brown, Lash Domination Volumizing Mascara Petite Precision Brush in Intense Black, Marvelous Moxie Lipgloss in Best Dressed, a Flawless Face Brush and the Full-Edged Liner Brush. Since it was the Today's Special Value when I purchased it it was $49.98 plus $3 shipping, but it's currently $61 plus $3 shipping.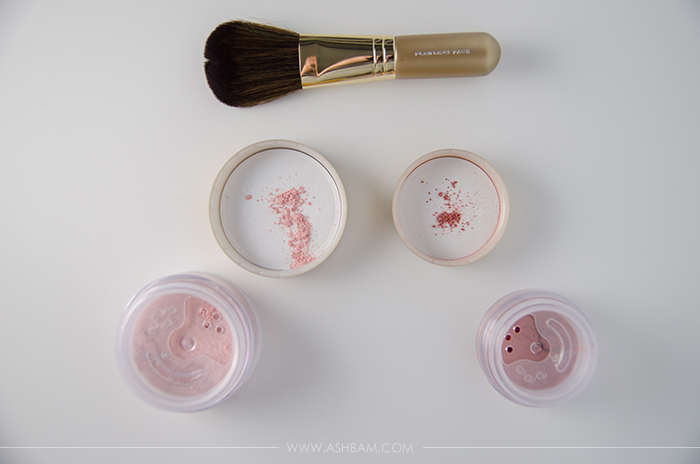 Almost all of their collections contain Mineral Veil, which I'm not the biggest fan of, I just find it does nothing for my skin. This year they have a new formula, Diamond Light Mineral Veil, which actually contains diamond dust. The description says the finishing powder contains light-reflecting minerals that cast a soft and subtle glow. But I felt it just looked like glitter on the skin instead of a subtle look.
The blush on the other hand is quite lovely. The color is Wild Rose and gives a really natural look. These mineral blushes practically last forever, you only need a very small amount when applying. There is a slight shimmer to it, but it's not very noticeable on the skin. The Flawless Face brush is super soft, but not one of my favorites for applying blush.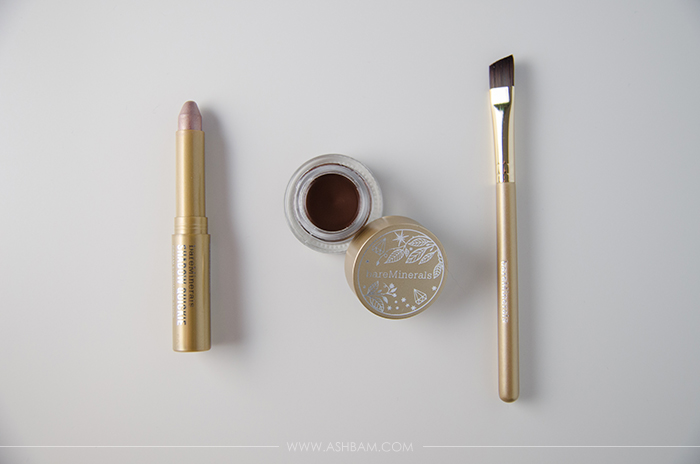 The Shadow Quickie Cream Eyeshadow Stick in Pewter is a shimmering taupe shade that is perfect for everyday and really did make this set worth it for me. When you apply it to the eyelids it has a cooling effect that almost makes it feel wet. It glides on and blends out so easily. Plus it lasts all day. Usually when Bare Minerals release new products in the QVC sets it takes them quite a while to reach the stores, but I'm hoping that won't be the case for these and that they'll soon be releasing an entire line of shadow sticks!
I was a little unsure about the new Baseline Silky Cream Eyeliner, when I was applying this it was quite easy to wipe away, but I found once it set it did not budge. It was actually a little harder to remove, but I didn't mind that at all! If I know my eyeliner will stay put and not end up half way up my lid then that's an A+ in my book! I really liked the color as well, it's a deep brown which looks just a hint softer than the typical black. The liner brush was also not my favorite, it seemed a little soft for applying liner, but I think eventually with use I'll get used to it.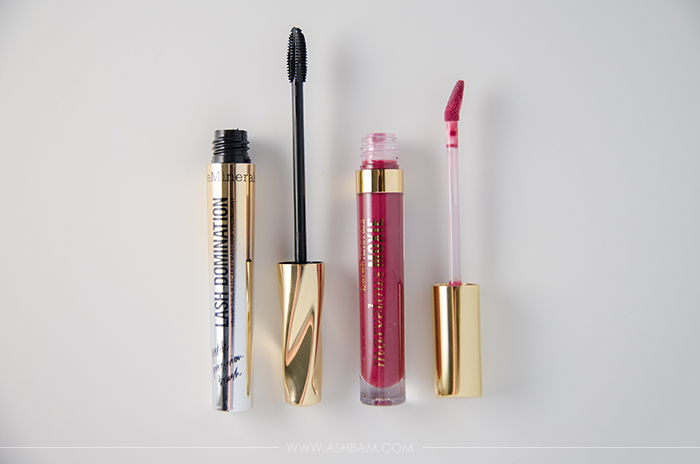 The old Lash Domination mascara is one of my favorites and this year the Lash Domination Volumizing Mascara with the Petite Precision Brush is definitely my new favorite. They've made the brush much smaller and it's so much easier to coat every single lash. I don't normally put mascara on my lower lash line, but this brush would be perfect for that!
Lastly is the Marvelous Moxie Lipgloss in Best Dressed, a briar berry shade. It has a peppermint scent and feels quite cool on the lips as well as having a tingling sensation. There's shimmer throughout and you can build up the color some to be more opaque. If there was one thing I wish I could change in this collection it would be this. As you probably know I'm not a gloss fan and I keep hoping that one day Bare Minerals will work on a new matte formula. (Fingers crossed for next year's holiday set!) I even would have preferred their cream lipsticks, those are really lovely. But I just can't seem to get past the extremely sticky texture of these glosses. After testing it out I passed this one onto my mom as well as the Mineral Veil!
I did decide to do the auto delivery so I will receive three new collections throughout next year, one in April, July and October. It will contain all new shades in the blush, eyeshadow stick, liner and lipgloss as well as all new brushes! The mineral veil seems to be the same, which is a shame because since you only need to use such a small amount I doubt many use up the entire thing in a few months. The mascara is also the same, but that works out perfectly for the three month rule! So overall I really did like this collection and it's nice to be able to give the pieces I'm not as excited about to someone else who will appreciate them!
Have you tried Bare Mineral's Divine Decadence collection? If not which piece interests you most?
Follow me on: Bloglovin – Twitter – Instagram – Facebook – Pinterest