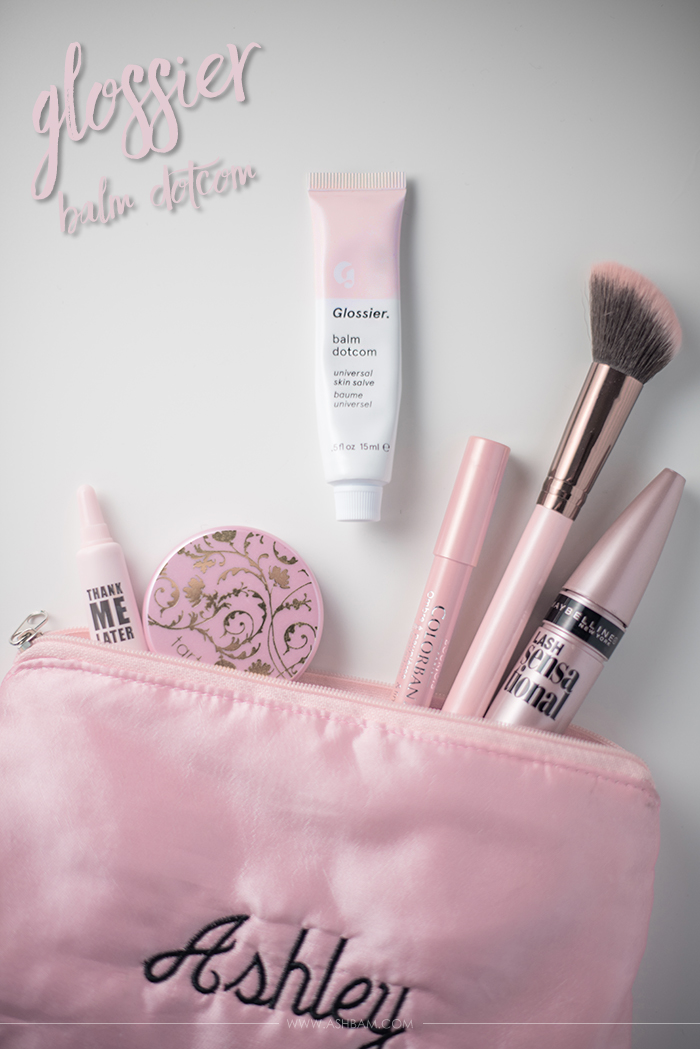 As an obvious lipstick addict I'm always on the look out for a great balm. I first spied Glossier's Balm Dotcom in a few Youtube videos, Hey Clare and I Covet Thee, I believe and as far as Youtubers go, those are two that I definitely trust! So I finally decided to place an order the other week! I have to make sure I keep my lips moisturized, especially doing daily lipstick reviews. Speaking of, if you haven't yet, please check out my Instagram: The Lipstick Diaries! It's full of tons of swatches and reviews! I'm currently testing out the new Colourpop Ultra Satin Lips and I'm already in love!
Balm Dotcom is actually a universal skin salve, so it's not specifically for the lips. You can use it on your cuticles, dry patches or wherever you'd like. I basically love everything about it. From the way it was sent to me, in a box with plenty of #GlossierPink and they even give you a sheet of stickers to add to the tube, so cute! I really love the simplicity of the packaging, just a pop of pink at the top is perfect. (I think you can tell by now, I love my pink!) There's no scent and it's not overly sticky or glossy, it feels very comfortable on the lips. I put it on last thing before I go to bed and I wake up with my lips feeling super soft and moisturized. The only thing I can think of to improve is that I wish it was easier to apply directly from the tube to the lips. Right now I use my finger to apply it. But that's definitely not a deal breaker for me with this, I'm going to be using it either way!
So if you're on the hunt for something to keep your lips from feeling like the Sahara, I definitely suggest checking out Glossier's Balm Dotcom! I'm planning on trying out some of their other beauty products soon as well, so keep an eye out!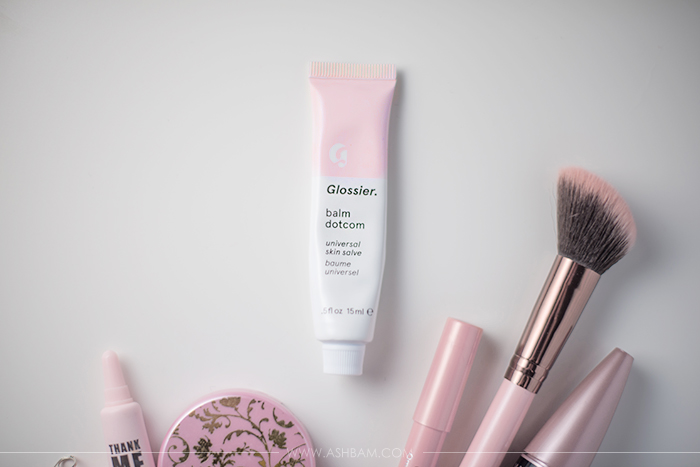 Sorry for the lack of posts lately guys, I've been feeling a bit uninspired when it comes to the blog. But I'm really hoping to get things back to normal very soon! Hope you're all well and have a fantastic weekend!
Follow me on: Bloglovin – Twitter – Instagram – Lipstick Diaries Instagram – Facebook – Pinterest