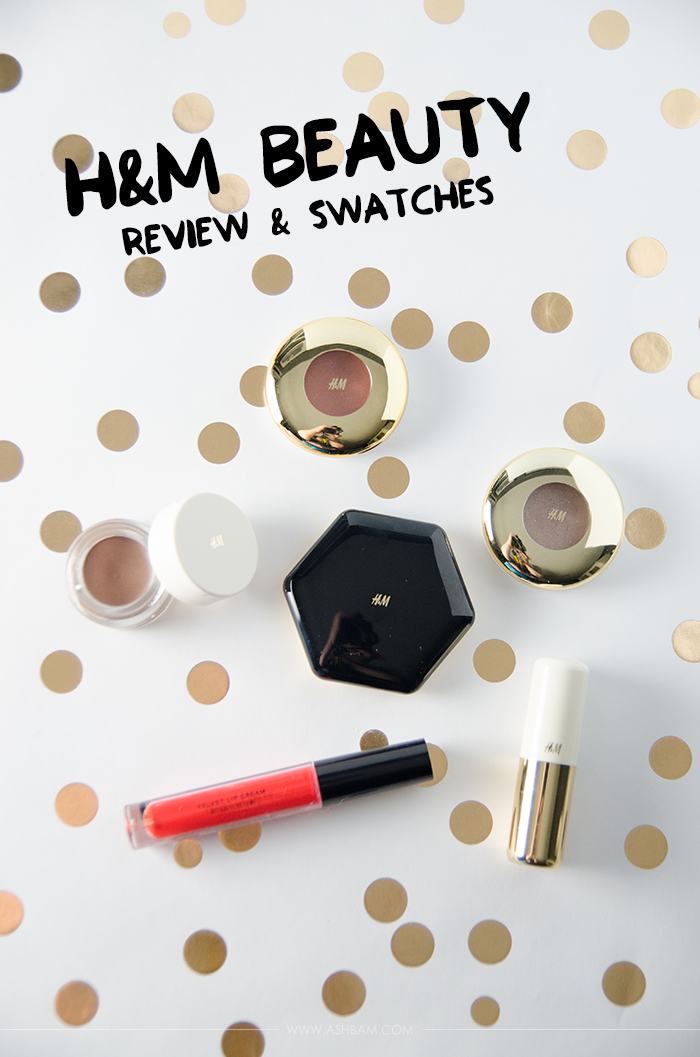 Everyone seems to be talking about the new H&M Beauty line lately. It's newly reformulated and a much larger line: 700 pieces to be exact, ranging from makeup to hair to body and more. Plus it's super affordable, the most expensive thing is $15. It seems as if right now it's only available online in the US so I did a little browsing and picked up a few things. I went with a couple eye shadows, blush and of course some lipsticks. I've heard a lot of people mention that they aren't a fan of the packaging, but I personally really like it. Sure it's not the most luxurious plastic, but I absolutely love the combination of black, white and gold.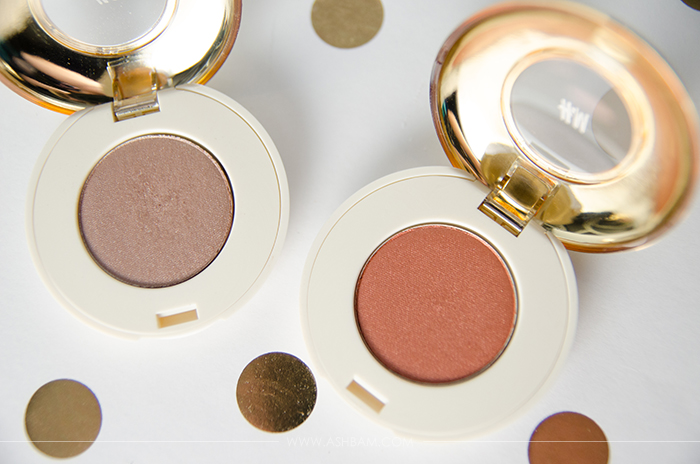 The single powder eyeshadows are really lovely, I wish I would have purchased a few more. There aren't too many swatches available online at the moment so it was a little hard to pick out shades since I rarely trust colors on brand's websites. These really last all day and are beautifully pigmented. Mojave is a warm taupe shade, it looks much cooler in the pan than it comes out on the skin. And Russet Rose is a gorgeous copper color that would have been perfect for my fall eyeshadows post!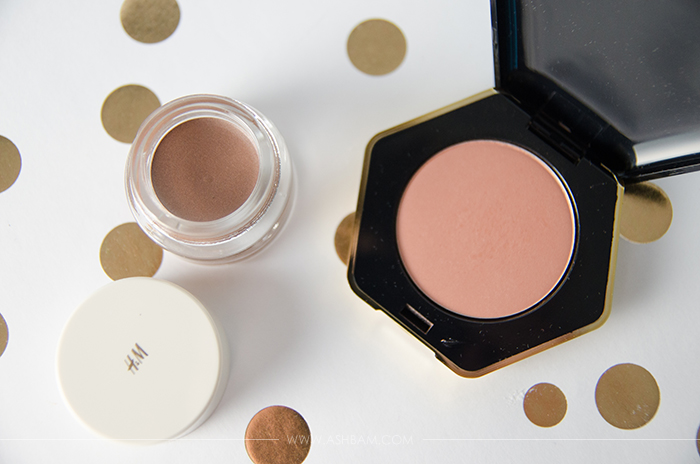 I also picked up a cream eyeshadow in Dauphine Truffle, a darker taupe shade with some warmth. This was quite disappointing. It goes on nicely with a mousse texture, but it creases really quickly, even when using primer. It was a mess at the end of the day. The powder blush in Brown Sugar on the other hand is one of my favorites. It's a lovely neutral shade of pink with a hint of brown as the name would suggest. It has great pigmentation that goes smoothly onto the cheeks and has great staying power.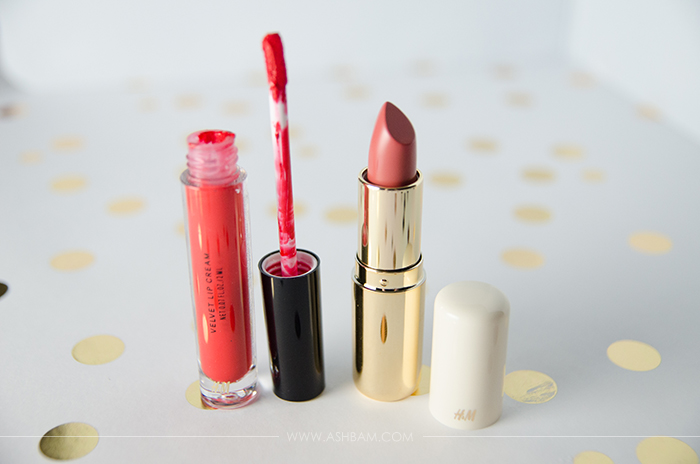 Another disappointment was the velvet lip cream in Le Beau Monde. One positive is that it's a beautiful color, a vibrant red orange. It's pretty easy to apply, the doe foot applicator is a little longer than most. Once applied, the formula dries rather quickly and it also feels especially dry on the lips, but it didn't bother me too much. The staying power is definitely lacking. It started crackling and settling into lines not too long into my day, as well as feathering around the edges. And it certainly wasn't transfer proof. Somehow I ended up with it near my nose at the end of the day. I also tried a cream lipstick in Kombucha, a dusty pink shade. At first I wasn't the biggest fan, it was just a little too pink for me. So I paired it with Mac's Soar and I really love the combination. However I did test it out alone and I think I like the color best as it wears throughout the day when some of my natural lip color starts to come through. It lasted really well all day and hey even made it through lunch!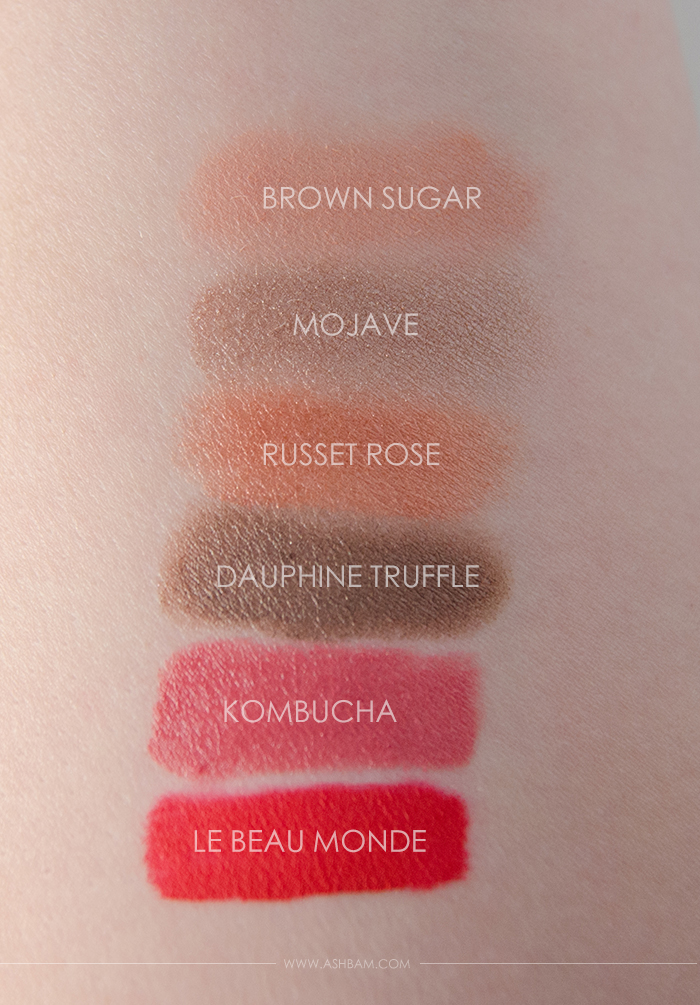 Overall I really love the new line! There's so many beautiful options and I can't wait to try more. No doubt I'll be grabbing a few more eyeshadows and cream lipsticks in the future and hopefully try out the hair and body range as well!
Have you tried anything from the new H&M Beauty line yet? If not what are you most excited to try?