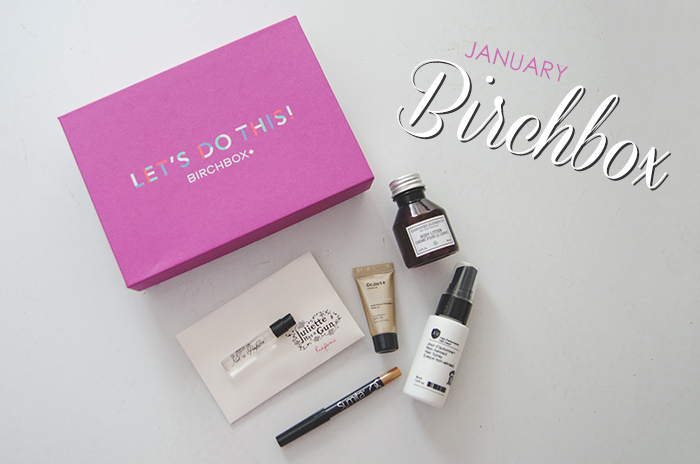 I subscribe to two monthly beauty subscription services and I have to say I think Birchbox is my favorite. For $10 a month you get to try samples of new products, from makeup to skincare to chocolate. I love the boxes, I use them for makeup storage and they have super cute designs. I especially like that they always give a little card explaining the product and how to use it. I'm the type of person that has to read the directions and many times the minis you get in the box don't have much information. Some of their products aren't always my favorite, I do wish they'd do more makeup related things, but overall they are a great subscription!
My January box contained: Dr Jart+ Premium Beauty Balm SPF 45+, Essentiel Elements Wake Up Rosemary Body Lotion, Juliette Has a Gun Not a Perfume, Number 4 Hair Care Non-Aerosol Hairspray, and Sumita Color Contrast Eyeliner.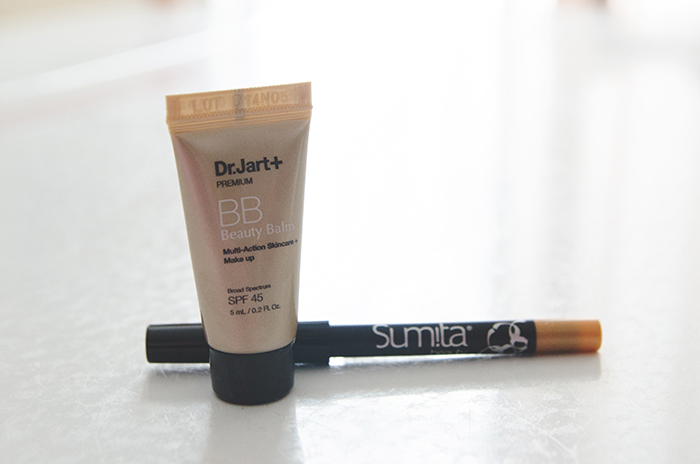 I think my favorite item in the box is the Dr. Jart+ Premium Beauty Balm. (So much so I'm thinking of purchasing the full size!) It's a primer, moisturizer, sunscreen, and treatment serum all in one. I know a lot of people use BB creams on their own, but I like to use this underneath my foundation to even out my skin tone. While it is a bit dark for me, I find it still works once I've put my foundation over it. It's not too yellow, as most products can be for me, it actually has a bit of a grey/neutral undertone to it. The formula is quite moisturizing and it's really easy to blend into your skin.
Another favorite item was the Sumita Color Contrast Eyeliner. I'm not sure what the name of this color is, it's not on the pencil, nor on the website it seems, but it's a lovely bronzy color. It applies smoothly on the lid and I really like the metallic look to it.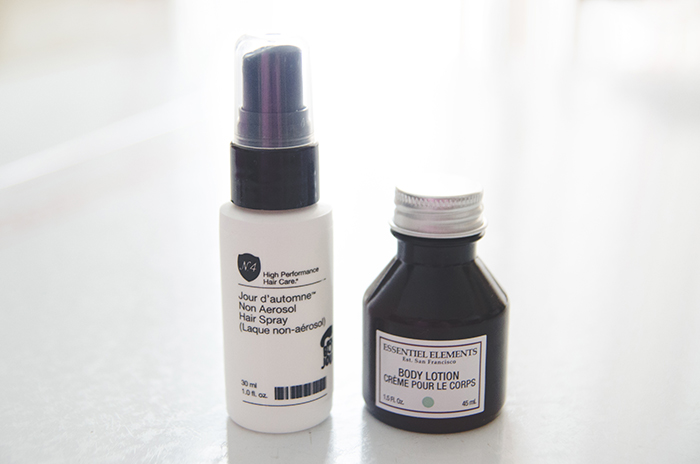 The Essentiel Elements Wake Up Rosemary Body Lotion comes in a super cute little bottle. The consistency is quite thin, almost watery, which I'm not the biggest fan of, but it does mean a little goes a long way. It was pretty moisturizing, but unfortunately the smell is what makes this a no go for me. It reminds me of Vix Vapor Rub, which my mom always insisted we use when we were sick and I just couldn't take that smell!
Number 4 Hair Care Non-Aerosol Hairspray was another disappointing sample. While it didn't give my hair that crunchy feeling that some hairsprays leave, I feel it didn't really give it much hold either. I think I'll be sticking to my aerosol hairsprays, I find them much more efficient when it comes to dispersing the product.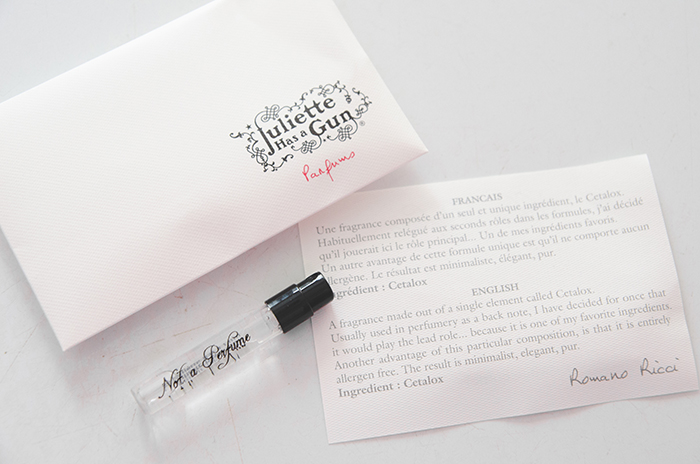 I love the idea of Juliette Has a Gun's Not a Perfume, using a single note for your scent. I also really liked the packaging for the sample, coming in a small envelope. Sadly it really wasn't my favorite scent and with the price for the full size being $90-120 I'm glad I wasn't the biggest fan of this.
I highly suggest checking out Birchbox, you can try new brands and products for just $10 a month! Click here to sign up for your first box! (I do get some extra points for anyone that subscribes through my link!) 
Follow me on: Bloglovin – Twitter – Instagram – Facebook – Pinterest