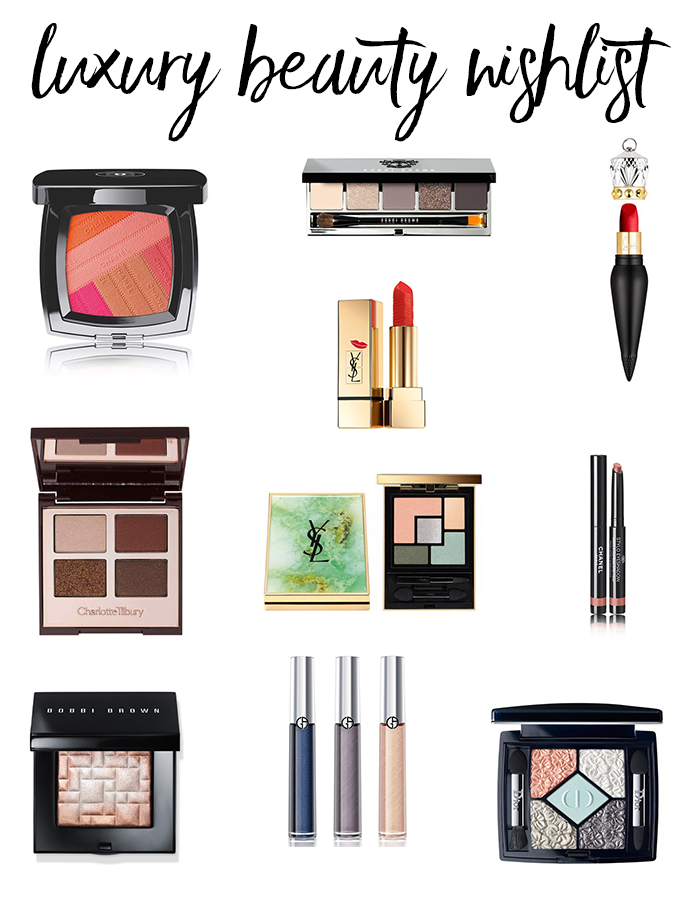 My Luxury Beauty Wishlist…also known as the a girl can dream wishlist. I don't imagine I'll be picking any of these gorgeous pieces up any time soon, but sometimes I just love to have a look around and swoon over all the beautiful designs. A good majority of these are limited edition, so if you like the looks of them you should try to pick them up soon! To be honest I haven't heard much about some of these, but hey it wouldn't hurt to try! (Okay just kidding, it probably would hurt my bank account just a little!)
Chanel – Sunkiss Ribbon Blush (Limited Edition) ($70) – A gorgeous array of colors with pink, beige and coral and a cute ribbon design. I've read quite a few great reviews on this and the color when they're all swirled together looks stunning! If you're a blush girl I think you might want to give this a try!
Bobbi Brown – Greystone Eye Palette (Limited Edition) ($49) – I have a couple other Bobbi Brown palettes and they are so much fun to work with. There's always so much glitter which I love and this palette seems to be no exception. It contains five shadows in a couple different formulas. It also comes with a double ended eye brush. I'm quickly starting to fall in love with cool tones on my eyes so this would be perfect for that!
Christian Louboutin – Rouge Louboutin Velvet Matte Lip Colour ($90) – I'm a lipstick girl, I think you know that by now. (Speaking of have you checked out my new Instagram @The_LipstickDiaries yet where I do daily lipstick reviews?! /Shameless plug.) But I'm not sure I could ever bring myself to spend nearly $100 on a lipstick, no matter how gorgeous the formula or packaging may be. However if it were a gift, I definitely wouldn't turn it down! The packaging is amazing though and can be turned into a necklace as well.
Charlotte Tilbury – Dolce Vita Palette ($52) – This has been on my wishlist for a very long time. Still haven't managed to pick it up, but hopefully someday soon! It's a gorgeous palette with four equally gorgeous warm shades that are simply calling my name.
YSL – Kiss & Love – Rouge Pur Couture Collectors Lip Color (Limited Edition) ($36) – I mean just look at it! It's so pretty with the lips embossed into the bullet and the gold packaging is just gorgeous! I haven't heard much about these lipsticks, but they're so beautiful that I may have to get one before they're gone!
YSL – Boho Stones – Indie Jaspe Couture Palette (Limited Edition) ($60) – I believe it was on Fleur de Force's channel that I first saw these and the packaging is so stunning. These aren't normally shades I would go for, but hey it's doesn't hurt to go out of your comfort zone every once in a while right?
Chanel – Stylo Eyeshadow Fresh Effect Eyeshadow ($34) – How did I not realize that Chanel did shadow sticks as well? Unfortunately I'm just about done with my shadow stick showdown post so I don't think I'll be testing these ones out. But gosh do they look pretty!
Bobbi Brown – Pink Glow Highlighting Powder ($46) – I can't remember where I first saw this, but I fell in love instantly. This highlight has a mix of pink and more of a pearl shade and it just looks like the perfect mixture for lighter skin tones! The only downside is that I don't use highlighter enough to justify spending nearly $50 on it. It's so pretty to look at though!
Giorgio Armani – Eye Tint Trio ($85) – I've seen Victoria from Inthefrow use these a few times and they look so lovely and pigmented! I just really love that they come in a tube instead of having to use your fingers and the shades look fantastic. They're super shimmer and intense so basically right up my street!
Dior – 5 Couleurs Glowing Gardens' Eyeshadow Palette (Limited Edition) ($63) – Seriously how absolutely gorgeous is this palette?! I can't get over the floral designs in the shadows, I'm not sure I'd want to use it for fear of ruining the flowers! Again the colors aren't something I'd normally go for, but they're just so beautiful and I love that pop of blue in the center!
So what's on your luxury beauty wishlist?! Have you tried any of these?
Follow me on: Bloglovin – Twitter – Instagram – Facebook – Pinterest