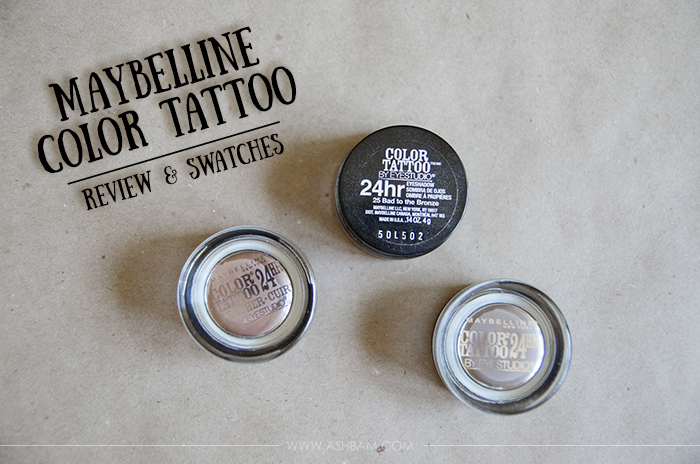 So it was about three in the morning when I realized that yesterday was Wednesday and not Tuesday and that I hadn't finished up a post yet. Sorry about that! We've been away for the past few days visiting my sister and brother in law at their new home in Rhode Island. I didn't even touch my laptop once surprisingly. But keep an eye out for posts on my travel makeup bag and the Newport Cliff Walk.
After one use I knew Maybelline's Color Tattoo in Bad to the Bronze would be one of my favorite eye shadows. Which meant of course that I had to pick up a few others in the range. They're considered cream gel shadows and you could use your finger to apply them but if you have nails it's probably best to use a brush. They're designed to last 24 hours and while I'm not sure if they last quite that long, they are extremely long lasting! They cost $6.99 at Ulta and at Target the prices seem to vary from $5.29 to $6.99 depending on the shade.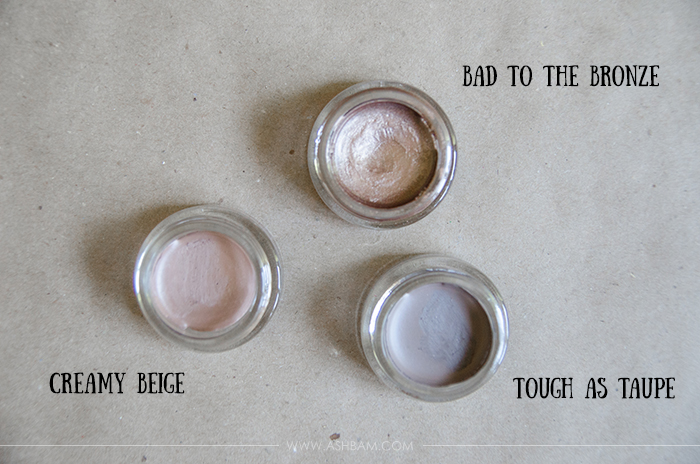 So let's talk about Bad to the Bronze, it's a gorgeous, highly pigmented metallic shade that's perfect to wear alone. I simply sweep it onto my eyelids, blend out the edges and I'm good to go. It's perfect for those mornings I've slept in too long. There's no creasing, no fading, it nearly looks perfect at the end of the day.
Tough as Taupe looks like more of a matte shade but when you look at it in a brighter light you can see there's some shimmer to it. The formula seems to be a bit thicker and it does pull some when applying. It can be a nice lighter base color or can be built up to a much deeper shade. Like Bad to the Bronze it lasts all day with hardly any signs of wear.
Creamy Beige is a part of the Leather line though the finish isn't very different from Tough as Taupe. It also has a slight shimmer to it and it's not the smoothest to apply, dragging a bit on lid but not terribly. It's great for a crease or a base color and can be built up as well. The wear time is similar to the other two shades with little to no creasing.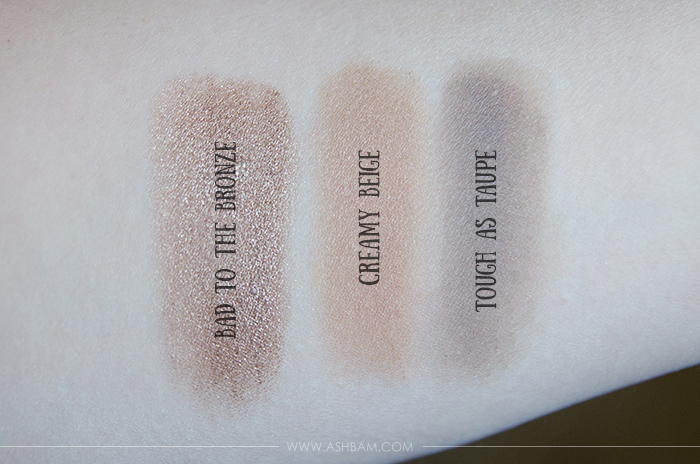 I highly recommend these shadows if you're looking for something simple in the morning, especially Bad to the Bronze. It's the highlight of the collection in my opinion!
Do you own any Color Tattoo eyeshadows? What's your favorite? And which do you think I should check out next?
Follow me on: Bloglovin – Twitter – Instagram – Facebook – Pinterest