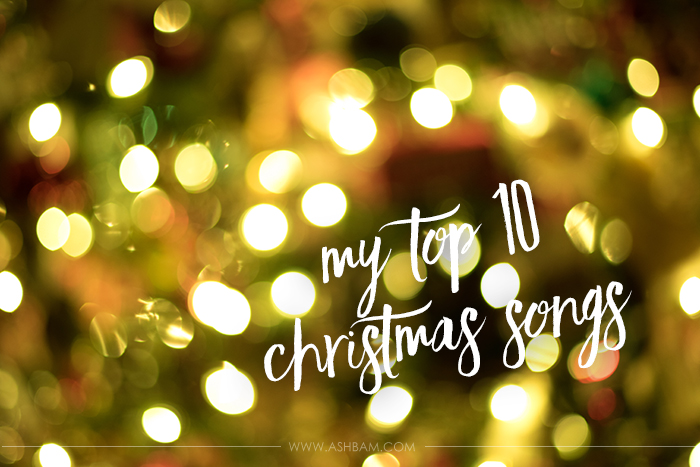 Merry Christmas Eve everyone! So I may or may not have started listening to Christmas music on November 1st…I guess I was just feeling extra festive this year! Plus to only listen to this beautiful music for only a month would be such a shame! While working on wrapping gifts last night (I'm no where near done, ugh!) I thought why not do a post on my top 10 Christmas songs and see what all your favorites are as well! I'm always on the hunt for new music!
10. Faith Hill – Where Are You Christmas

Despite the fact that I wasn't the biggest fan of The Grinch, Faith Hill's Where Are You Christmas from the film is one of my favorite songs. I remember listening to it on repeat when I should have been sleeping. Plus Faith is really rocking that crimped hair in the video, I'm just wondering when that will come back in style!
9. Plus One – This Is Christmas

I randomly found this one this year and fell in love with it. I had a Plus One album years ago and do really like their music and I've recently started to get into more contemporary Christian Christmas music. It's nice to listen to music about the true meaning of Christmas sometimes rather than the typical generic songs.
8. Glee – Last Christmas

One of my all time favorite Glee covers. I love the original, but for some reason I find Lea and Cory's voices make it for me. Sadly after Cory's death I do have a hard time listening to it, it still breaks my heart.
7. Amy Grant – Grown Up Christmas List

Every Christmas when I was little I remember listening to Amy Grant's Christmas albums. I'd even put onnholiday concerts in the living room, dancing to her music. It sounds a little cliche, but it wasn't until I was older did I really appreciate this song. It's a beautiful song about hope for the future and for the world. Michael Buble does a great cover as well, but I still think I prefer Amy's version.
6. Michael Buble – Christmas (Baby Please Come Home)

It's hard to pick just one by Michael, because the man sure can sing a holiday tune, but this definitely has to be one of the best! Seriously if he could just come out with a Christmas album every year that would be great!
5. Jordin Sparks – Christmas Time To Me

Despite the fact that this song isn't really an emotional one, for some reason the mention of my three favorite cities makes me a bit teary. (The mention of London at Christmas time makes me miss it even more, some day I'll spend the holidays there.) It's super catchy and makes me want to dance through my tears.
4. Pentatonix – Mary Did You Know

Such a beautifully haunting song, I seriously get chills when I hear this. I honestly can't stop listening to it or singing it. Pentatonix also really know how to put together a fantastic Christmas album.
3. Francesca Battistelli – Heaven Everywhere

I remember last year while searching for new Christmas music I previewed this song and fell in love. It's such a gorgeous song and  always put a smile on my face. (Okay actually it makes me quite emotional, but I'm emotional person I can't help it!) I love how she mixes a bit of one of my favorite hymns, Angels We Have Heard on High, into it as well.
2. Mariah Carey – All I Want For Christmas Is You

I mean how could this not be right near the top of the list? It's by far one of the best Christmas songs of all time and I know that it's quite overplayed on the radio, but for some reason I still listen to it every time it's on! It's just so good!
1. NSYNC – Merry Christmas, Happy Holidays

My ultimate Christmas song. It's not Christmas until I hear this one and it always puts me in the best mood. Seriously how do you not want to get up and dance around right now? And that video, it's so perfectly cheesy, plus oh how I miss those Justin Timberlake curls! I don't think anything will ever top this one for me, it just brings back such great memories. However, it does sting a little knowing they still haven't gotten back together. Someday maybe? Come on guys, pretty sure it would be the best Christmas gift ever.
So what are your favorite Christmas songs? Do any of these make your list as well?
Follow me on: Bloglovin – Twitter – Instagram – Facebook – Pinterest