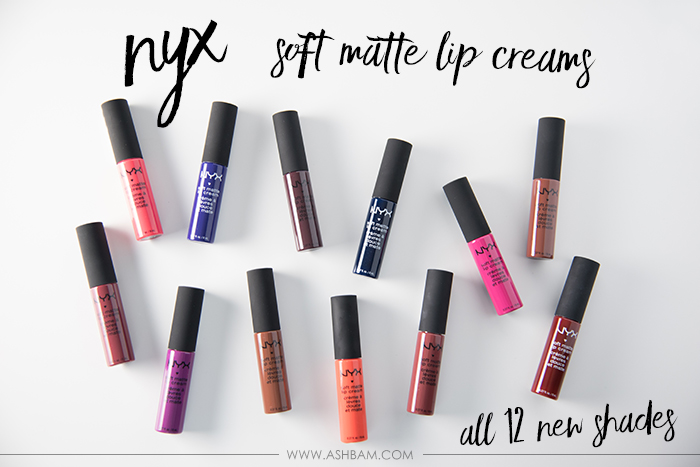 I've been a big fan of the NYX Soft Matte Lip Creams for some time now, I have most of the old shades. So when I heard they were releasing 12 new colors I couldn't wait to get my hands on them. I ordered all but one of them from Ulta's site, for some reason they don't seem to have San Juan so I ordered that from NYX's site. The colors range from a gorgeous cool brown to a navy blue. Nearly something for everyone's taste!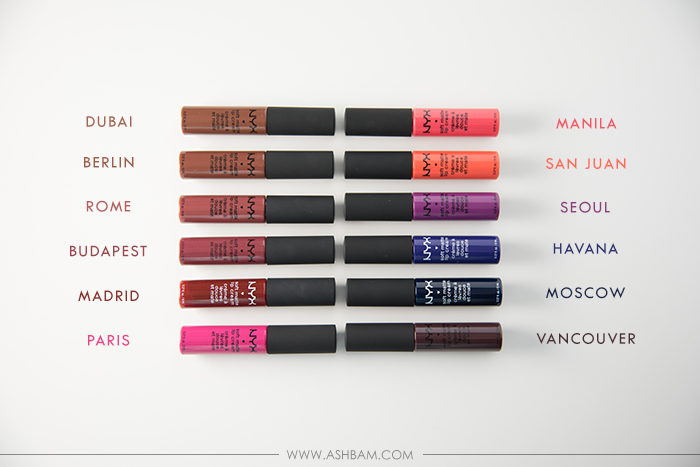 The new shades as described on NYX's site are: Dubai – medium cool brown, Berlin – medium warm brown, Rome – medium nude with red undertone, Budapest – deep mauve with red undertone, Madrid – cranberry red, Paris – hot pink, Manila – coral with pink undertone, San Juan – bright peach orange, Seoul – violet, Havana – purple with blue undertone, Moscow – navy blue and Vancouver – deep purple. The only description I would disagree with is Seoul, to me it's not exactly violet it's more of a purple with a red undertone.

The formula on these are a bit hit and miss, some are fantastic while others can be pretty disappointing. The more neutral shades are really lovely, though they can be patchy as well. Dubai was surprisingly a little streaky in application. But it's the more unique colors like Moscow and Havana that were a bit of a let down. They went on extremely patchy and it took quite a while to make them opaque. I also had some issues applying San Juan, and Manila wasn't as bad, but still not perfect. The rest of the colors, including Vancouver which I expected to be streaky, went on very nicely. As for longevity, these may make it through a light meal, but not too much. I did notice feathering with some of the shades as well and they do transfer, but not terribly. For me I find these quite comfortable on the lips, but some might find them slightly drying.
If I had to pick a favorite it would be between Rome and Budapest. They're very similar shades, but they just looked so gorgeous on the lips and they're great everyday colors. Plus they both applied beautiful and lasted really well throughout the day.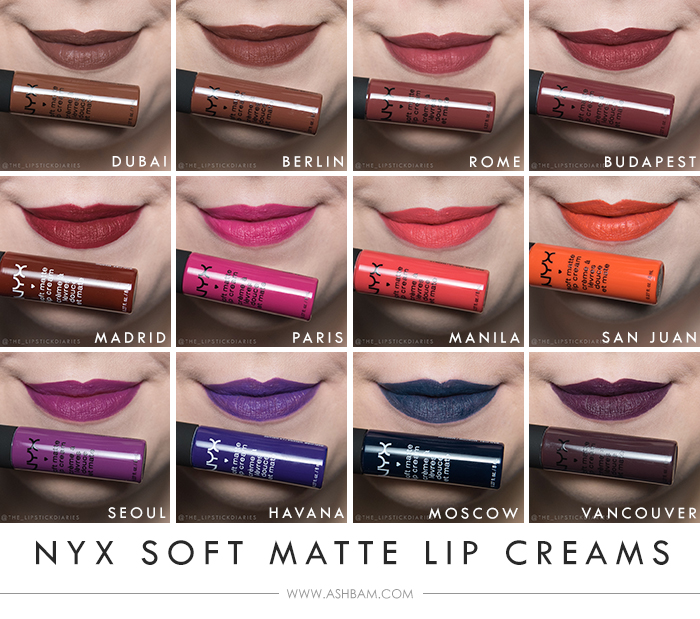 If you want to find out a little more detail and my ratings of each shade check out my Instagram: The Lipstick Diaries! Thanks so much to everyone who has followed so far, I'm nearly at 500 followers in a little over a month!
Have you picked up any of the new shades? If not which one do you want to try most?
Follow me on: Bloglovin – Twitter – Instagram – Facebook – Pinterest