Sponsored Post
I think it was when I started college that my hair started thinning, thanks to what I believe was mix of stress and anxiety. Graduating and stepping into the real world hasn't helped much either. It's frustrating to say the least. I've tried countless products, hoping to make my hair appear thicker, but nothing ever seems to do the trick. So when I read about Pura d'or's Premium Organic Argan Oil Shampoo and Conditioner which is supposed to help prevent hair loss as well as thicken hair, I thought well why not give it a try!
Pura d'or creates organic hair, skin and nail care. "All our ingredients are grown on trees, not in test tubes. Our products are artisanally handcrafted by a hybrid team of artists and scientists, not by machines. Some say that this is a step backward, but we believe that this is a step in the direction of how things should be." They're cruelty free, USDA biobased certified and Dr. Trusted. Their shampoos and conditioners are free of sodium laurel sulfate or SLS, DEA, parabens, gluten, artificial colors, artificial fragrances or harsh chemicals and they're safe for color treated hair. (A huge plus since I'm definitely not a natural blonde!)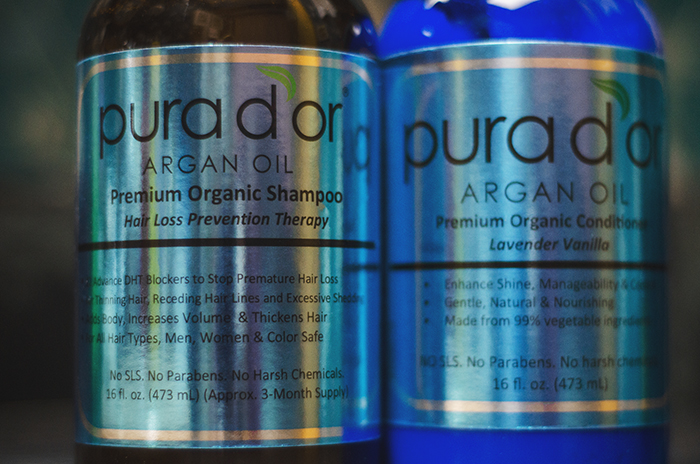 Now I know you can use argan oil on hair, but I had never seen it actually used in a shampoo. They claim the shampoo prevents hair loss, strengthens and thickens hair, and adds volume while the conditioner manages frizz and enhances shine. They suggest leaving both the shampoo and conditioner on for two minutes to allow it to fully absorb into the hair. The shampoo has a faint scent and I can't quite put my finger on what it reminds me of. The conditioner is lavender vanilla which I absolutely love, but there is a hint of coconut since it contains a few ingredients derived from coconuts.
While I can't really tell you yet if it's helping with hair loss or thickening my hair since that will take some time. (I'll keep you guys updated on that!) What I did notice and what made me really love this combination was the volume in my hair. There's definitely a difference and truthfully it's the first time I've found a product that actually gave my hair any extra volume! That in it's self makes it worth it for me!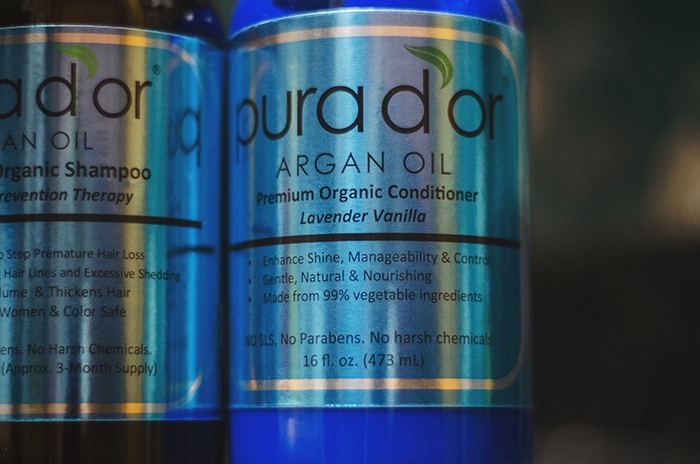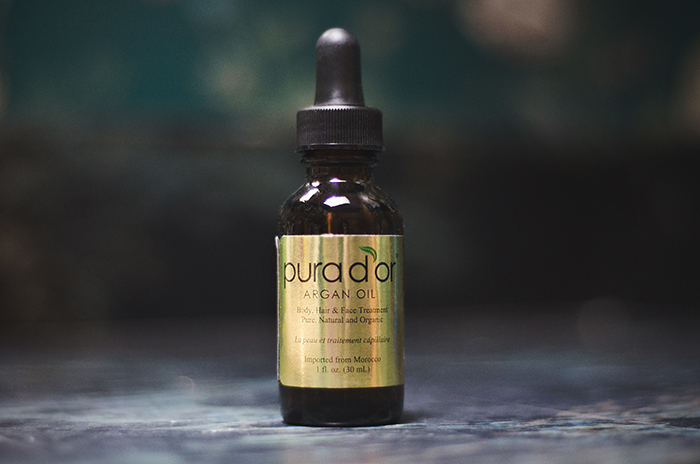 I was a little hesitant about the Argan Oil, I've tried Josie Maran's before and for some reason my skin did not take kindly to it. But this time I didn't have any issues and it's quickly becoming a part of my regular nightly routine. There's not really any scent to it, which I prefer with my skincare. It can be used both during the day and at night, but because my skin can be on the oilier side I only like to apply it at night since it does take a bit of time to sink in. Then I put some on my arms before bed and I'm good to go! My skin feels super soft and moisturized in the morning, which is especially great in these dry winter months. (We were in the negatives today, anyone else ready for Spring?!)
I highly suggest checking out Pura d'or's products! They offer free shipping to anywhere in the continental US and for the rest of February they have a Valentine's special with 10% off your entire order using "Valentines2015", plus you get a free 1oz bottle of the Argan Oil with all purchases! So if you're looking for a great organic and cruelty free brand definitely have a look into Pura d'or!
-SPONSORED POST-
Disclosure: This post is sponsored by Pura d'or via Brand Backer. I received free samples of the product for the purpose of this review. All opinions are my own and not influenced in any way.
Follow me on: Bloglovin – Twitter – Instagram – Facebook – Pinterest