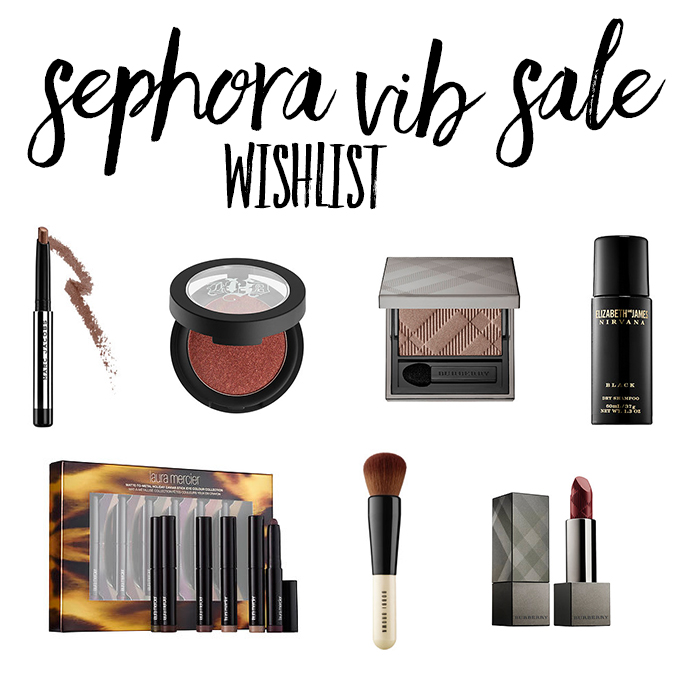 So for us lowly Sephora VIB members the sale doesn't start until next weekend, but of course I've already started my shopping list! (And then some things have already sold out, so that's always fun!) I've heard a lot of mixed reviews about the VIB sale this year but hey I'm just excited to save a bit before the holidays! My list isn't too long and I probably won't end up getting it all right now, but maybe I'll end up adding the rest to my Christmas list!
Marc Jacobs Twinkle Pop Stick Eyeshadow in Three Shakes ($28) – I've been testing basically every type of eyeshadow stick I can get my hands on and this is one of the few I have yet to try! It's a shadow and a liner in a beautiful milk chocolate shimmer shade, and I really like the packaging. Fingers crossed with the higher price point this one performs well!
Kat Von D Metal Crush Eyeshadow in Doce ($21) – Doce is a metallic copper shade that looks absolutely gorgeous. These claim to have great pigmentation and last all day. If these live up to the claims I just might have to pick up a few more colors!
Burberry Eye Colour – Wet & Dry Silk Shadow in Rosewood ($29) – Well as I'm making this I discovered that practically every color is sold out at the moment. But I still have hope that I'll one day get to try this! It's a beautiful taupe with a hint of pink that I think would be a great for neutral eye look to pair with a bold lip.
Elizabeth and James Nirvana Black Dry Shampoo ($14/$28) – Nirvana Black is one of my all time favorite scents and when I first heard about the dry shampoo I was a little skeptical. Would it really smell like the perfume? But I've read countless great reviews and I can't wait to give this a try! Plus I'm always wanting to check out new dry shampoos.
Laura Mercier Matte-To-Metal Caviar Stick Eye Colour Collection ($58) – I have one Laura Mercier Caviar Stick and it's very high on my list of favorites so once I spotted this set I knew I had to have it. I usually like to try multiple shades to see if they all wear the same and I thought this would be the perfect chance to do just that! It includes 6 mini Caviar Sticks in Aubergine, Ganache, Khaki, Amethyst, Rosegold and Sugarfrost.
Bobbi Brown Full Coverage Face Brush ($44) – This brush has been on my wishlist for quite a while. I've heard nothing but great things about it. As the name would suggest it claims to give a full coverage foundation application and that is definitely a plus in my book.
Burberry Lip Velvet Lipstick in Oxblood ($34) – Once again sadly this one is sold out, like it has been the majority of the past few months. It's a gorgeous deep burgundy and this was the shade featured in the Burberry Spring/Summer 2016 show. I actually had been looking at this color last Christmas in the Lip Cover and decided against it since it was more of a satin formula, but the fact that this one is matte makes it an easy choice. Hopefully it'll be back in stock soon!
So fellow VIB members, what's on your list? Or if you're a VIB Rouge, what did you manage to pick up during this weeks sale?
Follow me on: Bloglovin – Twitter – Instagram – Facebook – Pinterest