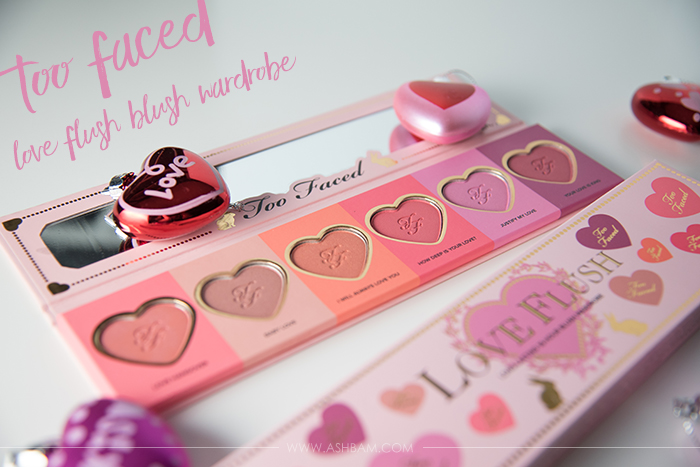 I'm definitely a blush girl. Once you've been asked multiple times a day if you're ill you start to realize maybe you do need to add a hint of color to your cheeks. So I make sure to never leave the house without a little blush. The new Too Faced Love Flush Blushes have been on my wishlist since they were released and then this beauty came out: The Too Faced Love Flush Blush Wardrobe. I ummed and ahhed, debating whether or not I should buy it. Do I really need more blush? But it was just such a fantastic deal that I ultimately couldn't pass it up! The palette contains all six of the long lasting blushes for $36. Sure they're pretty small, but if you're anything like me and have a rather large collection of blushes it's doubtful you'd end up going through these completely. It's currently sold out online and I know it's limited edition so I'm not sure if it will come back in stock at all. But if you spot it in store definitely grab it while you can! It's a really great way to also test out all the blushes at once and maybe pick up a full size of your favorite.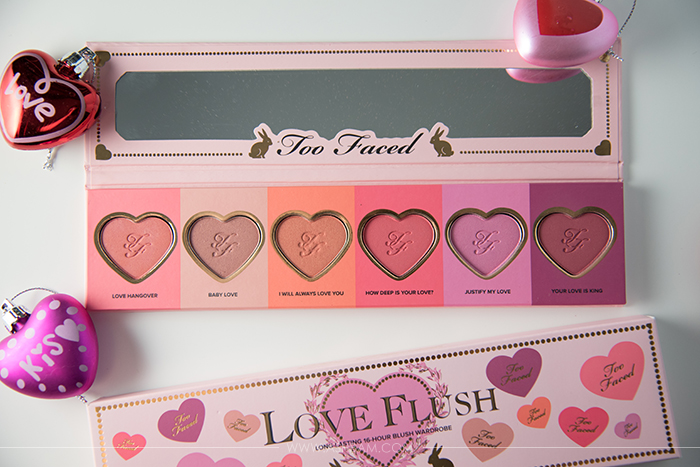 I really love the range of shades, there's something for everyone. Love Hangover is a warm pink, Baby Love is a soft dusty nude with fine gold sparkle, I Will Always Love You is a gilded peach, How Deep Is Your Love is a watermelon pink, Justify My Love is a bright pink with fine gold sparkle and Your Love Is King is a plumy rose. I think my favorites are Baby Love, which is a great neutral shade for pairing with bold lipsticks and Your Love Is King, which is just a perfect pop of color on my pale skin. I noticed I Will Always Love You felt a bit different when swatching it, it was almost creamy and it has a slight iridescence to it. I can't say if they last 16 hours as they claim, but they do have great staying power. The design is super cute. I just love all the pinks and purples and seriously, the hearts are simply adorable. As much as I love the hearts I do find the size of them a little small for all of my blush brushes. And the overall size of the palette is a little awkward for travel, however it is quite thin so it won't take up too much space. This blush wardrobe is a fantastic value and I highly suggest picking it up if you can! It's the perfect Valentine's Day gift for yourself!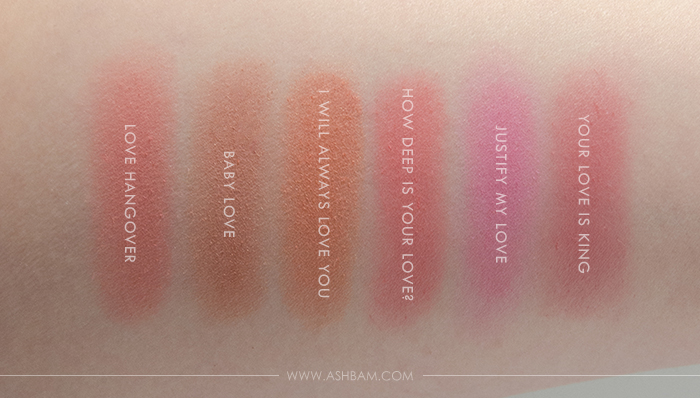 Have you tried any of the Love Flush Blushes? Which is your favorite shade?
Follow me on: Bloglovin – Twitter – Instagram – Lipstick Diaries Instagram – Facebook – Pinterest