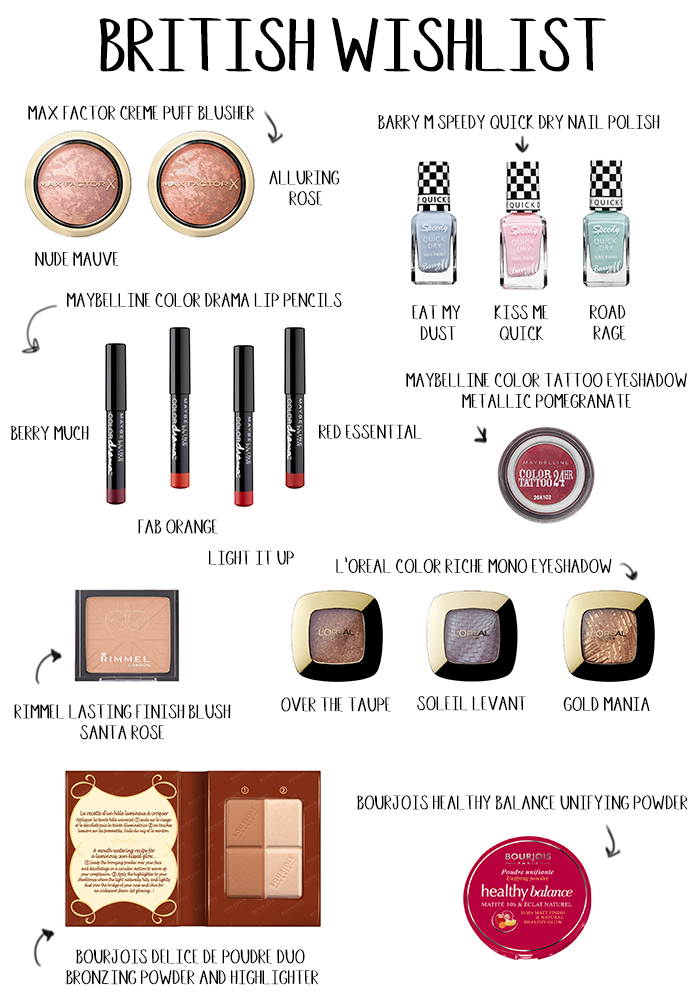 Happy Wednesday everyone, hope you're enjoying your day! I'd like your opinion, I'm actually trying to figure out which day is best to post, do you guys prefer Mondays, Wednesdays or Fridays? I always try to photograph things on the weekends, but unfortunately it's been quite crazy lately. I actually photographed a surprise engagement for my good friends on Sunday and it was just so wonderful! But anyway, I promise I'm going to work on getting things organized and hopefully get back to posting twice a week!
So I'm aware these aren't all technically British brands, they're just some products available in the UK that we can't seem to get a hold of here in the States! Why oh why can't Boots or Superdrug just deliver internationally? Now onto my always growing beauty wishlist…
Max Factor Creme Puff Blusher in Nude Mauve and Alluring Rose – I first saw these gorgeous blushes on Amelia Liana's blog. They're supposedly quite a close dupe for the Hourglass blushes and I absolutely love those so of course I'd want to give these a try! There's six shades, but if I had to choose I think it would have to be the more neutral shades Nude Mauve and Alluring Rose.
Barry M Speedy Quick Dry Nail Polish in Road Rage, Kiss Me Quick & Eat My Dust – With two crazy puppies I'm all about quick drying nail polish lately and these ones by Barry M look perfect. I love pastels and these shades are just perfect! I can never have too many mint polishes really. I actually own a few Barry M polishes, they're available on River Island's website, but I've been waiting for them to offer free shipping again before I make another order!
Maybelline Color Drama Lip Pencil in Berry Much, Fab Orange, Red Essential & Light It Up – If I could ask Maybelline one thing it would to bring these lip pencils over to the States. They're supposedly dupes for the NARS pencils at a fraction of the price. The shades all look gorgeous and as you know by now I have a thing for matte lipsticks. I'm dying to try these!
Maybelline Color Tattoo Eyeshadow in Metallic Pomegranate – I absolutely love Maybelline's Color Tattoo Eyeshadows and own three other shades, but for some reason it seems to be impossible to find Metallic Pomegranate in the US. It's reddish brown, but it also looks quite purple at times. A shade I can't get enough of lately! Hopefully I can find it hiding out somewhere here!
Rimmel Lasting Finish Blush in Santa Rose – I remember hearing Susie from Hello October talking about this blush and I've been searching for it ever since. Supposedly it is sold here, but unfortunately I haven't been able to find any Rimmel blushes in stores. It's a light peachy pink and unlike any others I currently have. It just seems like the perfect everyday blush.
L'Oreal Color Riche Mono in Gold Mania, Soleil Levant & Over the Taupe – Not sure why these haven't been released in the States, there are some single eyeshadows available, but the colors are no where near as gorgeous as these. They're highly pigmented with long lasting color. Soleil Levant looks like such a unique shade and who doesn't need another gold or taupe eyeshadow?!
Bourjois Delice De Poudre Duo Bronzing Powder and Highlighter – Another one that I've seen all over the place. I love a duo product and I've heard the bronzer isn't overly dark so it could still work on my pale skin. Plus it smells like chocolate so that's a definitely plus!
Bourjois Healthy Balance Unifying Powder in Vanille – Lastly, I've heard so many great things about this finishing powder, fantastic lasting power, lovely texture and keeps the skin looking matte. I've seen it available on a few websites, but usually the lightest shade is out of stock. I'm always on the look out for a great setting powder and this one just sounds amazing. Oh someday I'll get my hands on it!
So do you have an international beauty wishlist? Any product you're just dying to try?
Follow me on: Bloglovin – Twitter – Instagram – Facebook – Pinterest