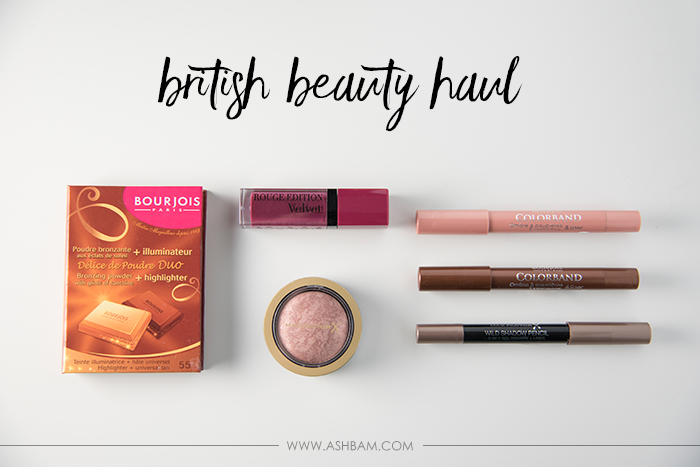 Oh that feeling when you're able to check something off your wishlist, isn't it the best? You may or may not remember my British Wishlist back in July, but I was finally able to get my hands on a few things! I was doing a bit of searching online and noticed Life & Looks, an overseas beauty site that ships to the US, had been updated with some of the things on my list! I was super excited! The site even offers free shipping to the US on orders over $50 and the delivery time was great, my package was sent out on January 4th and it made it here on the 14th!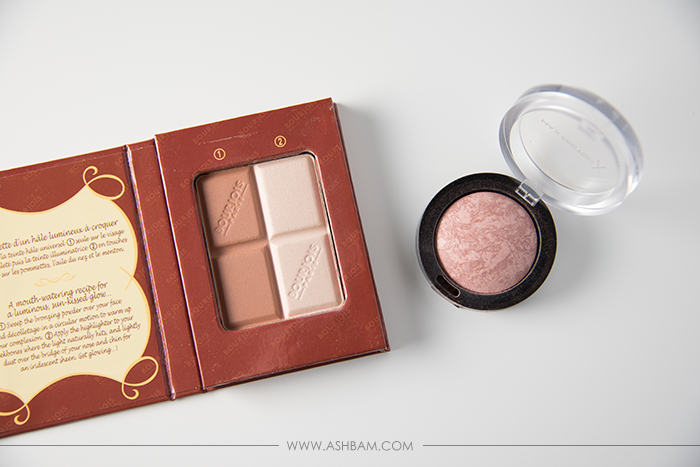 Two things you might remember from my list, Bourjois' Delice De Poudre Duo Bronzing Powder and Highlighter and Max Factor's Creme Puff Blush in Nude Mauve. First off I just have to say the Bourjois Bronzer and Highlighter smells fantastic, like chocolate! The packaging is a bit bulky, but I think it's kind of cute. Despite how orange the bronzer looks in the swatch it actually isn't too bad on my skin, I just use a light hand and it works pretty well. The highlight unfortunately doesn't really show up, but it's a lovely shade for someone with a deeper skin tone.
The Creme Puff Blush in Nude Mauve is beautiful. I do remember people mentioning that they were dupes for the Hourglass blushes and they are very similar. The highlight in the blush is quite intense and I'm not sure yet if I'm the biggest fan. I do wish I would have gone with a different shade, maybe something with more pink in it because it does look a little ashy on me at times.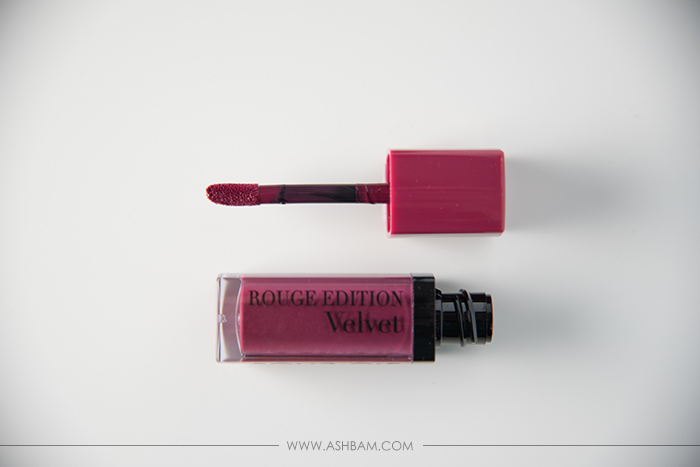 The main reason for the order, the Bourjois Rogue Edition Velvet in Plum Plum Girl. It's one of their newest shades and I've been dying to get my hands on it. However there's definitely pros and cons to this one. Lets start with the cons, the application and pigmentation. The formula was very thin, it took a quite a few layers for it to have an even pigmentation on the lips. I didn't experience that with the other two Rogue Edition Velvets that I have. Once I finally was able to build it up enough and it dried down to matte (took about ten minutes to dry) it was gorgeous. So the biggest pro, the longevity. It lasted all day and even made it through meals with hardly a scratch. By the end of the night when I went to remove it it had only faded some at the edges. So applying it was pretty annoying, but once it was set it was in for the long haul!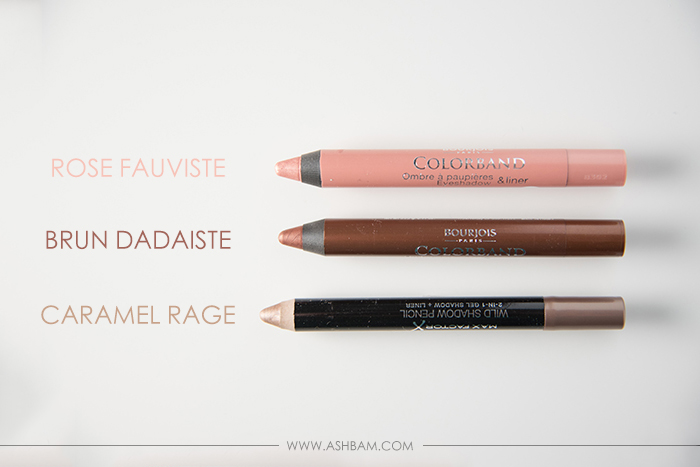 I've had the Bourjois Color Band Eyeshadow & Liner in Brun Dadaiste on my wishlist for a little while now and I figured since I'm doing my huge eyeshadow pencil showdown post soon that I should pick one or two up! So I decided on that one as well as Rose Fauviste, which I haven't had the chance to try yet. But I did test out Brun Dadaiste and it's a beautiful shimmery bronze shade. The formula is very creamy and glides onto the lids, making it very easy to blend. However because it was so creamy and my lids are rather oily I did find it creased on me throughout the day, even while wearing a primer.
I needed one other thing to add to my order for free shipping so I decided on the Max Factor Wild Shadow Pencil in Caramel Rage. The color is a sort of warm taupe shimmer and very lovely on. It did tug a little on the lid while applying and was harder to blend out, however I didn't notice any creasing until the very end of the day when I went to remove it. I kind of wished I had picked up another of those pencils, it had great staying power!

Do you have a wishlist of products you just can't seem to get your hands on? What are some of your favorite overseas brands?
Follow me on: Bloglovin – Twitter – Instagram – Facebook – Pinterest
Only a few more days to enter the Smile Brilliant Teeth Whitening Kit Giveaway!