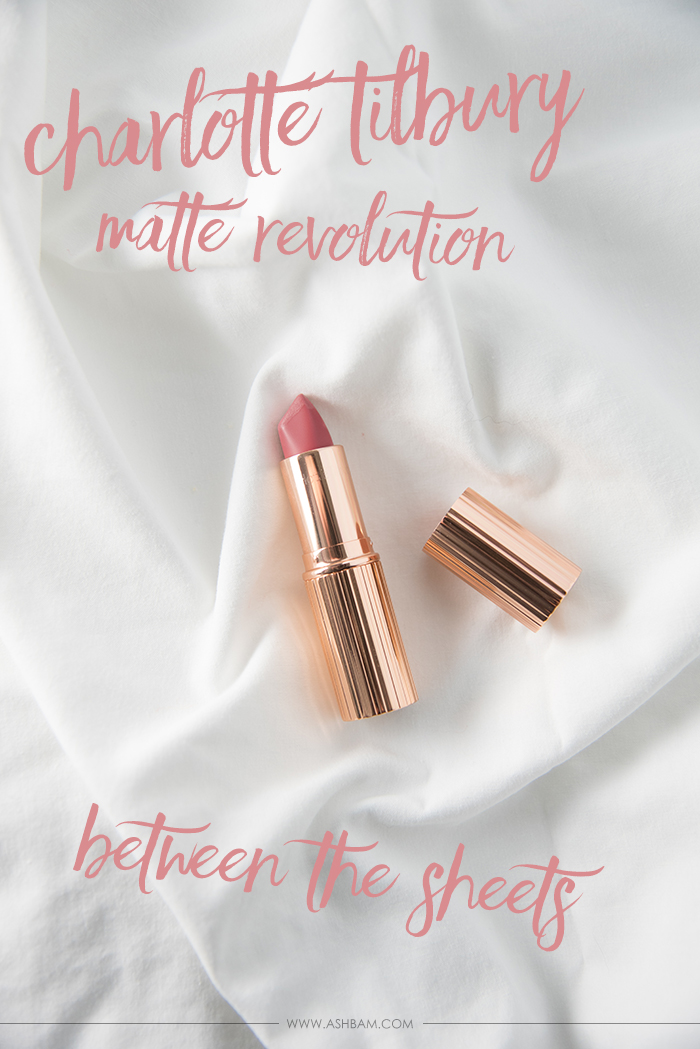 You know that moment when you see a lipstick so beautiful that you just instantly run and grab your credit card without really thinking it through? Well that's what happened when I heard the newest Charlotte Tilbury Matte Revolution shade, Between the Sheets, was available. I have six other shades and they're some of my favorite lipsticks, the packaging is stunning, the formula is fantastic and I just love how they feel on the lips. I couldn't resist picking up another.
I believe they had run a contest for fans to name the new lipstick, which she released with a K.I.S.S.I.N.G lipstick as well. I picked it up while it was an exclusive on the Spring app, but it's now available on the Charlotte Tilbury website as well! It's described as a vintage rose petal shade and at first I wasn't sure if it was suit my fair skin tone, but it's a really beautiful soft everyday color that doesn't wash me out.
The application was a slightly streaky even though it was rather pigmented. But once I got the color applied evenly it looked beautiful. It dried down to a creamy matte and I almost feel like it was a bit more matte than the other shades I have, which was a plus in my book. It did transfer some, but not terribly. After eating lunch there was some wear and once I had dinner it had almost faded completely.
I decided to swatch it next to the other shades I have. I don't have any of the more pink shades so I'm not sure how similar it is to those, but it's clearly unlike any of the ones I currently have. If you'd like see more on the other colors I have please check out my post here!
Have you tried any of the Matte Revolution lipsticks before? Do you think you'll pick this one up?
Follow me on: Bloglovin – Twitter – Instagram – Lipstick Diaries Instagram – Facebook – Pinterest