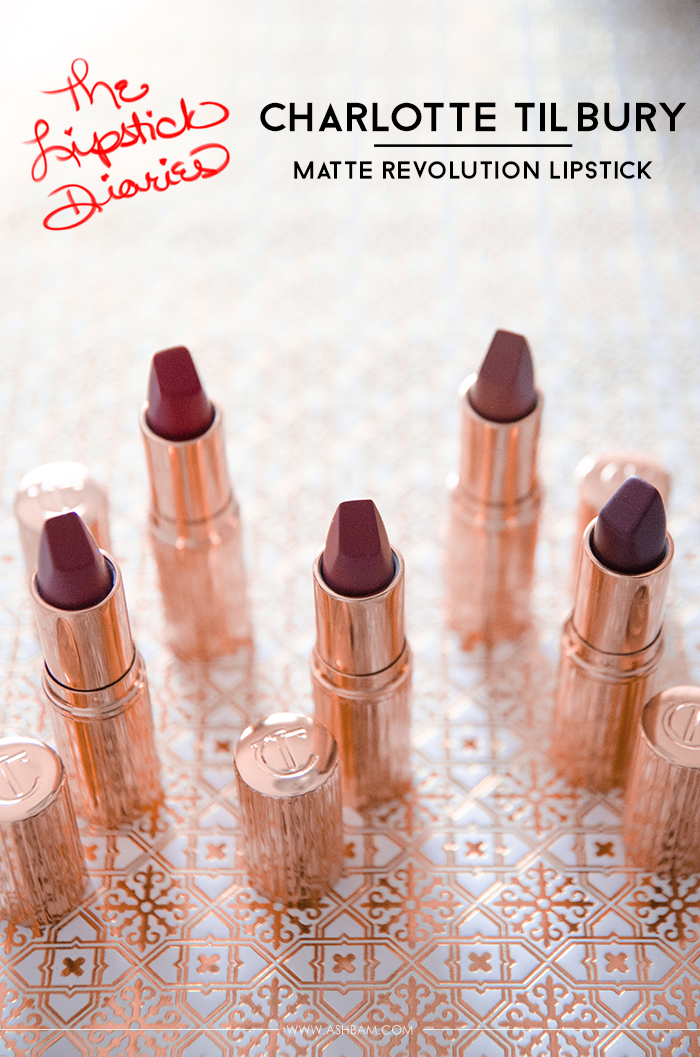 If you've read my latest post or my birthday wishlist you'll know I have just a tiny obsession with the Charlotte Tilbury Matte Revolution Lipsticks. From the moment they were first released and all my favorite UK bloggers were talking about them I knew I had to get my hands on them. Could they really be the perfect matte lipstick? It took quite some time, but finally they were released on the US site in April and I couldn't wait! Then the dreaded news hit that they were only available for a month. Thankfully, however, I have heard that this was not the official release and that they would be available in September.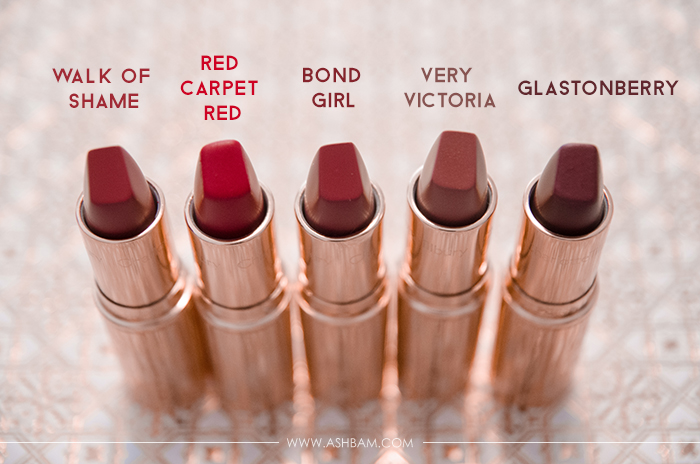 The first two shades I picked up were the ones I knew would be quite popular and had a chance of selling out. Red Carpet Red was my first choice. Like I've said before, I usually try out the reds from a line first. It's considered a true ruby red and I think it's going to become one of my go to lipsticks, it's such a gorgeous shade. The second of the two I picked up was Glastonberry. I noticed it had been sold out on the UK site for some time so I figured I should grab that first and it was a good plan because it sold out the next week. It's described as a sheer blackcurrant hue though I'd say this is anything but sheer. Two swipes and it's a full coverage vampy lip that would look perfect on a night out. (Oh who am I kidding, I'd even wear this to work.)
For my birthday I asked my sister to get me Bond Girl and Walk of Shame. Then Bond Girl sold out. So I asked for Love Liberty instead. Then Bond Girl was back in stock. Way to make my decisions harder Charlotte! Bond Girl is a natural berry and I think it might actually be my favorite shade. I'm not 100 perfect sure yet. It's just a bit deeper and leans a bit more brown. I'll admit though, Walk of Shame, described as berry tinted rose, is rather similar. But they're both gorgeous shades and great for a simple daytime look.
I knew I wanted to get just one more shade before the end of the month so I debated between two colors Love Liberty and Very Victoria. As you can tell, Very Victoria won in the end. Though I usually avoid the more nude options, this suede, taupe nude was just too pretty to pass up. It's kind of like my version of that popular lip color that's all the rage these days. (I think you know what I'm talking about.) I do wish I would have gotten Love Liberty, but hey, I only have until September to wait for the official release!
Now onto the formula. These aren't your typical matte lipsticks, they're creamy and glide beautifully onto the lips. There's no dragging or pulling. And they feel more moisturizing than drying which is definitely a plus in my book. I hate feeling as if I've just spent hours in the Sahara after a day in matte lipstick. They're not necessarily the longest lasting, but with a little work I managed to keep Red Carpet Red on the entire day. There's another plus too, I found these didn't transfer much so I never have to worry about lipstick on my teeth.
On the website she talks about how there's 3D glowing pigments to create the illusion of fuller lips, which would explain the shimmer I noticed in the Very Victoria tube. Technically all the shades have a bit of shimmer, but I only could see it in the tubes under quite a strong light. And it's not really a shimmer you're going to see on the lips, it just adds a hint of light. Lastly is the shape of the bullet. I wasn't so sure about it at first and totally screwed up my first application. But with the next try I fell in love with the square shape and found it makes it so much easier to apply.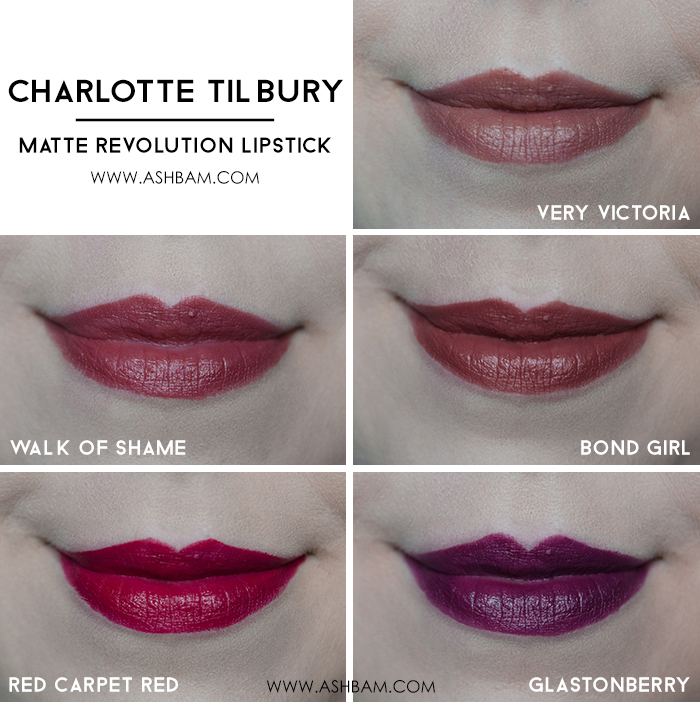 In my opinion these lipsticks were well were the price. ($32 at CharlotteTilbury.com) They're some of the most beautiful lipsticks I own, both in packaging (In love with the art deco rose gold!) and in shades. I just can't wait to pick up a few more! Is it September yet?
So do you own any of the Charlotte Tilbury Matte Revolution Lipsticks and what are your favorite shades?
Follow me on: Bloglovin – Twitter – Instagram – Facebook – Pinterest