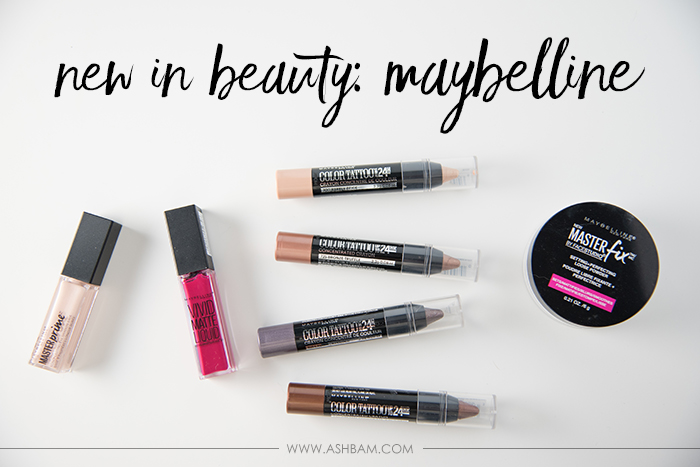 Quite a few drugstore brands have come out with new products these past couple months and I was super excited to get my hands on some from Maybelline! The new collection includes eyeshadow crayons, contour palettes, gel pencils, powders, matte liquid lipsticks and more! I've had a chance to try everything out and there were a few hits and a few misses so check it out!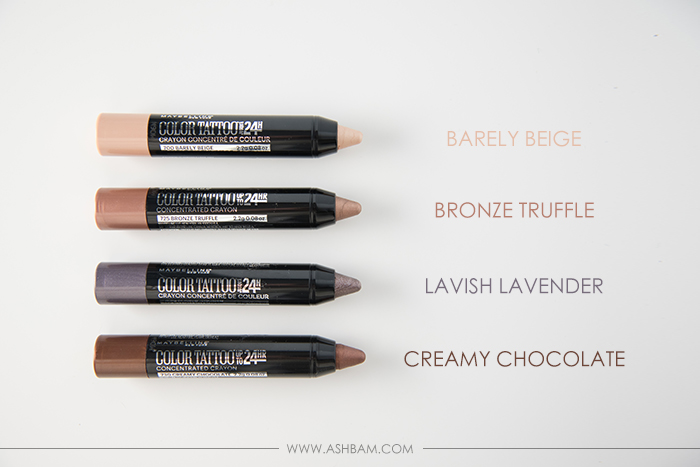 I was the most excited about the Color Tattoo Concentrated Crayons and they did not let me down! I picked up 4 out of the 10 available at Ulta, Barely Beige, Bronze Truffle, Lavish Lavender and Creamy Chocolate. The colors are really lovely and super pigmented. They just glide onto the eyelids and blend out nicely. I did have a bit of creasing near the end of the day but it wasn't too noticeable. They all have some shimmer to them, but I'm not sure if the other six in the range do as well. The only downside is that the shade range isn't more diverse, hopefully they'll come out with a few more in the future!
When using the crayons I made sure to use the Master Prime Long-Lasting Eyeshadow Base first. I have oily eyelids so a primer for me is a must and I wanted to see how this one held up against some of my favorites. So far I've been pleasantly surprised. I believe there are two other options but at Ulta only Prime + Smooth is available. I really like that it has color to it to help balance out my eyelids and it also has some shimmer which is quite pretty. To apply it I used the wand directly on the lid before blending it out with my fingers. It really did a great job keeping the crayons in place. I'm obviously going to test it out with other shadows but so far I'm really enjoying it!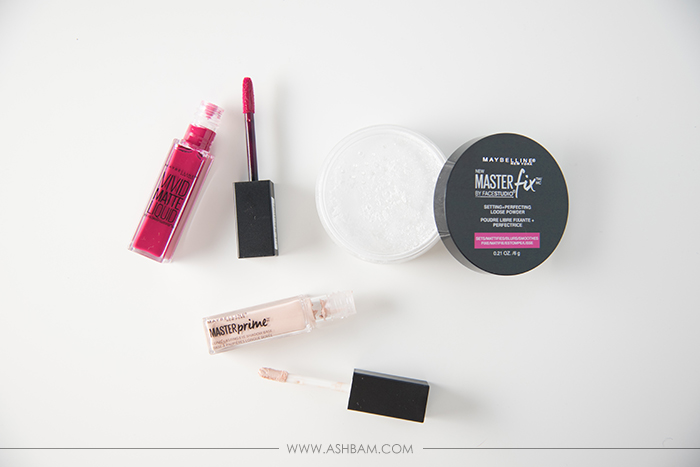 Unfortunately the other two products were let downs for me. First of all is the FaceStudio Master Fix Setting + Perfecting Loose Powder. It wasn't the product I was disappointed with, it was the packaging. I actually tested this out against the Tarte setting powder and felt it really was comparable. However every time I would go to tap some of the powder into the lid a good amount of the powder would fly everywhere. It may have just been user error, that I should have tried to turn it a different way, but it happened multiple times and I simply ended up returning it.
Secondly I was pretty disappointed with the Color Sensational Vivid Matte Liquid Lip Color in Berry Boost. I'll admit it was easy to apply and felt comfortable on the lips, but I would not consider it a matte lipstick. There was always a shine to it and it transferred quite a lot. I experienced feathering throughout the day and after a meal I was left with only a stain which did last the rest of the evening. It just unfortunately wasn't what I was looking for in a matte liquid lipstick. The color is quite lovely though.
I didn't photograph it but I also tried out the new Dream Velvet Soft-Matte Hydrating Foundation and returned it after testing it for a few days. The color, which was the lightest shade, was still a little too dark for me and it didn't hold up as well as I'd hoped throughout the day. Which means back on my hunt to find the perfect drugstore foundation for me!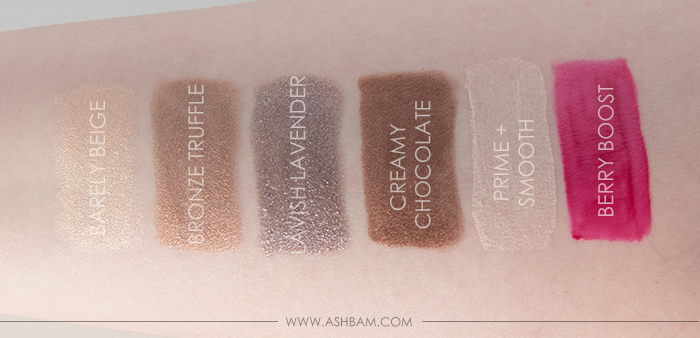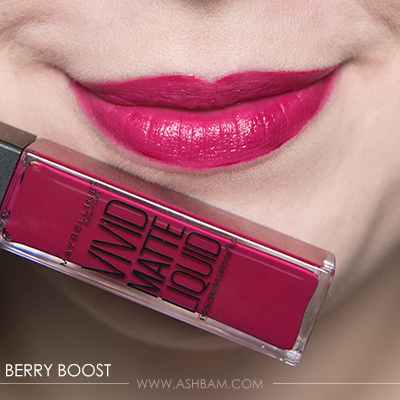 There was definitely good and bad in this new collection, but luckily for me the good outweighed the bad. I mostly wish that the matte liquid lipstick would have turned out because another budget option would have been fantastic! I'm looking forward to trying a few more things, I've got my eye on those contour palettes!
What do you think about the new products from Maybelline? Have any favorites?
A quick little update, I've started a new Instagram account called @The_LipstickDiaries where I post quick daily reviews of lipsticks! I've added it to the side bar so if you want to follow that would be wonderful! And if you have any lipsticks you'd like me to review on there just let me know! Also I did a lot of thinking this weekend and I decided that instead of posting Mon-Sat as I originally planned I'm going to post three times a week. I just realized that I'd rather focus on quality content rather than having to put up something I'm not as proud of in order to have a post that day. I hope you all understand!
Lastly don't forget to enter my giveaway for a chance to win a free teeth whitening kit from Smile Brilliant! Check out my post here!
Follow me on: Bloglovin – Twitter – Instagram – Facebook – Pinterest