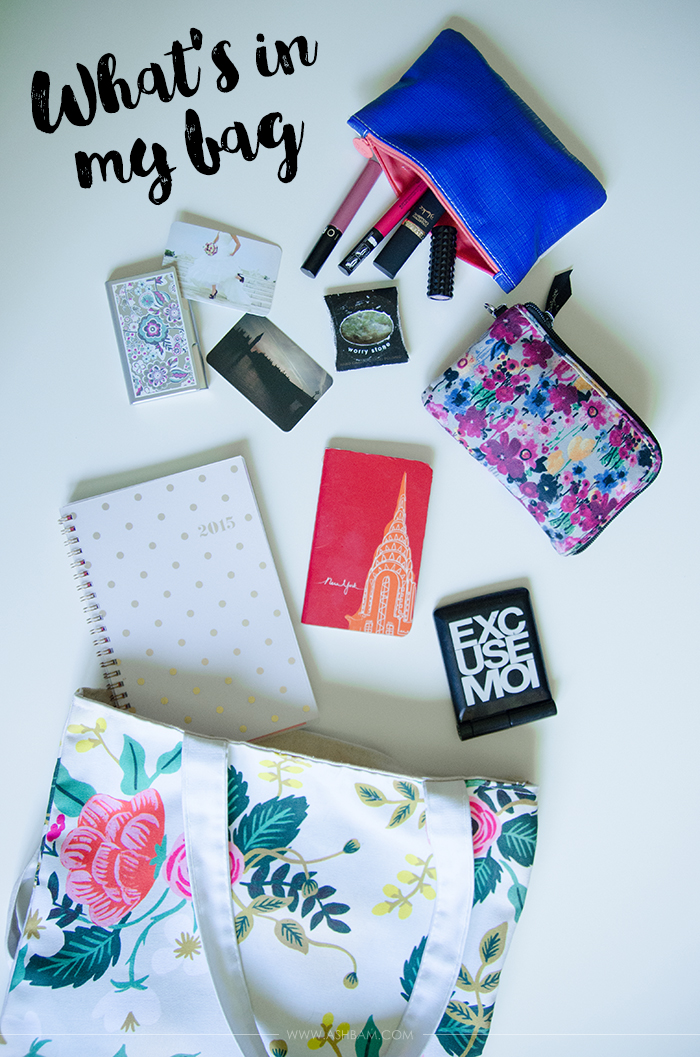 Hey everyone! I finally changed up my purse so I thought it was the perfect excuse to do a What's In My Bag post! Normally I have a billion things in my purse, but since I've recently switched bags things haven't had time to pile up just yet. So if you want to take a peek into my bag keep on reading!
First of all: the bag! I've always adored Rifle Paper Co. and when I heard Birchbox was going to be offering an exclusive tote bag I knew I had to have it! It's a really great size and fits so much. The only thing I wish it had was a little pocket on the inside. It's currently out of stock on the Birchbox website, but you can join a wait list! Check it out here!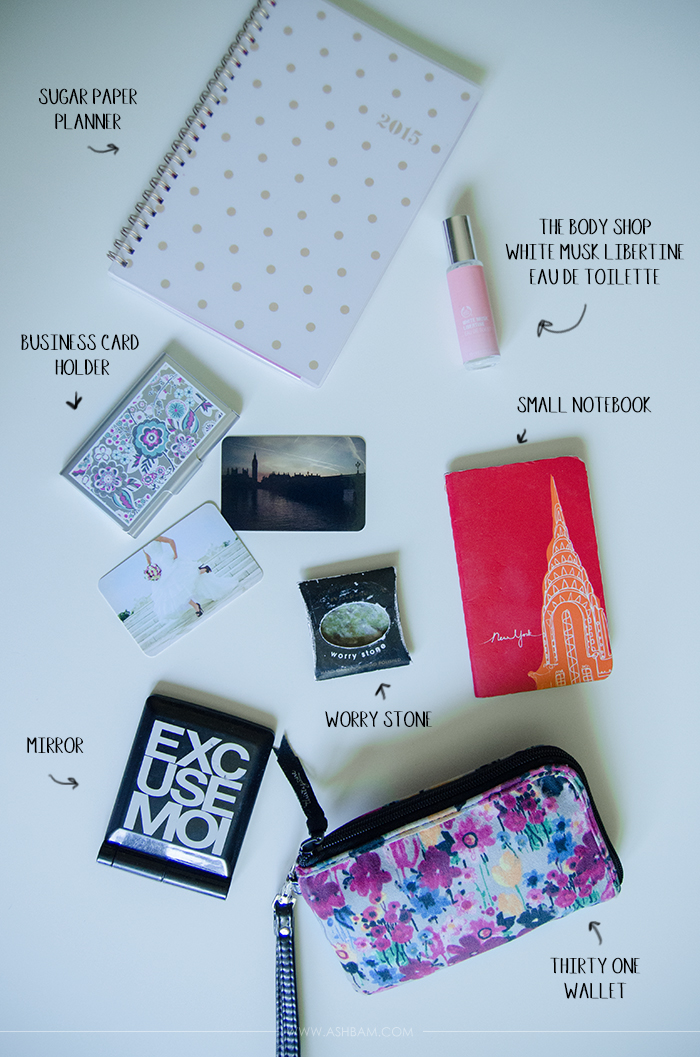 Now onto the contents! I picked this Super Paper Planner up at Target and clearly have a thing for gold polka dots! I'm usually terrible at keeping a planner, but I'm really trying to be better at it so I've started carrying it with me. One of my all time favorite scents in The Body Shop's White Musk Libertine so I always bring this little spray with me. It's described as a heady blend of cruelty-free musks at its top, heart and base, with sweet notes of Turkish delight, baby orchid and Chantilly cream. Next is my business card holder, I got this on my birthday at Miss Molly's Tea Room (I did a post all about that day here!) and it's perfect for carrying around my photography business cards.
The small New York notebook I also picked up at Target, it came in a set of three with London and Paris, my three favorite cities!. I always carry a notebook around with me just in case. Of course I have to keep a mirror in my purse and I love this Excuse Moi one I received from my uncle as a gift. It used to light up, but unfortunately it doesn't work anymore. My wallet is from Thirty One and I love that I'm able to use it as a little clutch as well, my phone fits perfectly inside. Though I am trying to find a wallet that has a few more compartments to make it easier to find things.
Lastly is my Worry Stone from Connemara, Ireland. I picked it up while we were visiting Kylemore Abbey and it's made of gorgeous Connemara marble. It's something I carry with me always. The back of it has a really cute saying: "There are only two things to worry about: either you are well or you are sick. If you are well then there is nothing to worry about, but if you are sick; there are two things to worry about: either you get well or you will die. If you get well then there is nothing to worry about. If you die then there are two things to worry about: either you go up or down. If you go up there is nothing to worry about. But if you go down you will be so busy shaking hands with old friends you won't have time to worry."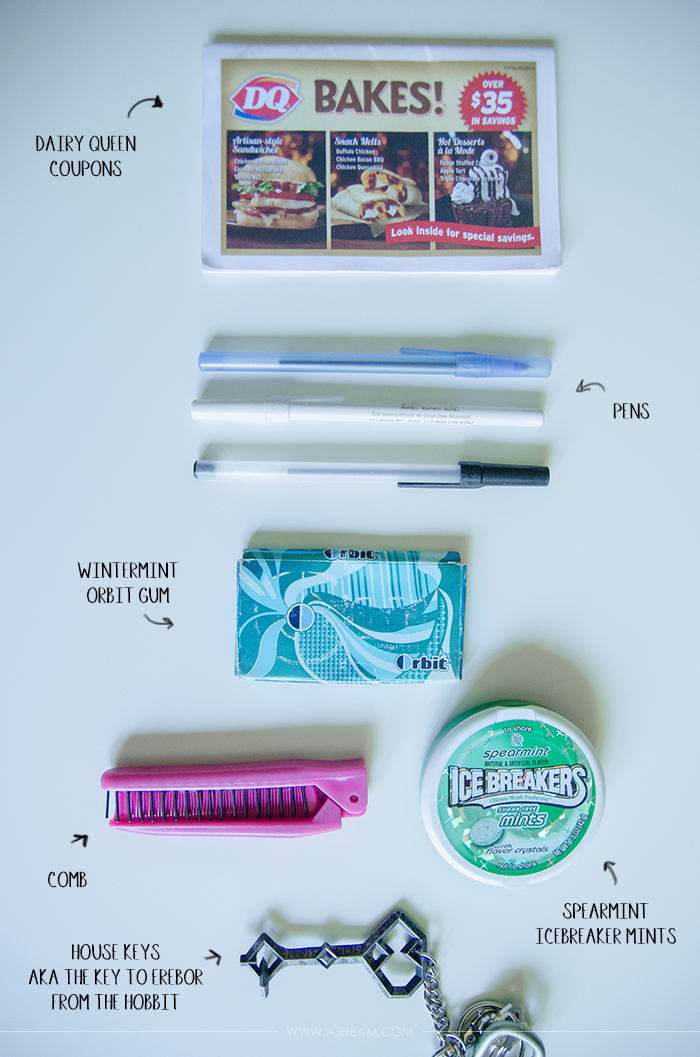 Onto all the typical stuff: Gum, pens, mints, a comb, DQ coupons (yum!) and my house keys. I mean everyone keeps The Key to Erebor in the purse right?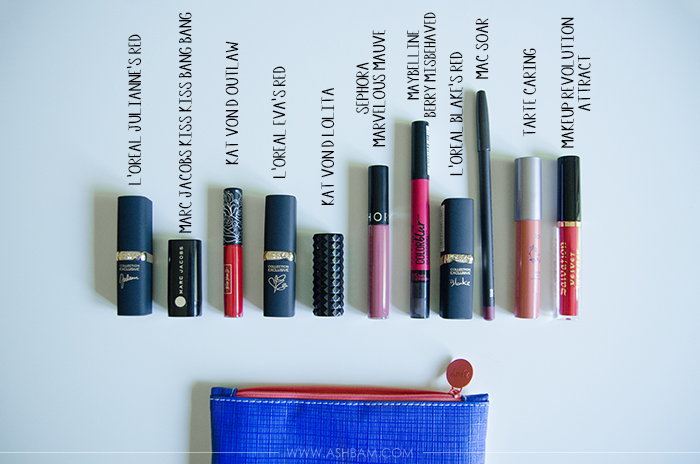 After having a lipstick open and get all over everything in my last purse I've started putting all my lipsticks into a little makeup bag. I always forget to take them out at the end of the day so the collection is quickly growing. These are just a few I've been testing out lately, so keep an eye out for new Lipstick Diaries!
So what are your bag must haves? Do you carry a tiny lipstick collection with you too?
Follow me on: Bloglovin – Twitter – Instagram – Facebook – Pinterest