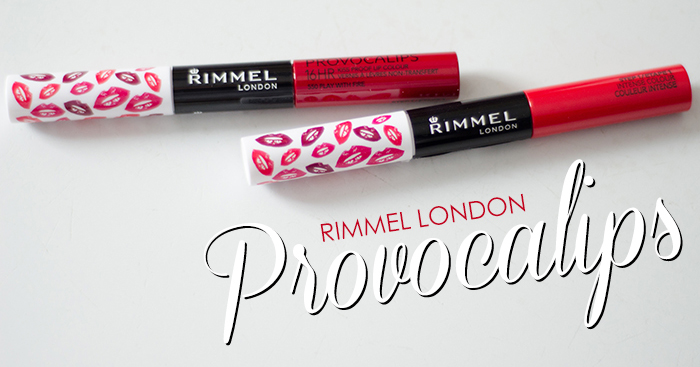 Last week I stopped into Ulta and finally found the new Rimmel Provocalips collection. It's a liquid lipstick which is supposed to last 16 hours thanks to a clear gloss you apply over the color. I picked up two and decided to put them to the test!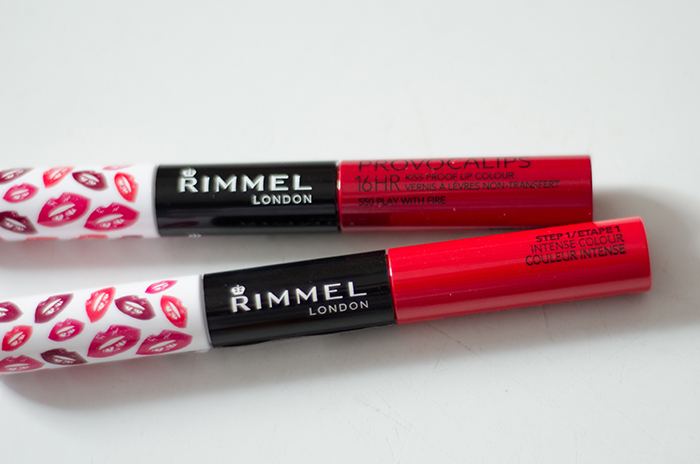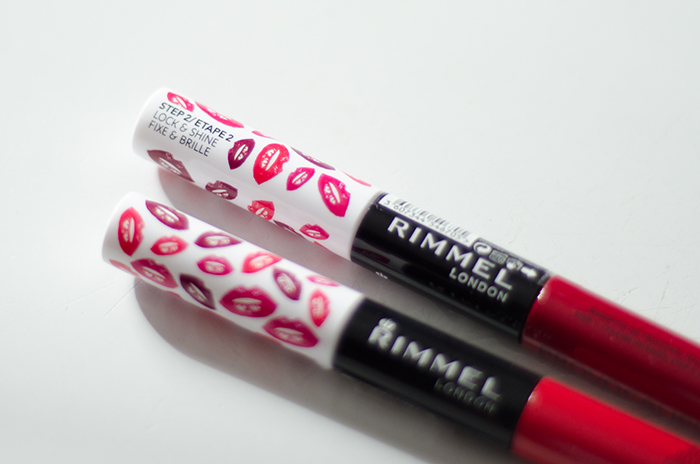 You start out with step one: the color. It applies rather nicely, one swipe is very pigmented and the doe foot applicator makes things even easier. Next they suggest that you don't let your lips touch for 60 seconds while the lipstick dries. Finally step two: lock and shine. It's a clear layer that helps seal the color. I was worried about it at first since I'm not a fan of gloss, but it wasn't like your typical lipgloss. It isn't overly sticky and feels nice on the lips. The shine eventually goes away throughout the day, which was perfectly fine with me, I much prefer a matte bold lip, but you can always reapply the gloss if you'd like. While the lipstick is slightly drying and you never really forget that you have it on, it doesn't feel uncomfortable on the lips.

There are 10 shades available, including some pink and more nude shades. But I always like to try out the reds in a line first so I had to grab Kiss Me You Fool and Play With Fire. Kiss Me You Fool is a warmer red, definitely leaning a bit orange. It was my favorite of the two colors. Play With Fire is a deeper, cooler toned red.

Now for the test. Do they actually last 16 hours? Well, not exactly, but they come pretty close! What I love about them is that they don't transfer onto things and I don't end up with red all over my water bottle, or my teeth! I found that Kiss Me You Fool wore a lot nicer throughout the day than the darker Play With Fire. A little more than half way through the 16 hours the center really started to wear away on the darker color.

I've heard many people complain about how hard it was to remove to this lipstick. Rimmel suggests using an oil based remover so I used one of my favorites: The Body Shop's Camomile Waterproof Eye and Lip Makeup Remover. I just poured a bit onto a cotton pad, let it sit on my lips for a few seconds and then it just came right off, no problem at all! Also, I would definitely suggest exfoliating before and after apply this lipstick.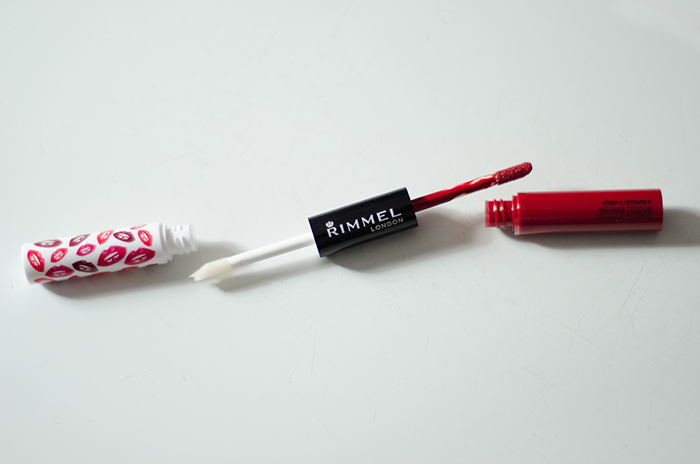 I don't necessarily need my lipstick to last 16 hours, but if it can last through meals and a little too much hot chocolate then it definitely gets the seal of approval from me! So if you're looking for a rather long lasting lipstick, that can either be glossy or matte, then the Rimmel Provocalips collection is the perfect choice!
Follow me on: Bloglovin – Twitter – Instagram – Facebook – Pinterest