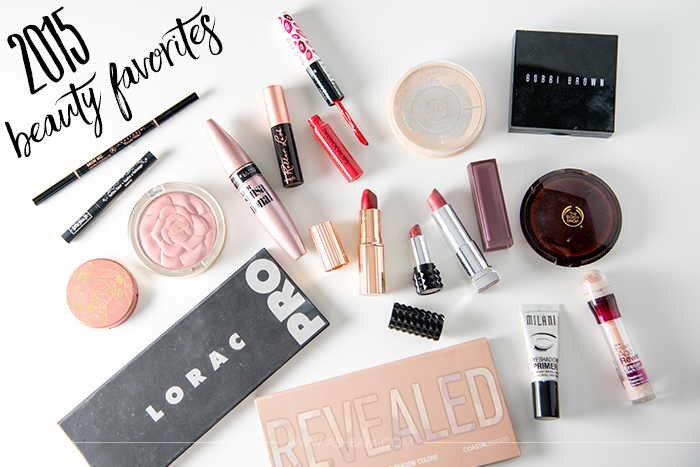 Well 2015 marks the year I spent a little too much money on makeup. But hey, it was all for the blog right?! So lets pick favorites. I searched through my makeup table and it didn't take me too long to find the things I reached for the most. I did forget to include a few things like highlight and foundation, but as for foundation I haven't quite found the perfect one. I do really like Estee Lauder's Double Wear, but the color is just not light enough for me anymore. Also I don't use highlight too often, but when I do it's either The Balm's Mary-Lou Manizer or Becca's Moonstone! Onto the favorites!
Powder
Bobbi Brown Sheer Finish Pressed Powder
My favorite powder for setting under the eyes is the Bobbi Brown Sheer Finish Pressed Powder in Pale Yellow. The yellow shade is perfect for the dark under eye area and it's a really finely milled powder so it doesn't end up looking too cakey.
Rimmel Stay Matte Pressed Powder
For setting my entire face it has to be Rimmel Stay Matte. I've already gone through one and clearly I'm almost done with the second. Luckily I have a backup waiting. It's a transparent powder and it just helps keep everything from looking too oily and locks it all in place!
Concealer
Maybelline Instant Age Remind Dark Circle Eraser
The Maybelline Instant Age Rewind Dark Circle Eraser is a life saver. It's such a fantastic concealer and I know a lot of people dislike the applicator but I personally love it. It's so easy to apply and then I blend it out using a beauty blender and it stays all day! (Thanks in part to the Bobbi Brown powder!)
Blush
Tarte Amazonian Clay 12-Hour Blush
I've talked before about my love for the Tarte blushes here so of course there had to be one in my 2015 favorites! Out of all my collection Prim, a plum nude, has to be my most used. They're just such fantastic blushes with great lasting power and Prim is a great neutral color for when I'm wearing more bold lip colors.
Milani Powder Blush
Milani's Romantic Rose is such a beautiful drugstore option, seriously how pretty is the rose design? It's another one that really lasts all day and looks great on the skin. I definitely need to pick up a few more of these!
Bronzer
The Body Shop Honey Bronzer
I went back and forth on bronzers this year, but for the most part I found myself reaching for the Body Shop's Honey Bronzer in Light Matte. It's the perfect shade for us pale skinned girls and it's not too overly pigmented so it's hard to go heavy handed with it. I also really appreciate that it's a matte formula since I have quite a bit of texture on my cheeks and shimmer can emphasize that.
Mascara
Benefit Roller Lash
I received the Benefit Roller Lash mascara in my Birchbox quite a while ago and instantly fell in love. It just does such a fantastic job at separating and lengthening my lashes. I also really need to go get myself the full size! (Full review here!)
Maybelline Lash Sensational
The Maybelline Lash Sensational Mascara is really quite similar to Roller Lash. The wand is a little bit bigger, but it has the same shape and does a great job at lengthening the lashes! A great drugstore option!
Eyeliner
Kat Von D Tattoo Liner
At first I wasn't sure if I'd ever get used to the brush on the Kat Von D Tattoo Liner in Trooper, but once I finally got a handle on it it's the only eyeliner I use. It's just so easy to get a thin line and really glides on beautifully. Plus it doesn't smudge at all which is great for someone with hooded eyes.
Eyeshadow Primer
Milani Eyeshadow Primer
I discovered this near the end of the year and I really wish I had known about it sooner. It would have saved so many eyeshadow looks! The Milani Eyeshadow Primer is just so good. It has a bit of color to it which helps even out my lids and it locks my eyeshadow into place like no other primer I've used.
Eyeshadow
Lorac Pro Palette
Oh the Lorac Pro palette, have you heard enough about this yet? It was everywhere last year and rightly so. The colors are gorgeous and the quality is fantastic, it's just the perfect palette to have around. I admit I didn't use it as much towards the end of the year, but this has reminded me of how much I loved it!
Coastal Scents Revealed Palette
A more affordable palette is the Coastal Scents Revealed palette. It a bit of a dupe for Urban Decay's Naked 1 and the quality is really lovely. This is the one I reach for when I need something neutral for the crease. It has a great mix of mattes and shimmers.
Eyebrows
Anastasia Brow Wiz
I tried a few different eyebrow products this year, from gels to powders to other pencils, but nothing really compared to the Anastasia Brow Wiz. It just really helps to make my brows look thicker and lasts all day.
Neutral Lipstick
Kat Von D Studded Kiss Lipstick
Kat Von D's Studded Kiss lipstick in Lolita just might be in the race for my all time favorite lipstick. It's such a beautiful and natural everyday shade for me that if I didn't have so many others to try, I probably would wear it everyday!
Maybelline Creamy Matte Lipstick
Maybelline's Creamy Matte in Touch of Spice is another gorgeous shade. The formula really is such a creamy and non-drying matte that it's become one of my favorite formulas. It's quite similar to Lolita, but it's a bit more pink and really flattering to my skin tone.
Bold Lipstick
Charlotte Tilbury Matte Revolution Lipstick
I just love everything about the Matte Revolution lipsticks, from the packaging, to the formula, to the colors. So it was hard to pick out one favorite, but I think it had to be Red Carpet Red. It's the perfect red, it can stay all day and feels so comfortable on the lips. (Check out my full post on the lipsticks here.)
Rimmel Provocalips
The Rimmel Provocalips lip colors were one of the very first things I featured on the blog and I'm still in love with them. I've found nothing else that has the same kind of longevity. Kiss Me You Fool in specific has been the best out of all of them. I know if I'm going to have an extremely long day with lots of eating and drinking and need my lipstick to last, this is the one!
So what were your favorites for 2015?
Follow me on: Bloglovin – Twitter – Instagram – Facebook – Pinterest